That's the approximate number of tombstones at Arlington National Cemetery.  Our 2nd day of touring ended there but I'm getting ahead of myself.  I'll tell you how it started – with breakfast!
Up early for an 8:30 reservation at Ted's Bulletin and a 10A walking tour of Capital Hill.  Ted's is a  a Capital Hill neighborhood restaurant; it has an old fashioned feel and the food is comfort, nostalgia food.  Another restaurant Obama has dropped in on. There was nothing nostalgic about breakfast; just good solid breakfast fare with maybe the best hash Roy's every had and really good cornbread.  We had to sample the obligatory pop tart which they are famous for making, our choice was blueberry and it did not disappoint.  One of the fun things about Ted's is that they play classic movies all day long projected on screens on the wall.
Being in the Capital Hill neighborhood, we thought we'd be close to meet the walking tour but didn't realize the distance from the restaurant to the tour's starting point.  So we hopped a bus, got off at the wrong corner and still had some walking to do before we finally found the group led by Sean of DC Walkabout.  DC Walkabout conducts free walking tours and they have a few different options.  Our tour focused on Capital Hill and included the Capital, Library of Congress, Supreme Court and Union Station.  Sean gave us some insight and interesting factoids about what we were seeing.  It just so happened that a dress rehearsal for the big Memorial Day concert on the Mall was being conducted and we got to hear someone giving Colin Powell's speech.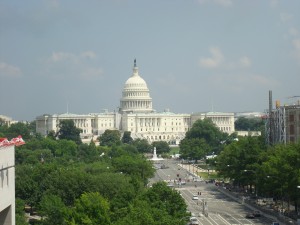 As we walked past the Supreme Court there was a lot of action going on for a Saturday on a holiday weekend.  I had to find out what was happening and was told an HBO movie was being filmed called Mohamed Ali's Greatest Fight.
Our next stop after the tour was The National Museum of the American Indian.  But not for the exhibits.  No, we went there only to have lunch.  On a tip from my friend A, we learned that it is one of the best kept secrets in Washington.  Called Mitsitam Cafe it serves foods from five regions: Northern Woods, Great Plains, North Pacific Coast, Mesoamerica and South America.  I'm not sure why it's a secret because it was mobbed!  It's not your typical institutional cafeteria.  The only hamburger on the menu is a Buffalo Burger made with buffalo meat.  The food is creative, with fresh ingredients, all prepared on-site.  On our table was a selection: Empanadas, Pupusas with Chile Slaw, Celery Root Salad and Honeyed Baked Golden Beets, Charred Octopus Salad with Green Goddess Dressing (best Roy's ever had), homemade guacamole and pico de gallo.  There's even a fire pit where fish is roasted every day.  After lunch, we took a vote on whether we should stay and tour the museum and decided against it.  So on we went.
Next stop The Holocaust Museum.  But no tickets were available for the Premium Exhibits.  Those are given out when the museum opens at 10A so Roy and Marty said they'd get up at 7A on Sunday and go wait in line.  While we were at the Holocaust Museum we met people who came to Washington to ride in Rolling Thunder  (I'll talk about that later) which they do every year.  One woman, a Gold Star mother, lost her son in Iraq and one woman has a son serving in Afghanistan; it was an emotional experience talking to them and we hugged them good-bye.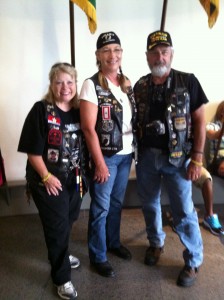 We left the Holocaust Museum and headed over to the Arlington National Cemetery.  After walking miles already, by now I'm baked.  Did I think to wear sunscreen – no!  So by 4PM I was cooked.  We arrived at Arlington and after starting to walk up the very long and steep hill to see the JFK Eternal Flame, I suggested (or I whined) that we take the tour train that winds its way through the Cemetery.  Good choice. We learned things we never would have known.  Like over 4.5 million people visit Arlington every year, there are approximately 260,000 tombstones, some have more than one person buried in a grave, that there 25-30 burials every day, that that the tombstones are perfectly lined from whichever angle you look at them, that a flag is placed in front of every tombstone in perfect order for Memorial Day and it's done in 3 hours-it's called "flag-in".
We hopped off the train to see JFK's eternal flame and Teddy and Bobby Kennedy's graves which are marked by simple crosses.
Then, back on the train for the next stop – the Tomb of the Unknown Soldier.  There is soldier guarding the Tomb 24 hours a day, a changing of the guard every 30 minutes.  Every soldier chosen who guards the Tomb has the same body type specifications (read 29″ waist!).  Mind you, it was in the 90's and there was not one bead of sweat on the brow of the soldiers.  They train for five months to perform the duty.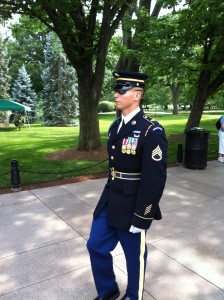 Another fact about Arlington – as you wind back to the entrance of the cemetery there is land that has been left untouched so that you can see what it looked like in it's original state.
Hank's Oyster Bar was Saturday's choice for dinner.  Why an Oyster Bar when we're from Boston?  Why not!  Located in Dupont Circle it was a nice walk from the hotel.  We were joined by my nephew and his wife which was a treat.  Dinner was good – not great, but everyone enjoyed and had some laughs.  The restaurant has a great buzz and it's in a good neighborhood.  After dinner we walked to Pinkberry's for a yogurt which we were introduced to it by my niece.  It didn't disappoint and neither did the Celtics who we watched beat Philadelphia at a local bar.
So, that was it for Day 2.
See you at the bar for Day 3….