Kenmore Square was all abuzz last night.  A little country came to Fenway Park.  Jason Aldean and Miranda Lambert  were playing and the crowd was all straw cowboy hats, short sundresses and cowboy boots.
But that wasn't our destination.  We were able to get a last minute reservation at the always impossible-to-get reservations at Island Creek Oyster Bar.  Not only a reservation but we were lucky enough to snag 2 at the bar!
As it so happens, we have been to Island Creek before.  Just once, on the day it opened and we could tell then that it was going to be a hit.  Big, open, airy with all windows on one side, light woods, it's a great looking space.  Aided by Paul, a very knowledgable bartender I started with a rose from the Penedes region of Spain.  If you turn your nose up at a rose, give it a chance.  On a warm summer night, it's a great option to a light white and makes you feel like you're in Spain or the South of France.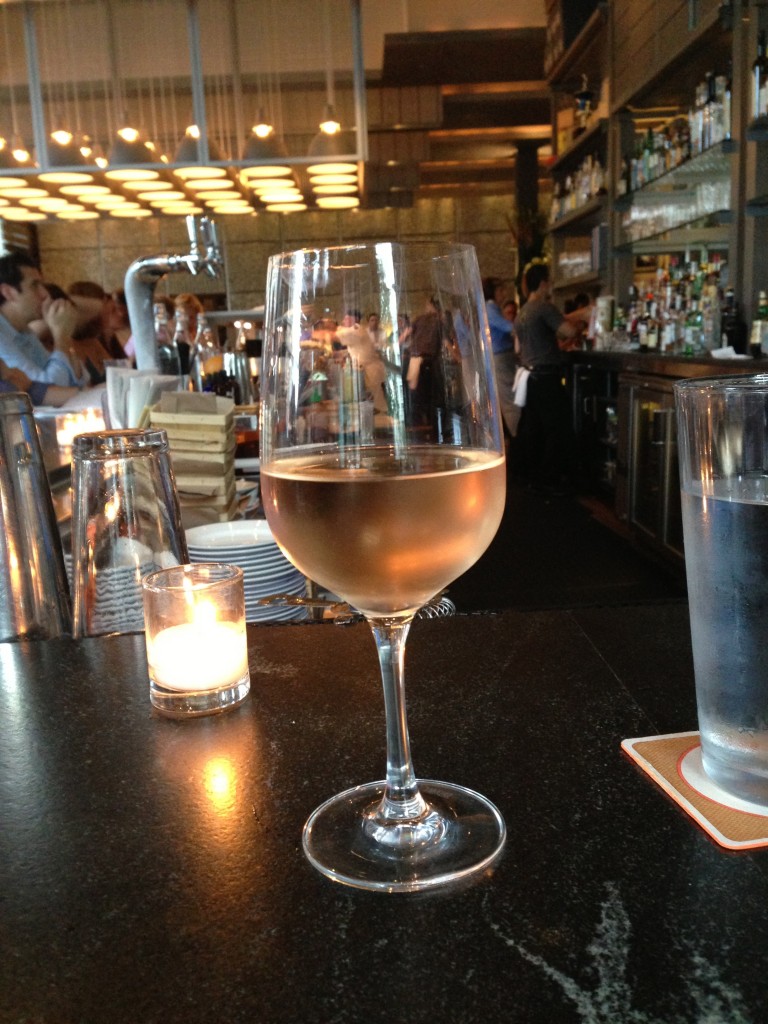 How can you go to Island Creek Oyster Bar and not have oysters!  Paul said he'd choose for us and his choices were an assortment of oysters from Maine and the Cape.  Briny, meaty, delicate, all of that.  And delicious!
Next up, we split a lobster roll and some fried clams. The lobster roll was as good as any I've had served on a brioche roll with some hand cut french fries and homemade cole slaw.  The fried clams were served in a cardboard box, perfectly battered, sweet and meaty with some homemade tartar sauce.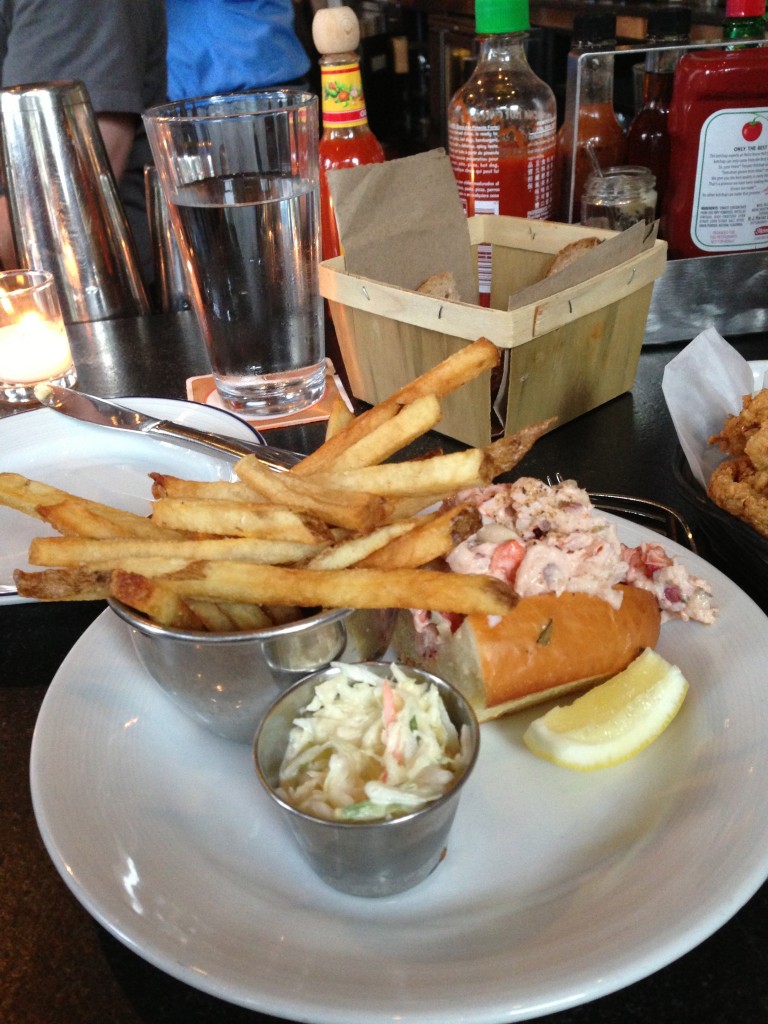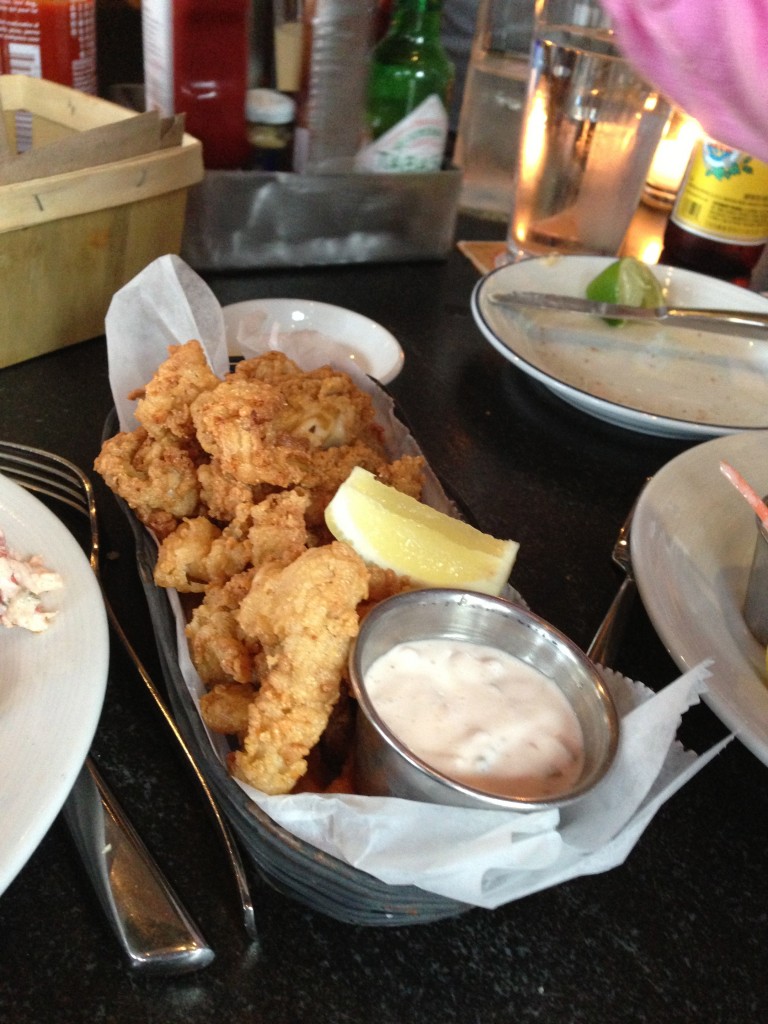 Before the meal, a little complimentary taste from the kitchen, a white anchovie with a sliver of cheese on toasted bread.  I'm not a fan of anchovies but it was a tasty bite.
Some artisnal bread appeared served in a pint basket like you get when you go to a farm for fruit or vegetables.  Plus, one of the things we liked was that you don't have to ask for hot sauce.  It's brought to you in a container that holds about 6 different sauces and other condiments.
Another glass of rose, this time a sparkling rose from the Basque region of Spain.  Roy had a very well made mojito.  Just about as good as the one he had last week in Vieques.
Now for the best part of the meal.  For dessert, a glazed donut strawberry shortcake.  Yes, amazing.  Not just good – outstanding.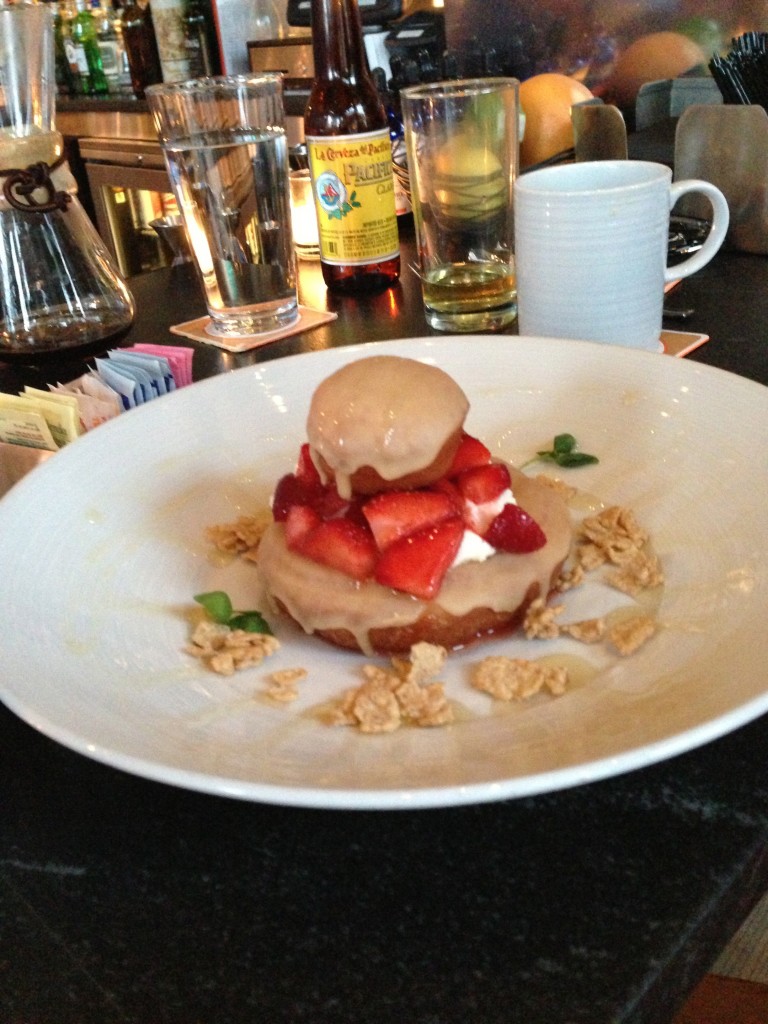 It's no wonder this restaurant has been a success from the day it opened.  They know what they're doing and they're doing it well.  If you can't get to the ocean, Island Creek is a great option.
See you at the bar…..