It was a beautiful weekend in Boston and the criteria for dinner on a Saturday night:  Had to be on the waterfront.  You think it's easy in Boston.  It's not.  There are some very good restaurants along Fan Pier and some others scattered along Atlantic Ave and Commerical Street.  But, for a city on a harbor there's not a lot to choose from.
But, I found one.  A good one.  Aragosta Bar and Bistro.  It had the components of what we were looking for.  Italian/Mediterranean, a waterfront setting and steps away from Hanover Street and the North End.
Tables on the terrace which were voted a "Boston Best" are first come, first serve and being a beautiful night it didn't look like we were in luck.  So we ended up dining inside.
First a drink in the lounge.  Comfy couches, coffee tables and big couchy chairs, floor to ceiling windows overlooking the water and you can relax, order drinks, apps or a full meal.  And, they have jazz.
For dinner we were seated in our own private space.  A table for six separated by gauzy curtains which gave us privacy but the curtains were transparent enough so we could  see what was happening in the restaurant and open kitchen.
What was the recipe for a great meal?
The Aragosta insalate which was full of clams, mussels, shrimp, calamari lobster and fennel with a Meyer lemon vinagrette.  Actually it could have been a meal in itself.  That was split between two of us.  Does that look good??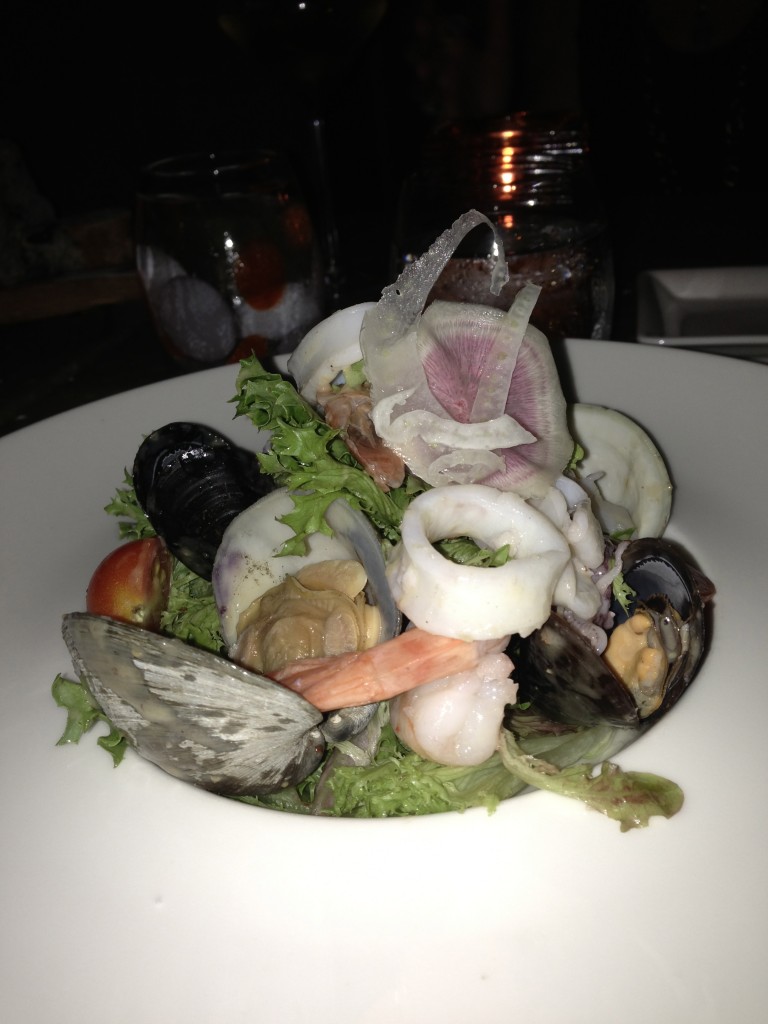 An order of perfectly seared scallops with a sweet pea risotto and littleneck clams.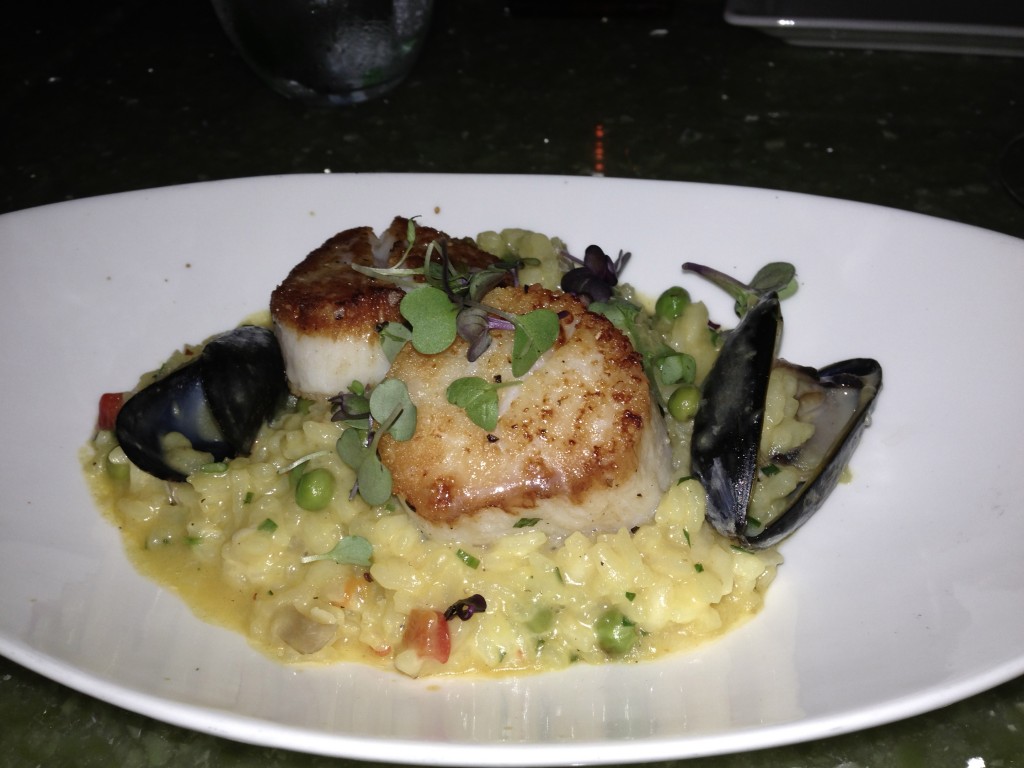 Also on the table, fresh creamy burrata, a delicious rigatoni with bolognese, lobster ravioli, farm fresh salad, a steak and herb crusted halibut .
Mix in an excellent staff and you've got the recipe for a great meal at a very good restaurant and a fun night.
For dessert?  We opted to take a walk down Hanover Street and enjoy the Feast which was going full tilt.
Do I recommend Aragosta?  Yes – two thumbs up from 2 at the Bar!
See you at the bar….