3 1/2 hours.  That's how long it took to get to the Cape.  From our house, a normal drive would be 1 1/2 hours.  But we were hit with torrential rain the entire way. Stop and go traffic, a back-up over the bridge but finally arrived in Harwich, which is known as mid-Cape.
What was on the agenda for the weekend?  Well, beach – #1.  Um, maybe food was #1 and beach was #2.   And friends.  Old friends.  Oh, and we managed to fit in a movie and ice cream!  Now, that's what I call a good weekend!
Food?  Here's the list:
Fin in Dennis.  Located in the heart of Dennis Village in an antique house.  Small bar and dining on two floors.  Quaint, intimate, loaded with atmosphere, excellent staff and of course the star, the food.  Locally sourced ingredients, home made desserts, this restaurant has it all.
That my friends, is oyster chowder.  We were instructed by someone at the table next to us to order it and that we wouldn't regret it.  True!  Better than clam chowder!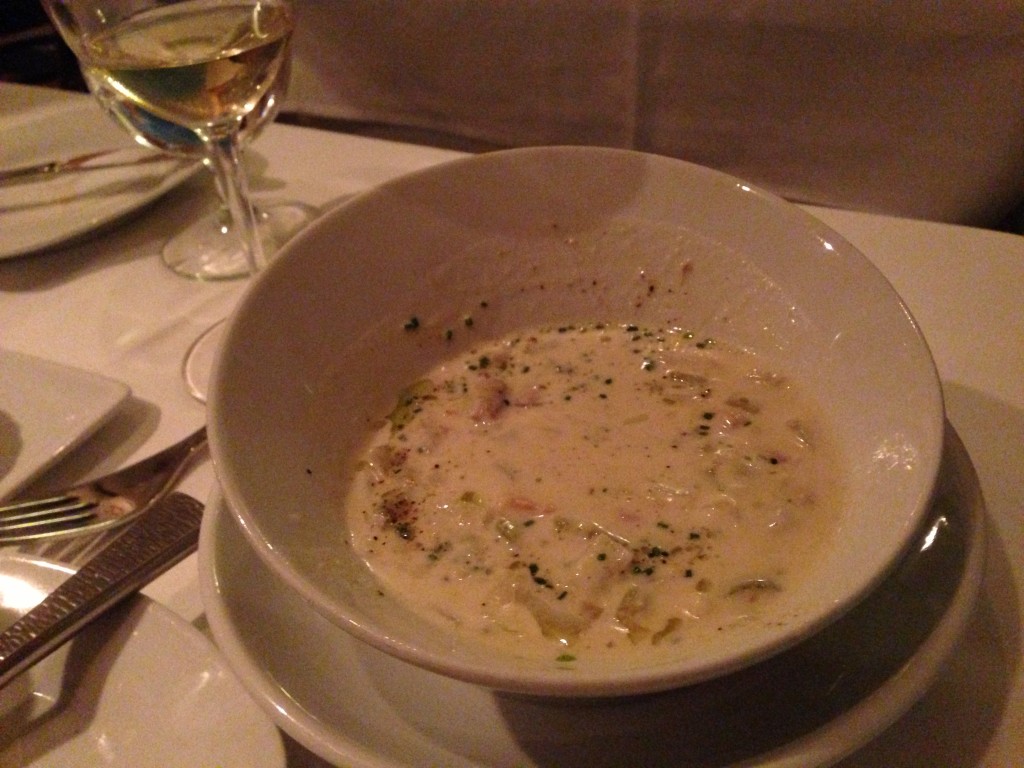 What's this you ask?  Herbes de Provence crusted flounder with home made gnocchi.  Delectable!!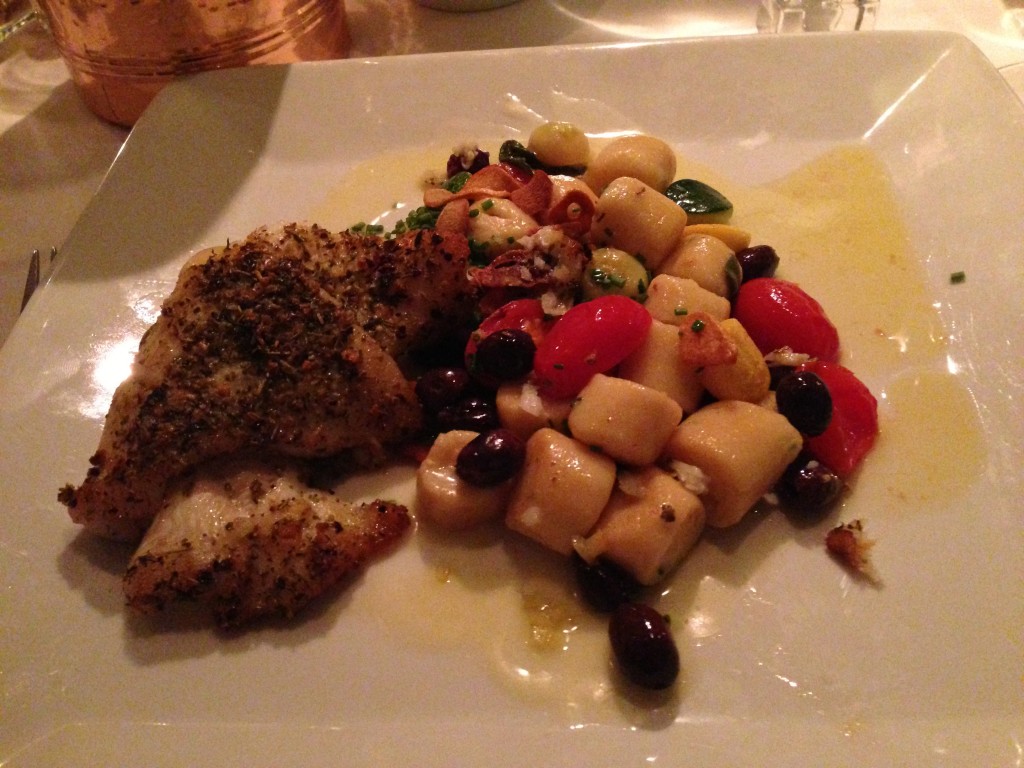 And this?  Spring vegetable risotto.  Done perfectly.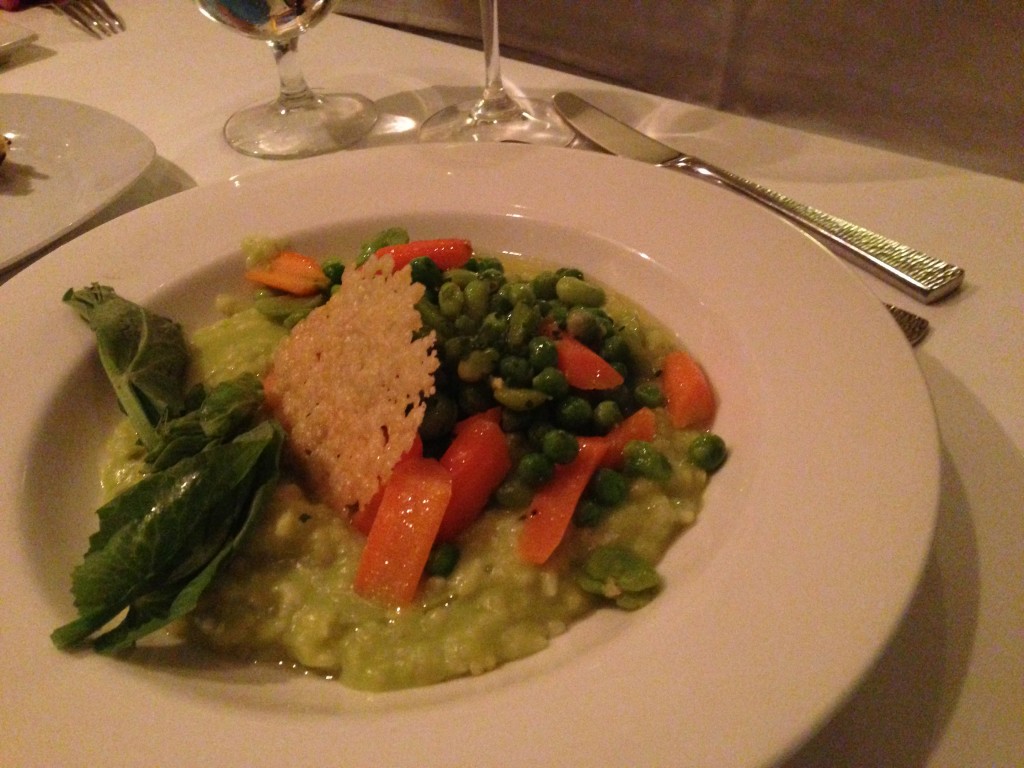 What's this you ask?  Dessert!  We were going to go elsewhere (Sundae School) but our lovely, gracious and knowledgable waitress told us we'd be making a mistake if we didn't have dessert, which is made daily and that included the ice cream.  She was right!   That deliciousness is a combination of tiramisu and chocolate mousse called Zuccotto.  Along with a homemade ice cream, it was unbeatable.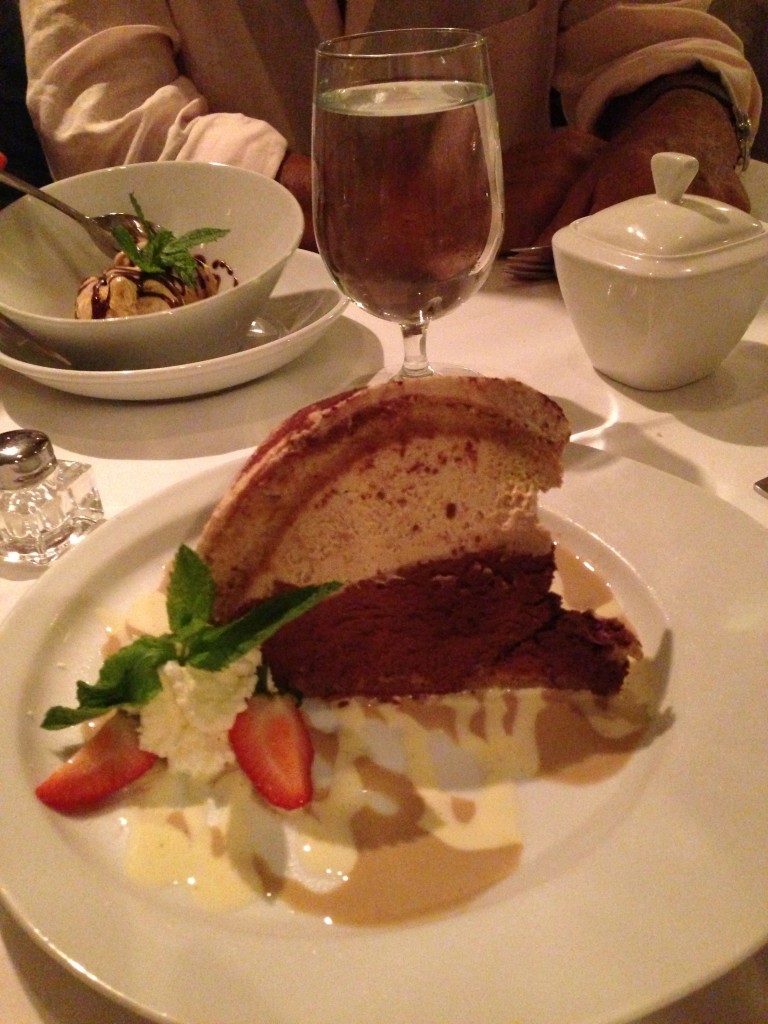 And, that was night 1!!
Night 2 – Sesuit Harbor Cafe – you can't do better than this for the quintessitial Cape experience of dining al fresco on picnic benches along Quivet Neck, eating the freshest seafood, and you can BYOB.   How's this for a view while you're dining?  The best!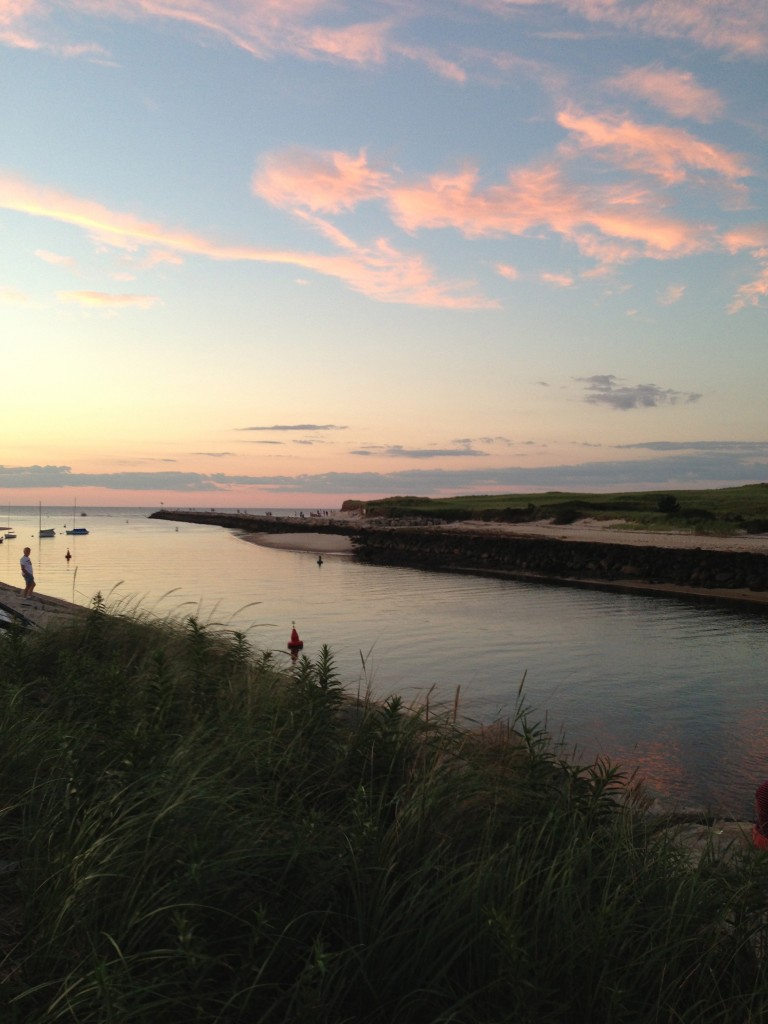 This used to be the best kept secret.  Not anymore.  That's a line that wound around and took about a 1/2 hour to get to the counter to order your food.  You can BYOB so we took out the wine and beer and had ourselves a party!!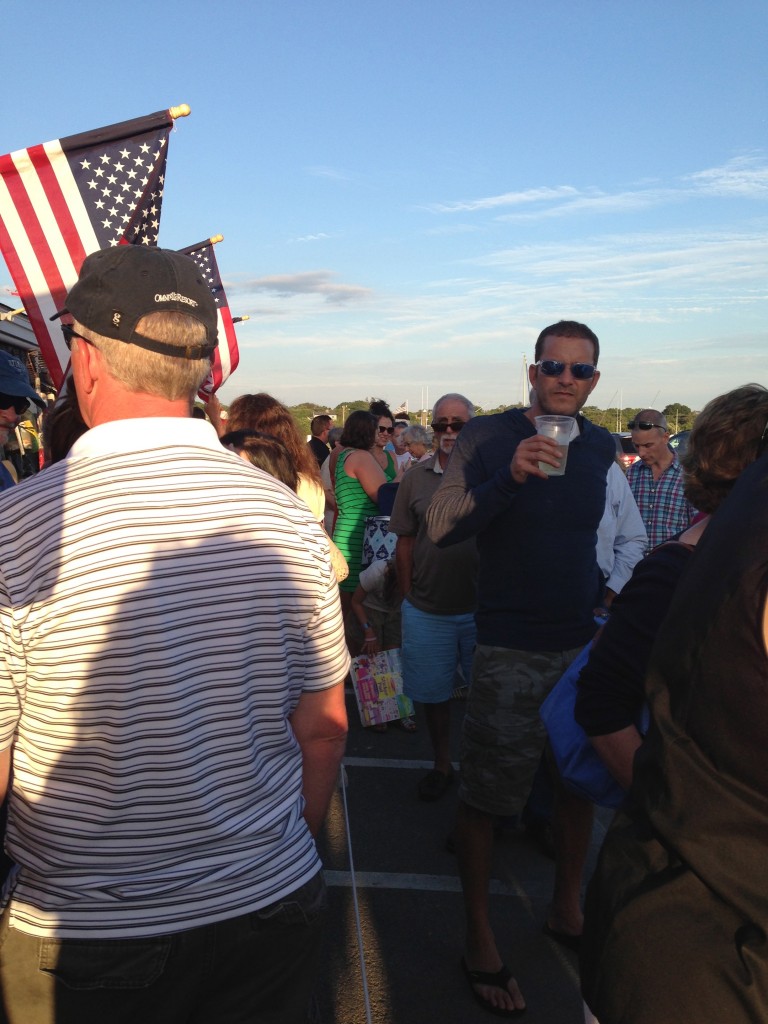 The menu board.  It's hard to choose!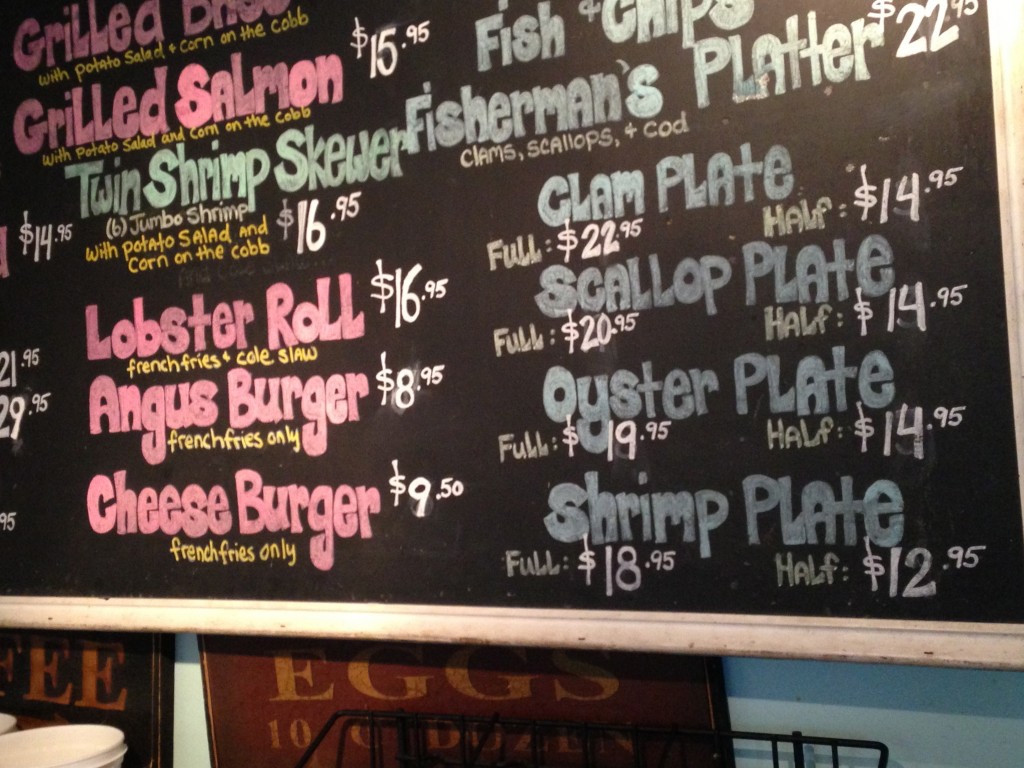 Always on a search for the best "lobsta roll"!  This is right up there. Nothing but lobster, special seasoning,  some mayo on a fresh, perfectly grilled roll.  Nirvana!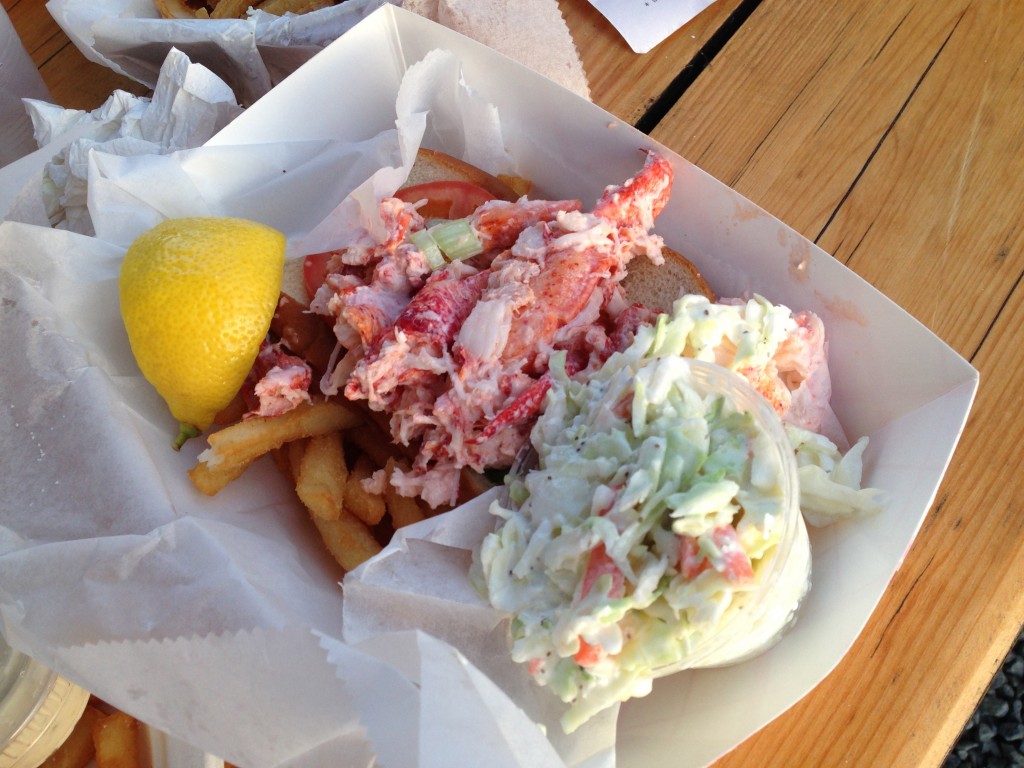 Crisp, sweet, meaty fried clams with  homemade cole slaw and french fries.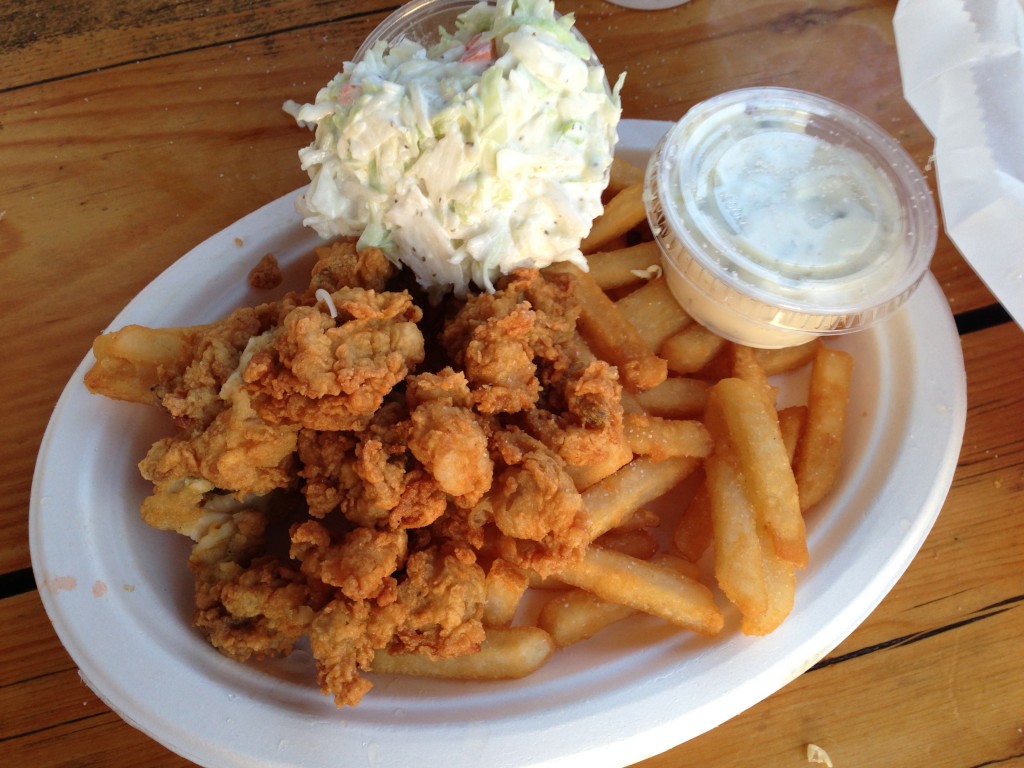 Dessert?  Sundae School.  Always a crowd.  Awesome ice cream and even if you're so stuffed you feel you can't eat another bite, there's always room for ice cream.
There are lots of restaurants to choose from on the Cape.  Something about the salt air makes you really hungry.  But, I promise if you have two meals Sesuit Harbor should be one and Fin should be the other!  And don't forget Sundae School!!
The movie?  Fruitvale Station.  Go see it.  Very powerful!
Oh, and the friends – old friends.  The guys, friends since grade school.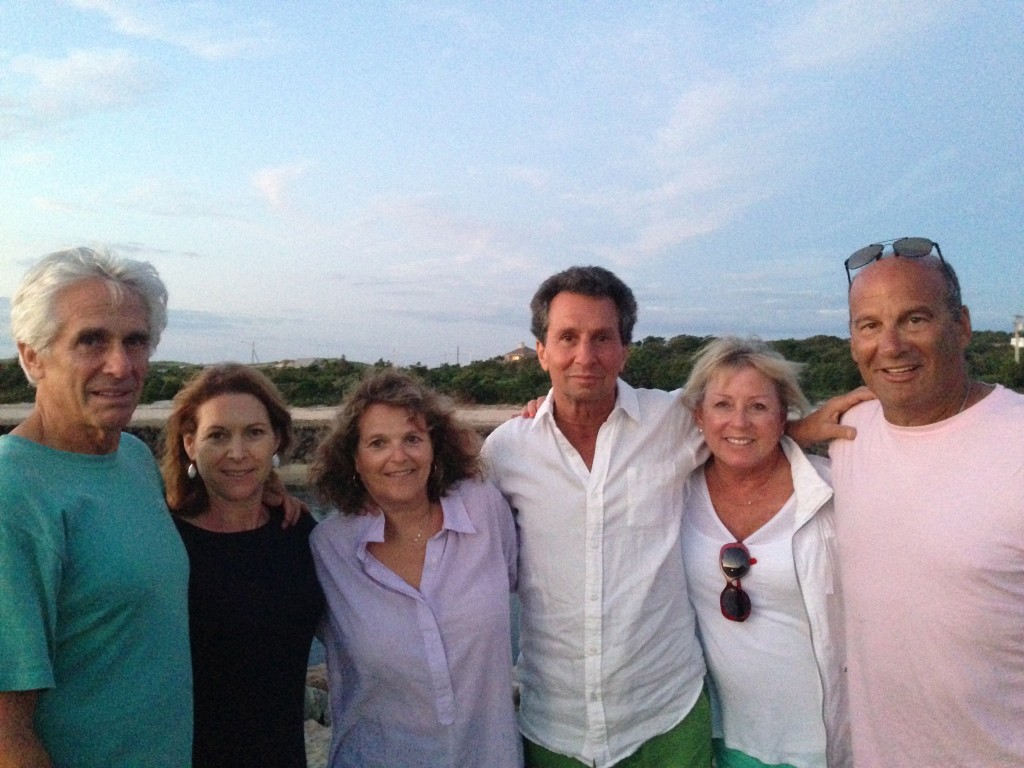 Laughs – lots of laughs.  That's what keeps us young!
And, that my friends is the recipe for a great weekend!
See you at the bar….