Christmas Eve 2013 – flying into Oaxaca all you can see are the flashes of fireworks.  On the ground it's a big party.  In the Zocalo, the main square, Midnight Mass, held 10P, is happening.  The church is crowded with parishioners and tourists and the bells are ringing inside and outside the church.  Surrounding the Zocalo and adjoining park are restaurants and they are all open and crowded.  So what's for dinner on Christmas Eve?  For us it consisted of tacos al pastor, guacamole and a beer.  How good is that?  And that was only an hour after we landed! 
So what is Oaxaca all about?  It's about art and food.  It's not a fun in the sun Mexican destination.  The mornings are crisp and the days warm and clear.  It sits in a valley ringed by the Sierra Madre mountains.  There are artists making every kind of art and handicraft you can think of.   It's famous for it's cuisine with it's 7 varieties of moles, mezcal comes from Oaxaca, there is Oaxaca cheese and chocolate.  It's the most beautiful Mexican city we've been to.
Christmas Day – a bountiful brunch at the Quinta Real which was our base for the four days we spent in Oaxaca.  The Quinta Real, which takes up a block in the historic downtown, was a former convent and jail and converted with great attention to detail to a 5 star hotel.  I loved it!  The brunch?  Everything you can imagine and then some.  We had to try everything which included special sweet tamales, tortillas with red and green sauce, breakfast pastries, eggs, beans and rice.  I tried everything except the soup that said "tummy soup".  I wasn't sure if it was something for your stomach or something made from the stomach of an animal, so I passed!  Roy asked the roving musicians to play "Cucurrucucu Paloma" and everyone loved it!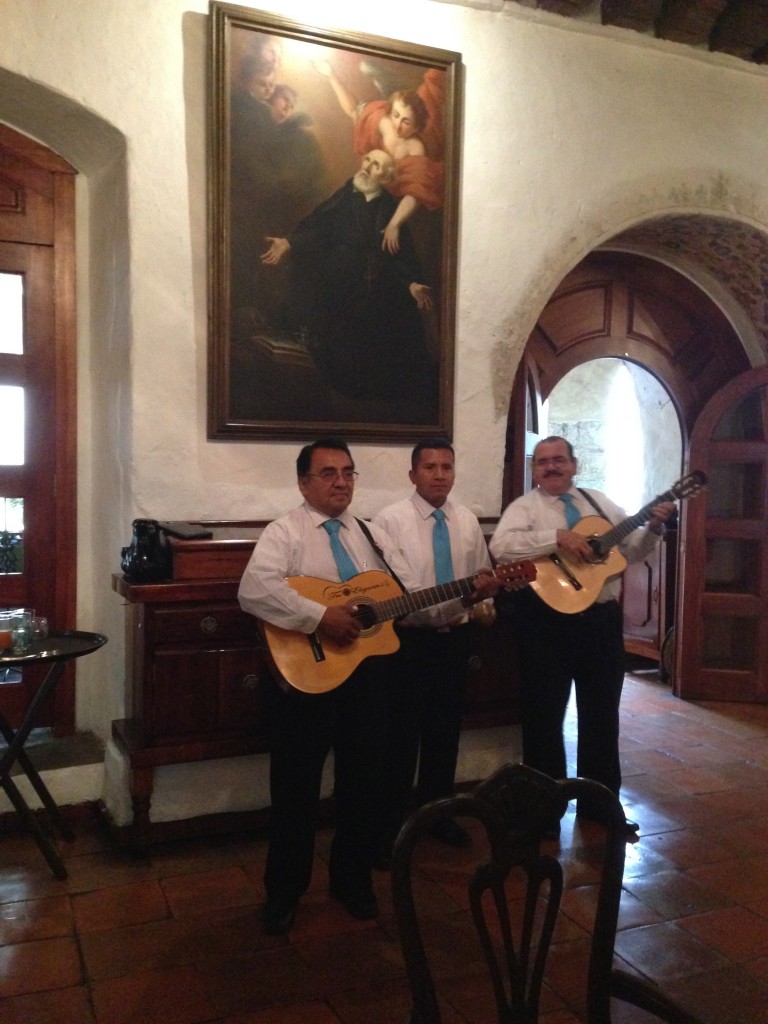 Then, what do we do on Christmas Day?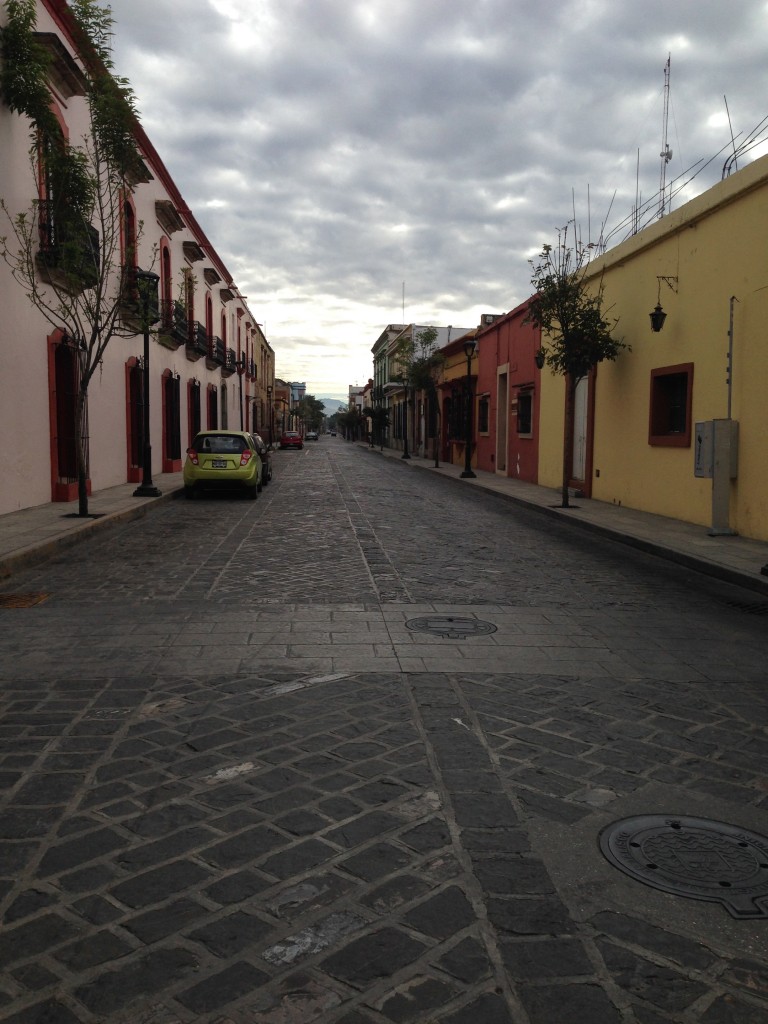 As you can see, the streets were deserted but we found a guide, Tomas, and he took us to the Central Valley where villages are located with each one known for a particular craft.
The first village we went to is known for it's weavers.  We visited the studio of Familia Feliz Cruz Lazo.  He is most famous, shows his works around the world and is talked about in books on weaving.  We were given a demonstration of how the natural dyes are made.  The Cochinea bug is used to make red and from it you get 82 tones of color. It is then mixed with different natural ingredients to give you the various colors.  Blue is very special and it comes from the indigo plant which is dried before using.  Pomegranates and marigold are used for yellows and brown comes from bark and leaves.  Moss from trees makes colors lighter.  Tints are then mixed in hot water with a volcanic stone.  The wool spends 6-8 hours in the dye and then is washed to make the colors permanent.   We couldn't leave without buying one.
The next town is known for it's black pottery.  We're weren't excited by it so we went to a town famous for folkloric wooden sculptures.
Some wooden sculptures have intricate hand painted designs and command a high price.  We opted for the small wooden animal folk art carvings which are called alebrije and are found all over Oaxaca.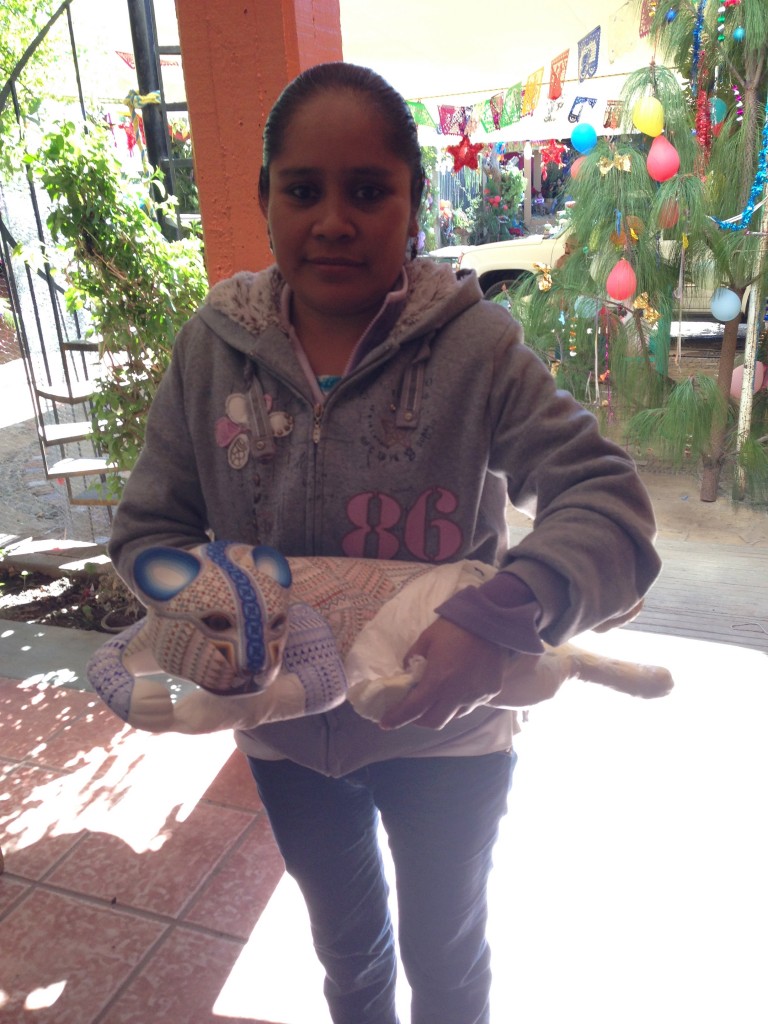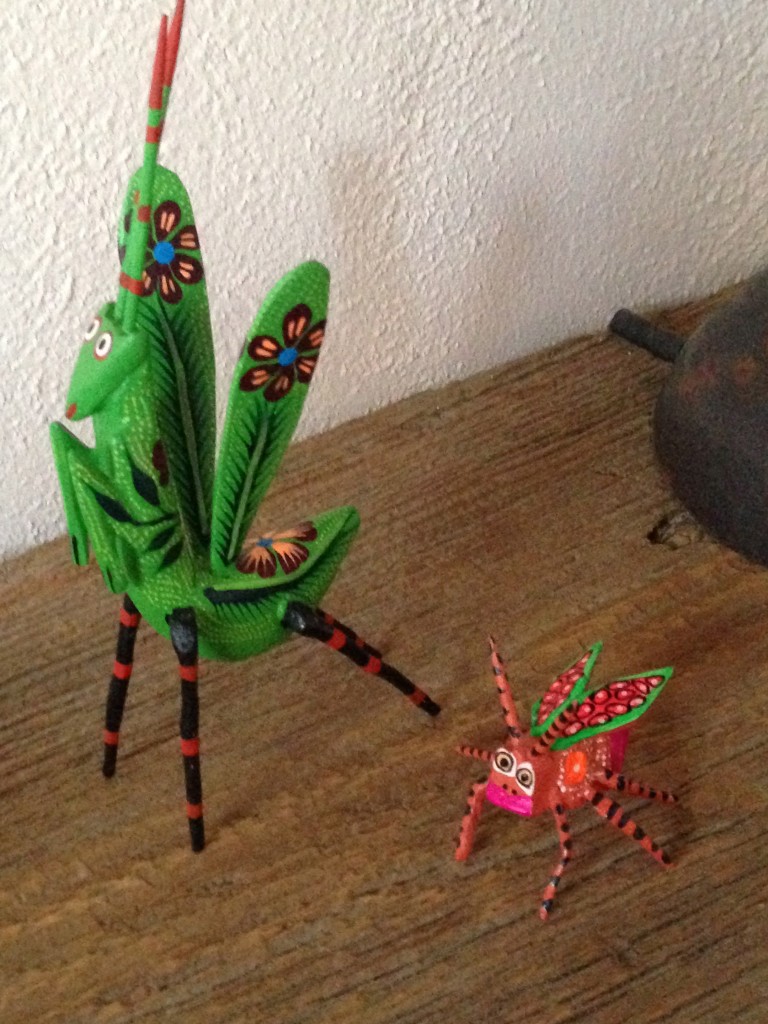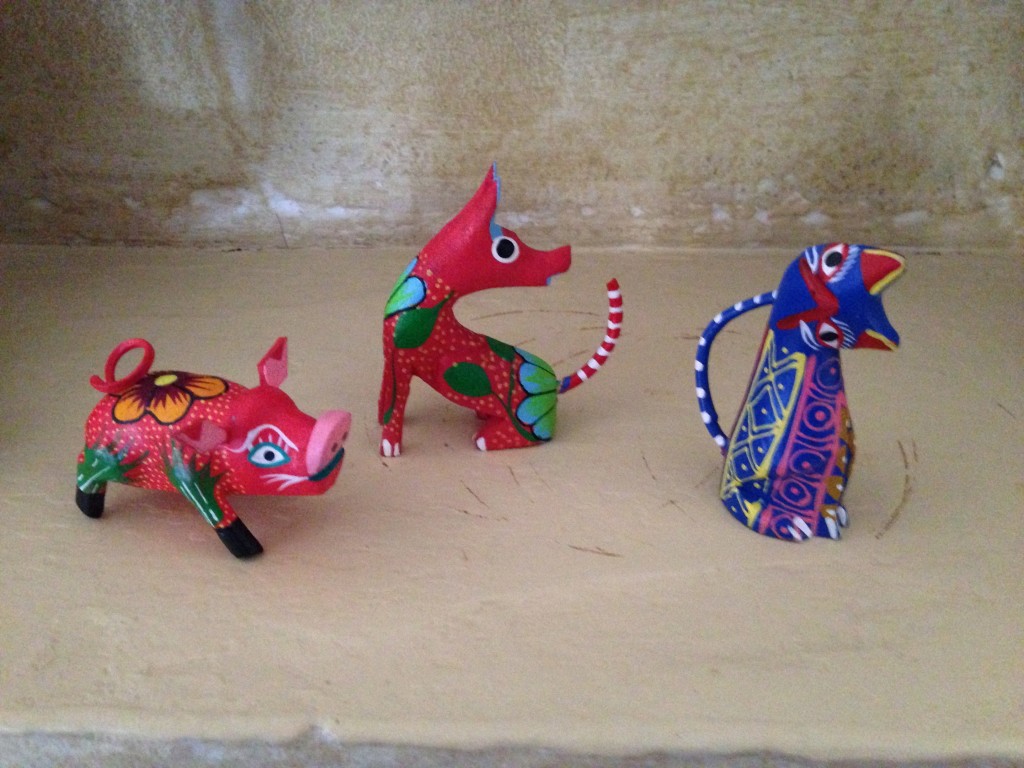 Touring makes us hungry.  What's for lunch?  Chicken which you see turning on rotisseries in every neighborhood.  Not Whole Foods rotisserie chicken. This is the real deal.  Served with some pico de gallo, refried beans and macaroni salad at a little sidewalk restaurant with football on the satellite TV.  The chickens are hand turned over an open fire.  Muy Delicioso!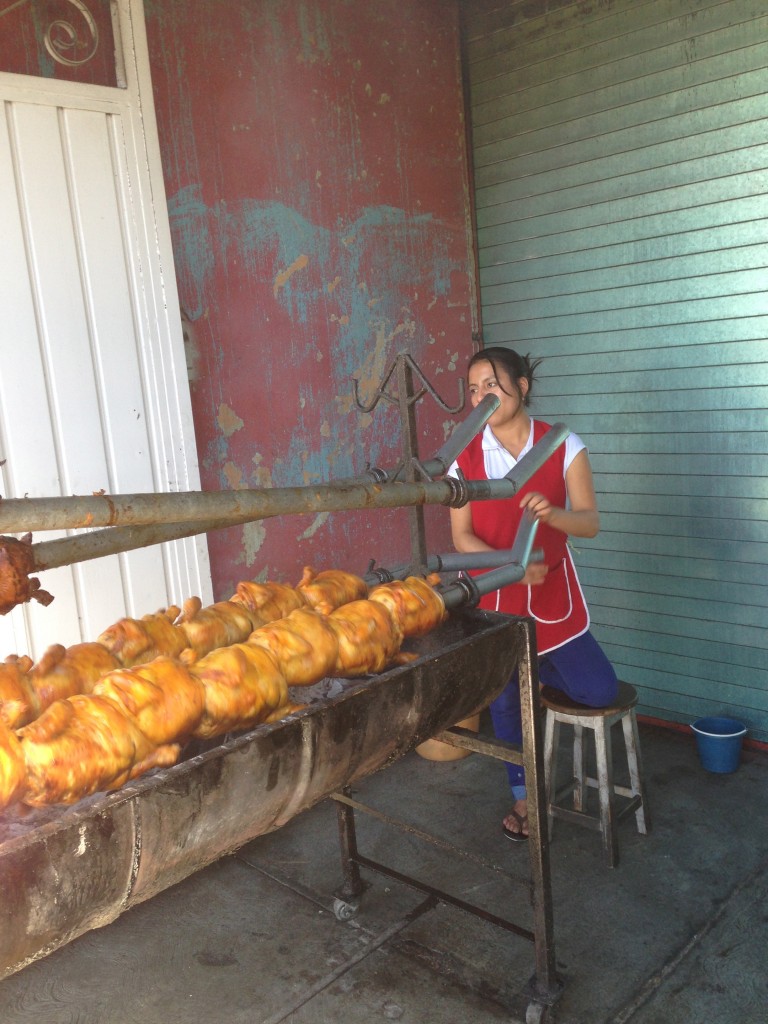 Dinner?  At one of Oaxaca's many fabulous restaurants.  Cathedral.  Sitting in the beautiful courtyard with twinkly lights, a nice dry white, chicken in mole negro and lechon (roast pork) in banana leaves, an excellent Christmas Day dinner.
The end to a perfect first day.
Day 2?
See you at the bar…..