If you read my blogs you know we love markets.  They're the heartbeat of a city.  So we had to go to the Mercado 20 de Noviembre (named for the anniversary of the movement which led to the overthrow of dictator Jose de la Cruz Porfirio Diaz Mori (who was from Oaxaca).  It's all about food and is the original take on a food court. There's no Sbarro or Subway here.  Everything is fresh and made to order and it's almost impossible to get a seat at a counter.  They are arranged by type of food.  You just pick one food stall that looks good and grab a seat.  It's some of the best food experiences you could have in Oaxaca.  Each one is individually owned and they are called a fonda.  No one speaks English but I use my best high school Spanish to place our order.  Roy orders his breakfast in French.
I had to have a famous Oaxaca breakfast consisting of hot chocolate and pan which is a big sweet roll.  The hot chocolate is hand mixed and poured into a ceramic bowl.  It's hot and frothy.  It tastes like chocolate and cinnamon and it's the best hot chocolate I've ever had.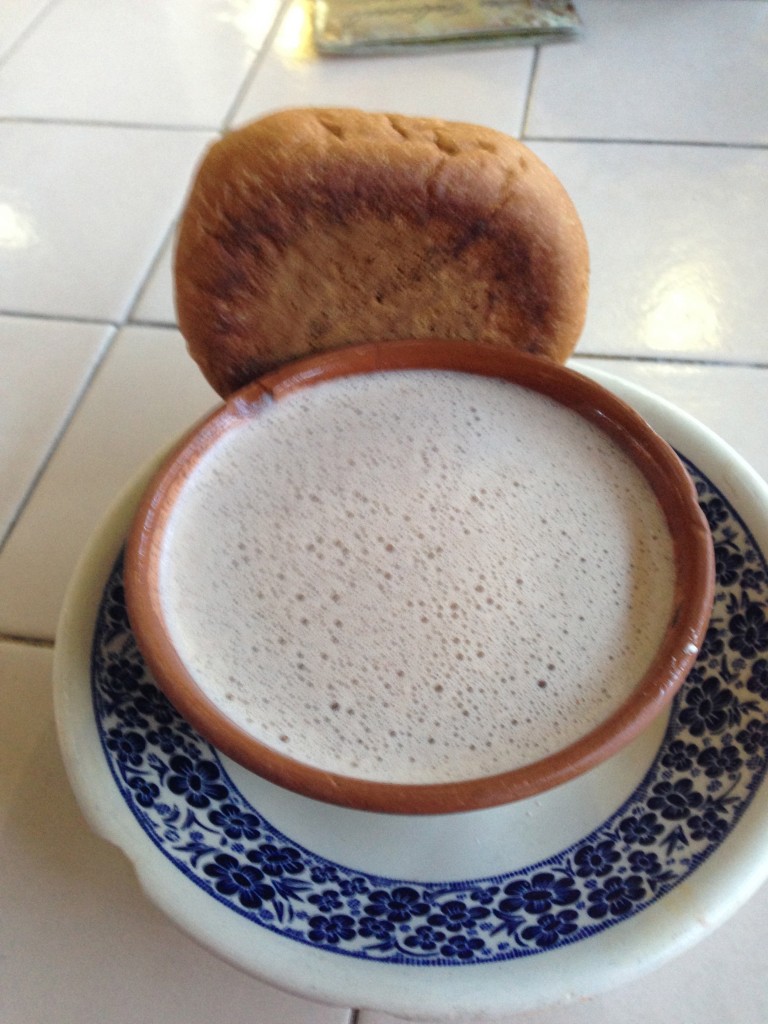 Roy wanted an orange juice so someone from our food stall ran to another food stall that specializes in juices and brought back a hand squeezed tall glass of juice.  Roy had a quesidilla with Oaxaca cheese.  Some other traditional breakfast foods at our counter were bowls of the most delicious looking chicken soup with cheese, avocado, chunks of chicken and rice and it looked so good.
After breakfast we walked around the market.  It was a jumble of vendors from surrounding villages selling their wares, roving musicians and this family playing the marimba.  The young boy was playing with three sticks – 2 in one hand.  They were fantastic.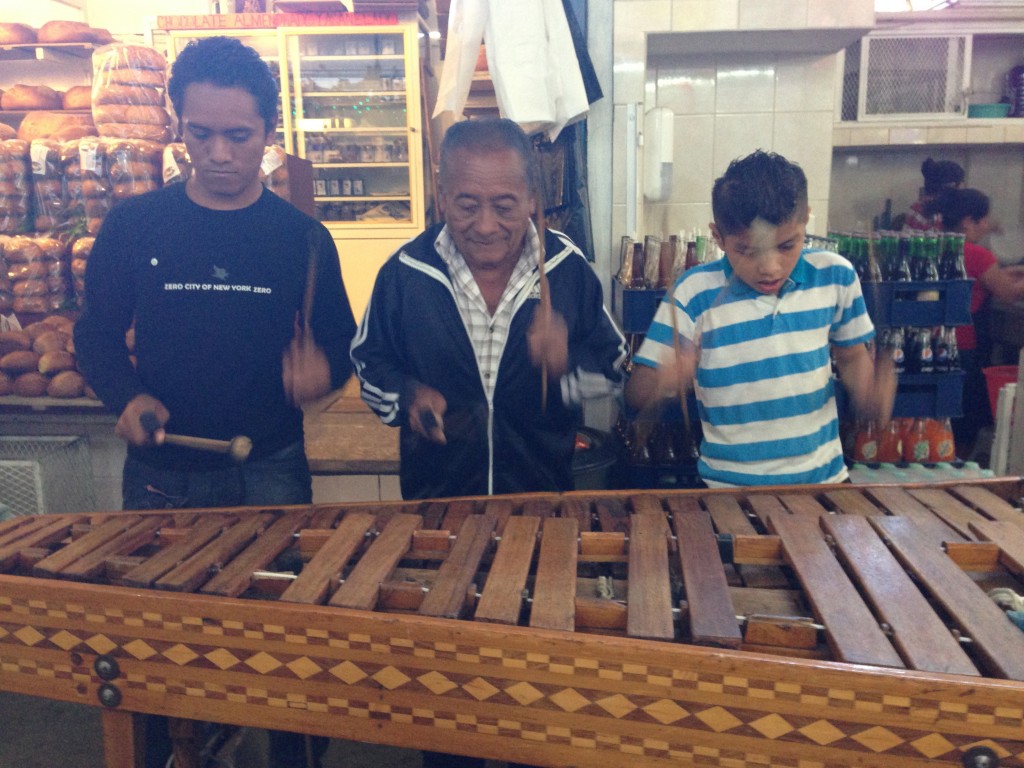 Skirt Steak is the meat of choice, along with chorizo; pick your choice of meats and have them barbecued on a hibachi.  Add a little guacamole or pico de gallo.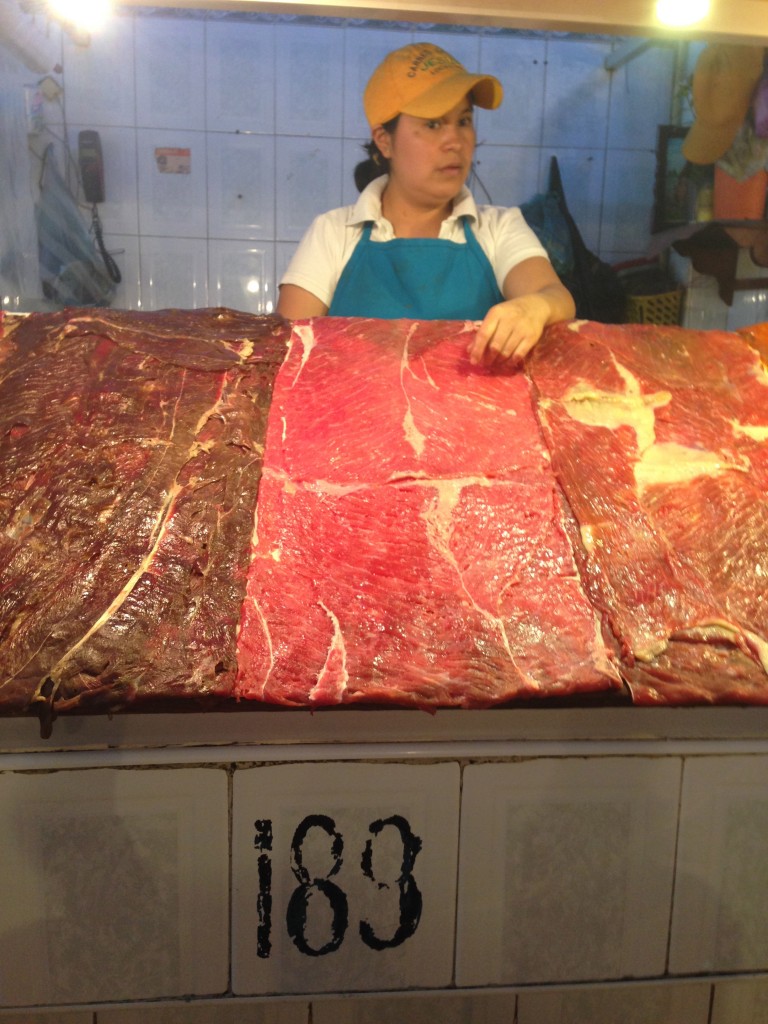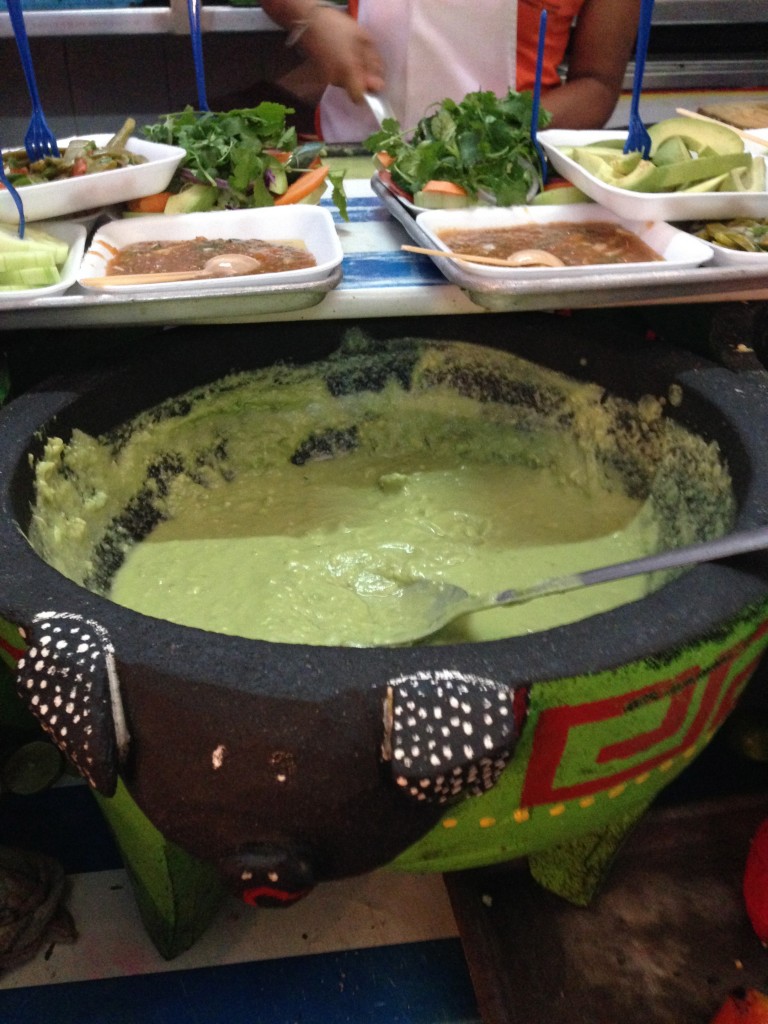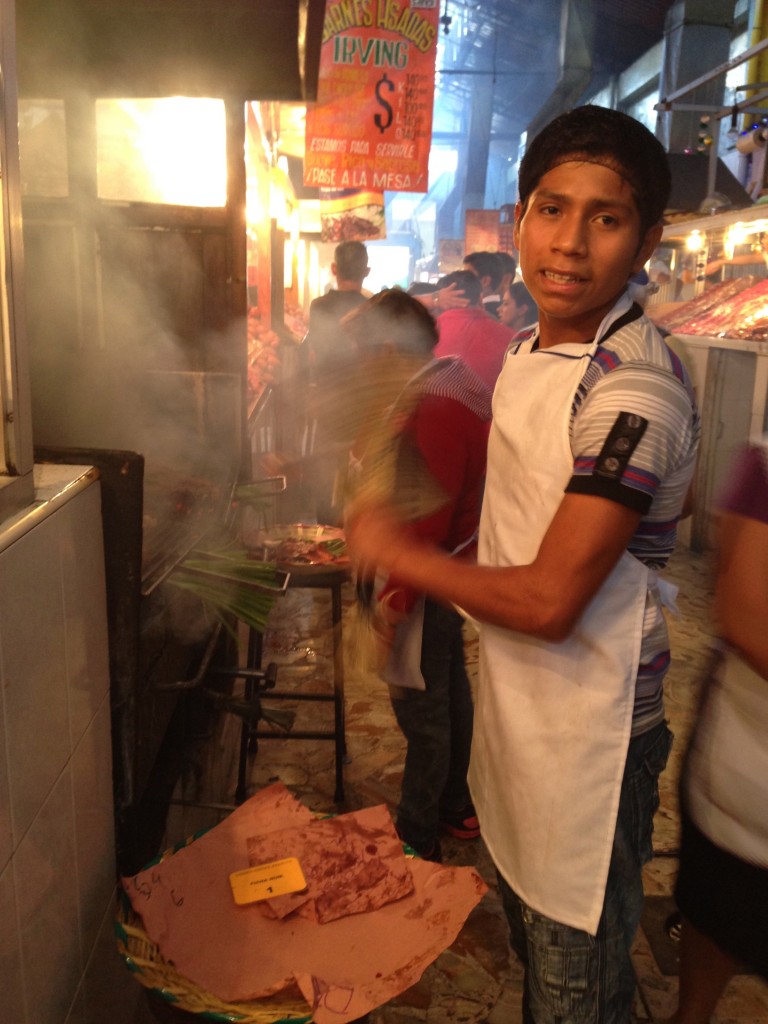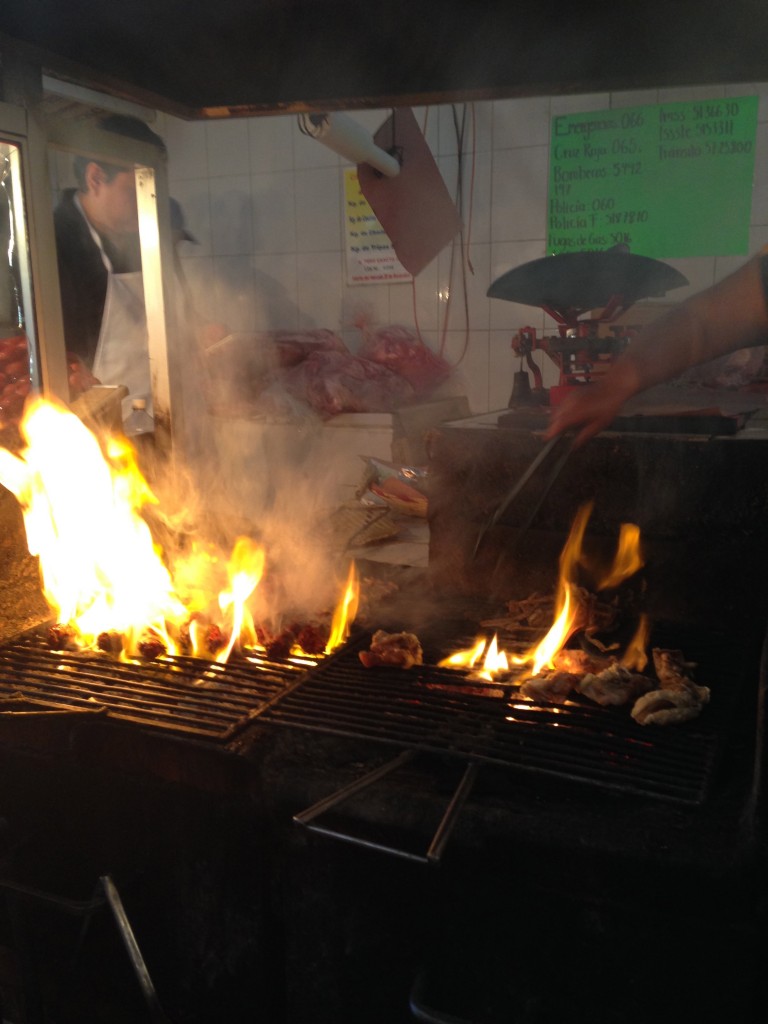 One of the favorite snacks in Oaxaca is Chapulines.  Do you know what that is?  Grasshoppers!  There are two kinds.  One comes from corn and one comes from alfalfa.  They are fried with garlic, onion and with chili and are sold everywhere.  You can order them as snacks in the best restaurants.  I had to pass.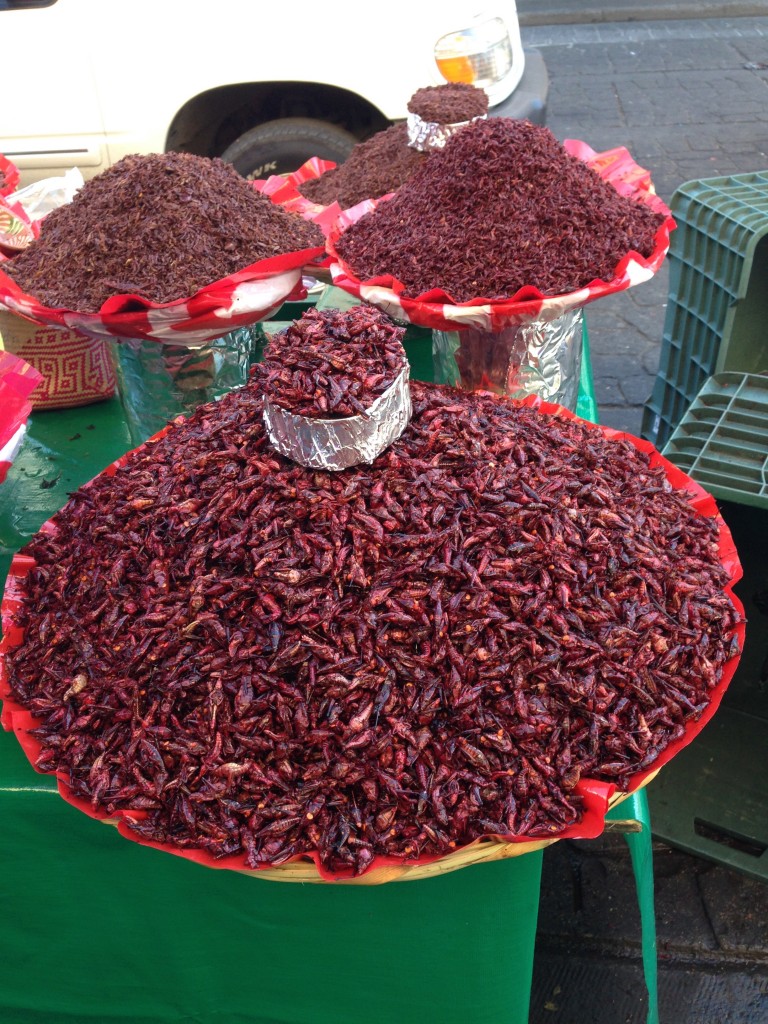 Here are some more market scenes: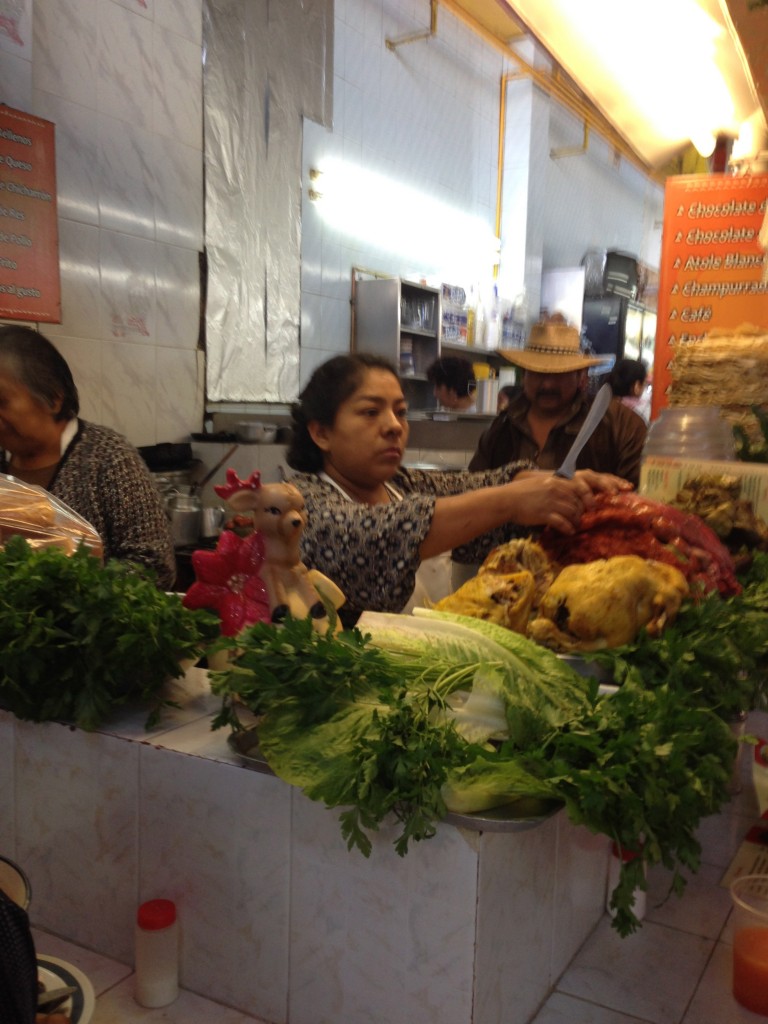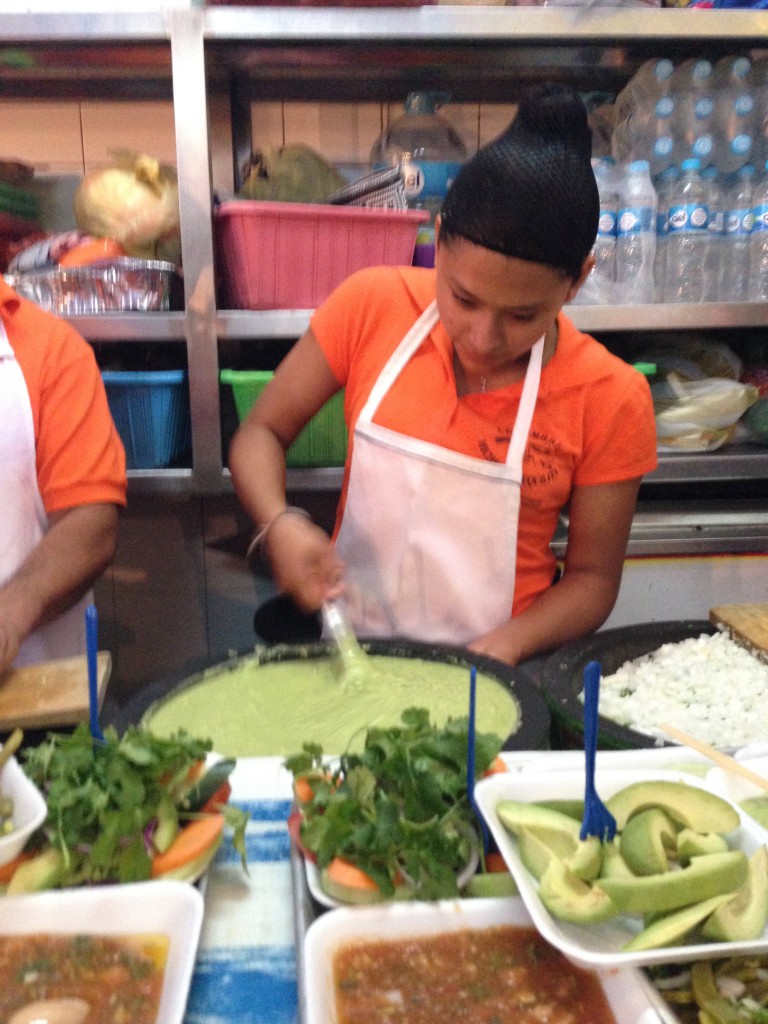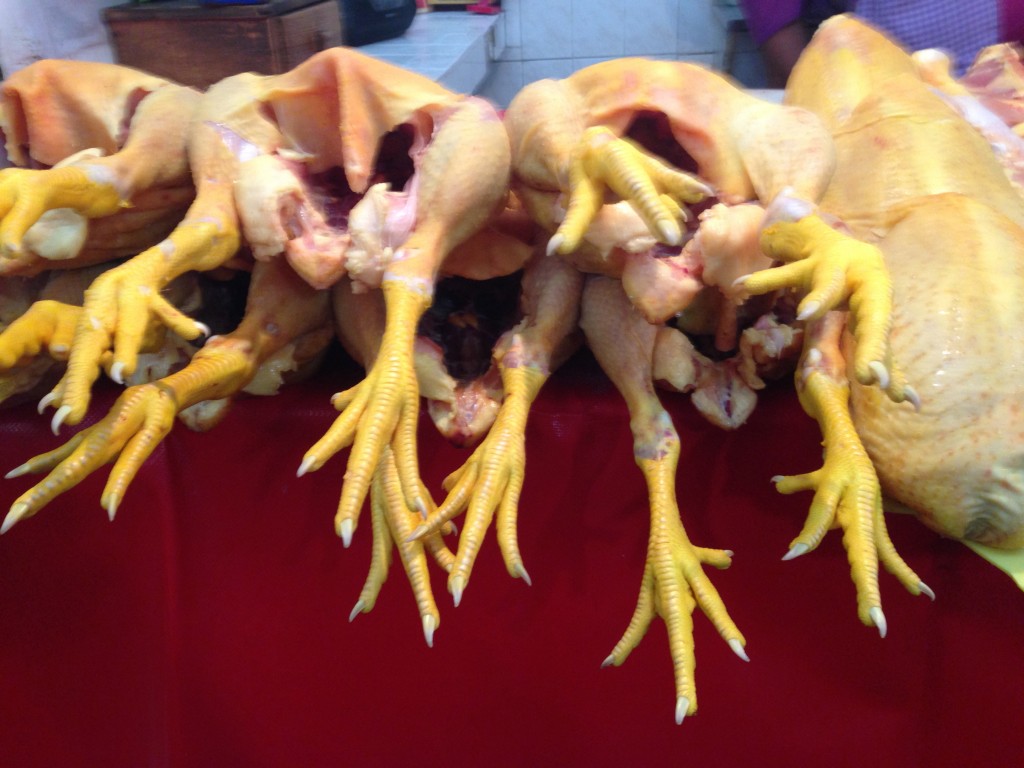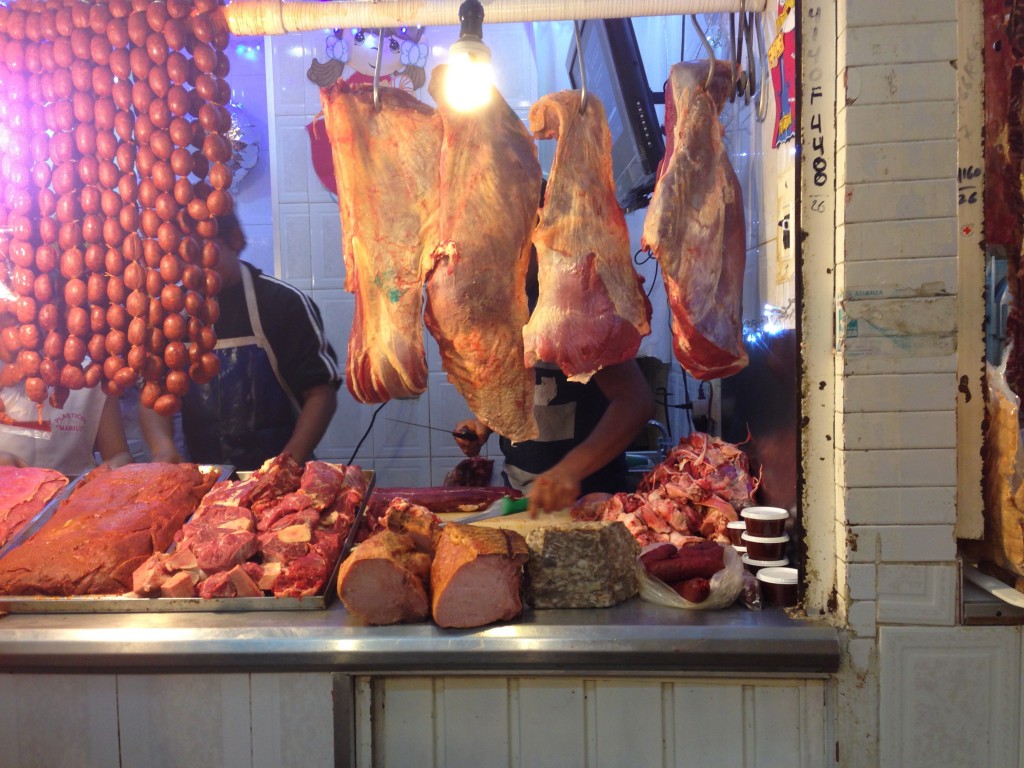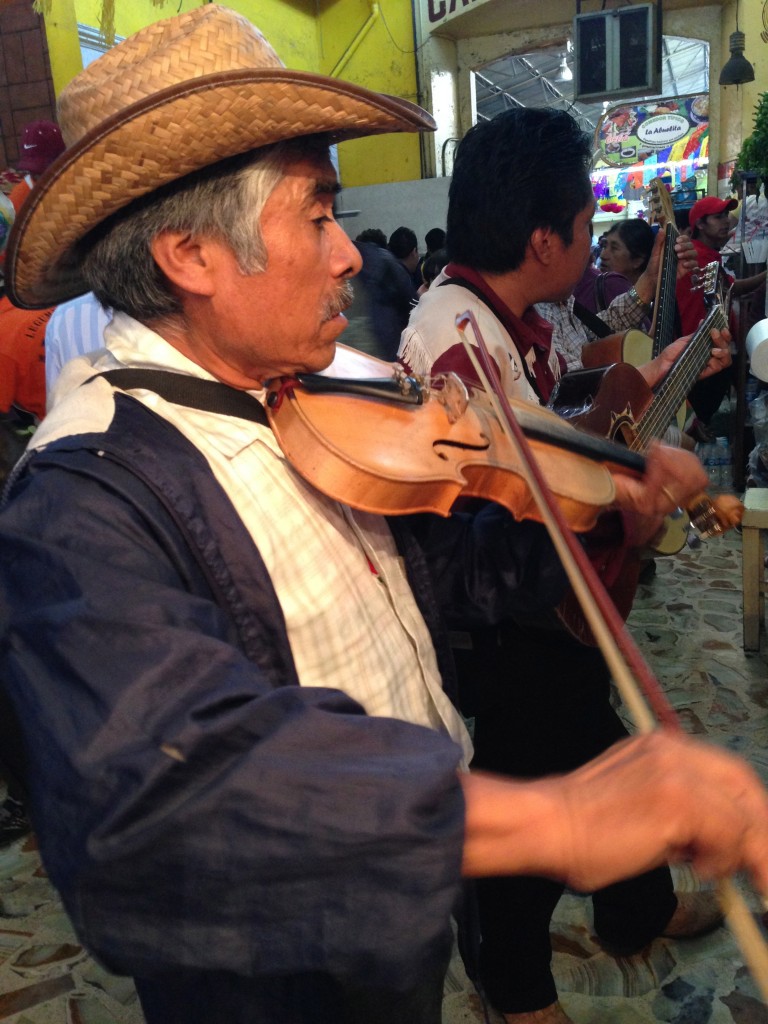 After breakfast we had to do a little shopping.  Some of the best shops are cooperatives selling the crafts from artists of surrounding villages.  We bought this frog and coincidentally the artist was in the courtyard working so we were introduced to him!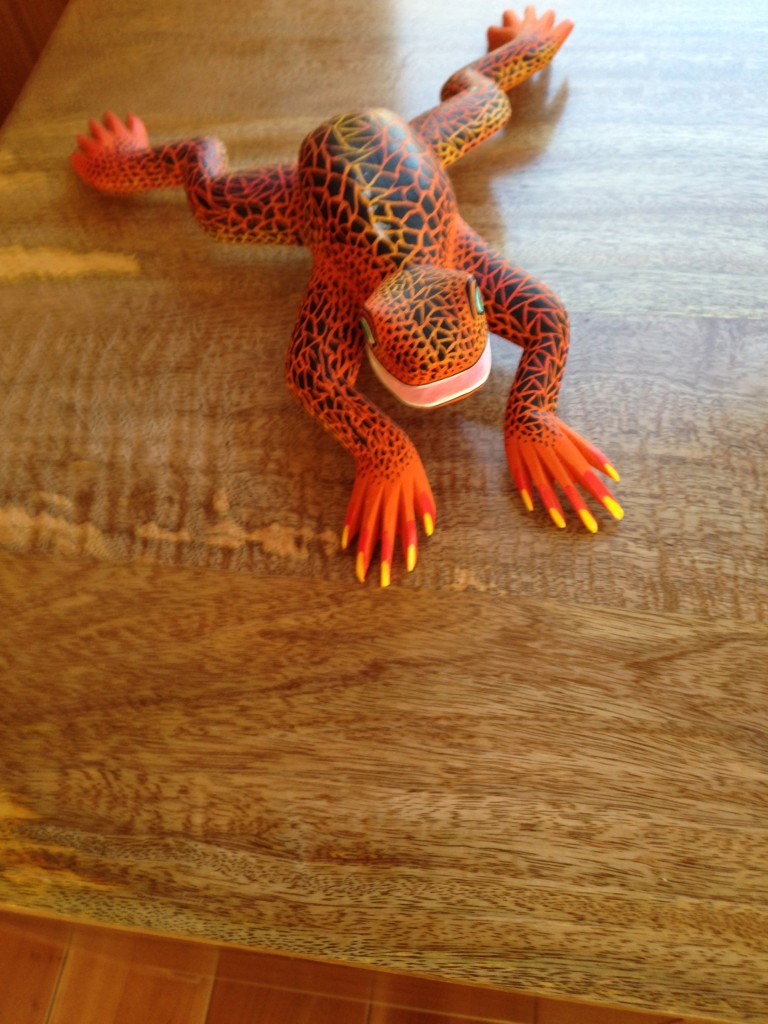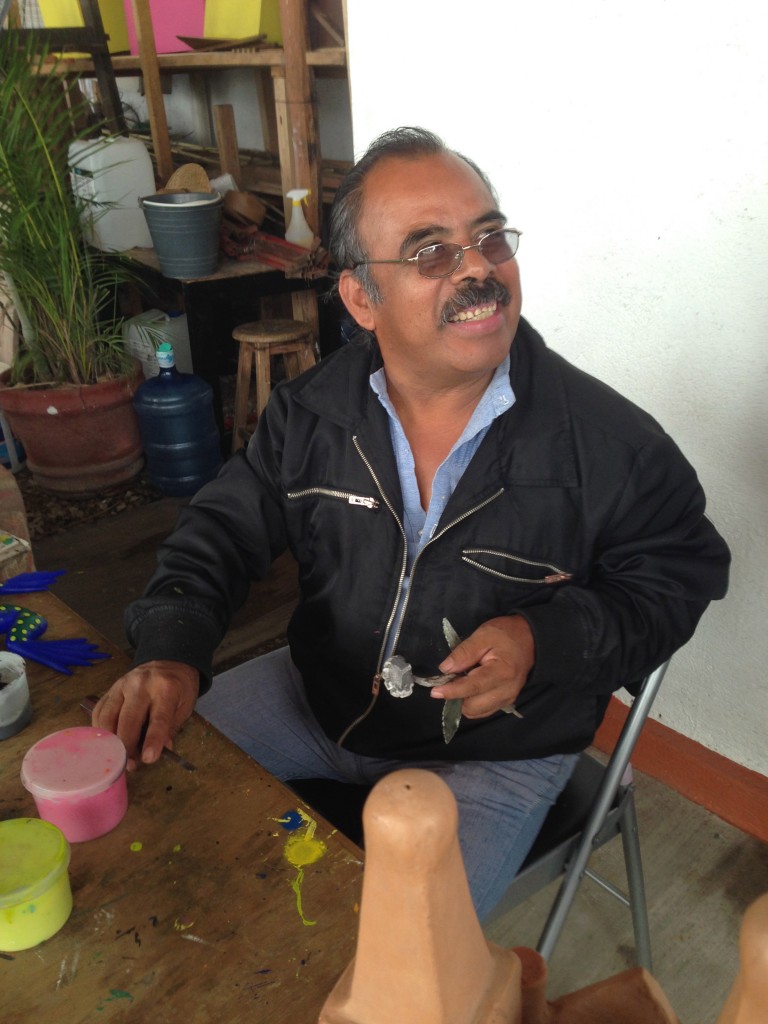 My last purchase.  A handbag with a tapestry handwoven by a craftsperson from the town of Itsmo.  You see variations of this design all over Oaxaca.   But this shop sells only original designs and the handbag has a different design on each side.  There are no others like it.  I couldn't resist!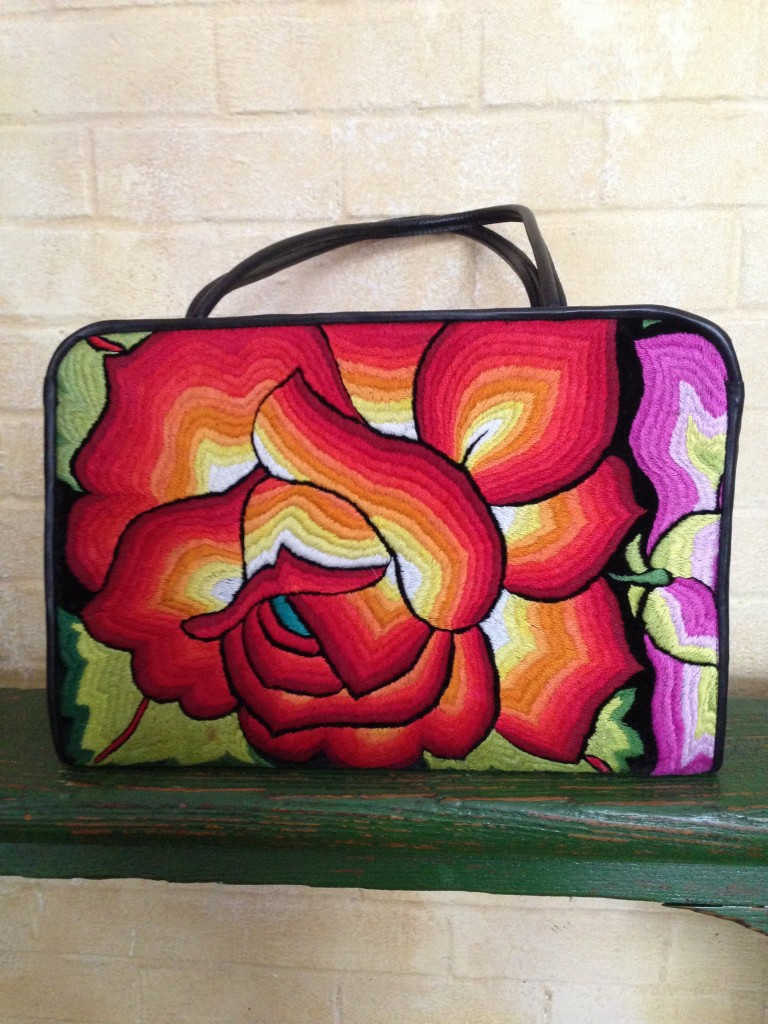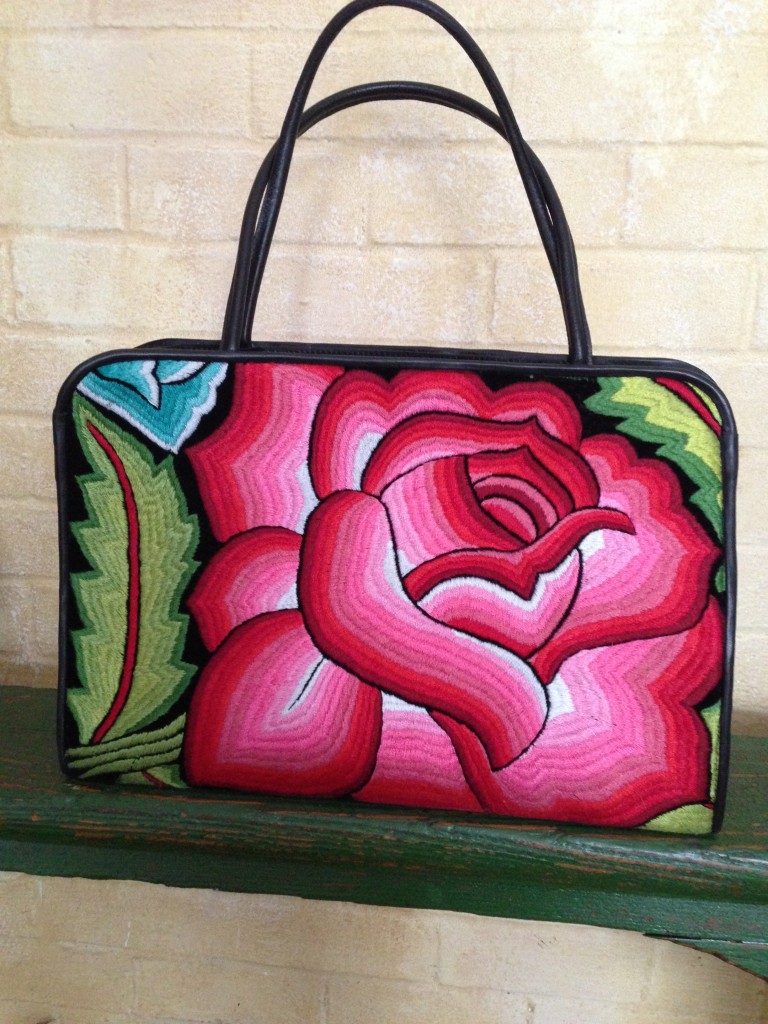 Italian food in Oaxaca?  Yes!  The best actually.  The owner of Mexita is from Napoli! We had an excellent carbonera and veal scaloppine!  After dinner glasses of homemade limoncello and amaretto!  Who'd think??
On our way back to the hotel, this is what was happening on the street.  Street food with cars double parked and people waiting in line for tacos.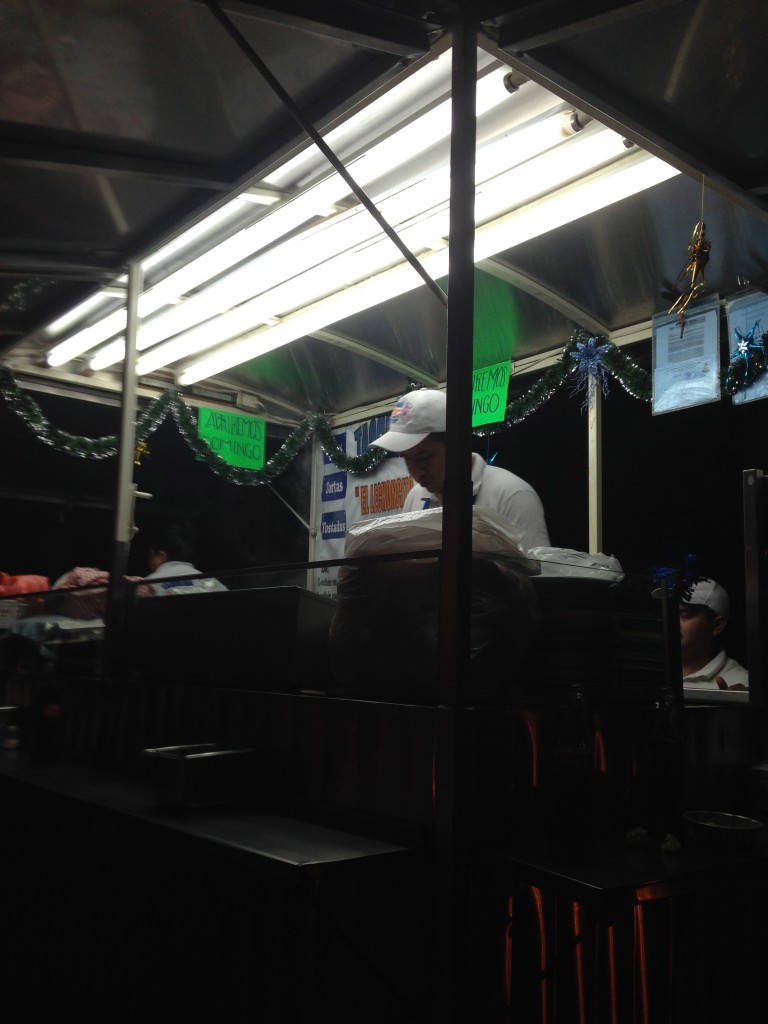 Oaxaca at night: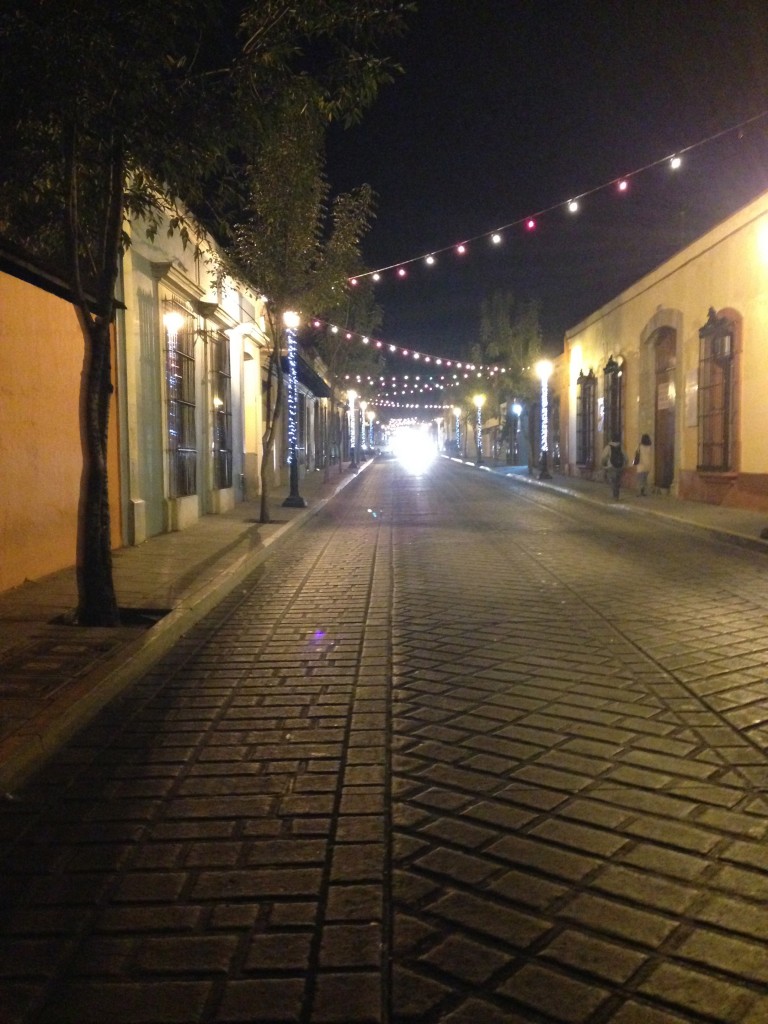 Our hotel, because of it's historical significance and beauty, seems to be the site where every girl having a quineanera has her formal pictures taken.  There were probably 5 or 6 photo shoots while we were at the hotel.  I took a picture of this girl.  She was stunning and so was her dress.  Just one of two that were worn for her photo shoot.  The other dress had a similar design as my handbag!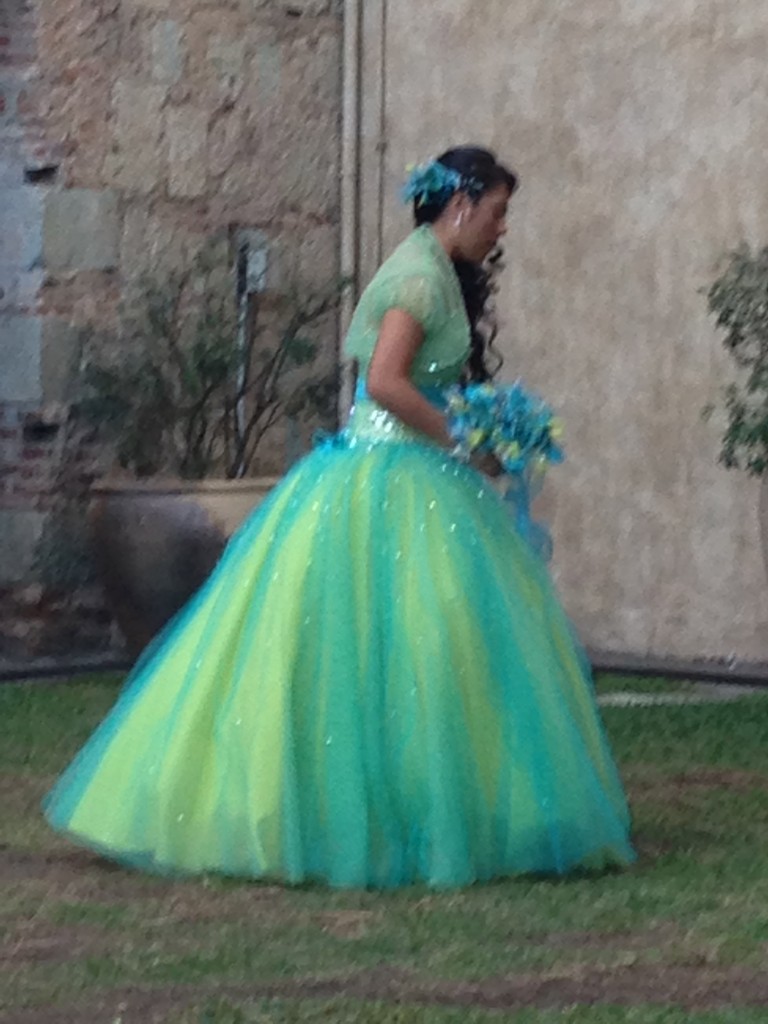 Our last day had to be cut short.  Roy came down with a 24 hour bug and that ended our plans.  But we did everything we wanted.  We loved Oaxaca.  Would we go back?  Probably not.  Not because we didn't love it but because there are so many places to visit.
Where are we going next?  Panama!!
See you at the bar……