I'm not a religious person but I think I found heaven.  In fact, Peter one of the exceptional guides at Isla Palenque told me that he thinks he knows that if there is a God, he's on Isla Palenque.
I think he's right.  A private island retreat set amidst 400 jungle acres off the west coast of Panama in th Gulf of Chiriqui, it's a dream.  We've been to some outstanding destinations and this is now on our Top 10 list.  I'd like to keep it to myself but that would be very selfish of me.
After spending two nights in Panama City at a big convention hotel, the Riu Plaza, we boarded a flight to David, the second largest city in Panama.  Upon arrival, a driver was waiting to take us to Boca Chica, a small, emphasis on small, village, no not even a village, an end of the road and the road ends in the water, where the boat for Isla Palenque would be waiting for us.
But first, we had to have some lunch.  The driver knew exactly where we should go.  A roadside restaurant with local specialities.  We had empanadas, some fried yucca and fried corn cakes.  Fried, fried  and more fried!  Delish.
 Now we could concentrate on the hour drive through the Panamanian countryside.  Then, a 10-15 minute boat ride, a walk down the dock to a reception area, and a drive down a dirt road in one of the resorts little vans and voila, there it is,  heaven on earth.
When you make plans for a vacation and spend time trying to find what you think will be the best destination and hotel, you wonder if the reality will meet your expectations.  Sometimes it does and sometimes it doesn't-this did and then some.
Walk through the common area which is open to face the ocean and we were immediately blown away.  We decided to go for the gusto on this trip and booked the ocean front suite.  Well, the ocean front suite with a deck that runs the length of the suite, a bathroom with a tub that looks out onto the jungle and a rainforest shower with no enclosure, was worth every penny.  It's the kind of room where you're just happy to be.
This is the view as you're taking a bath or shower!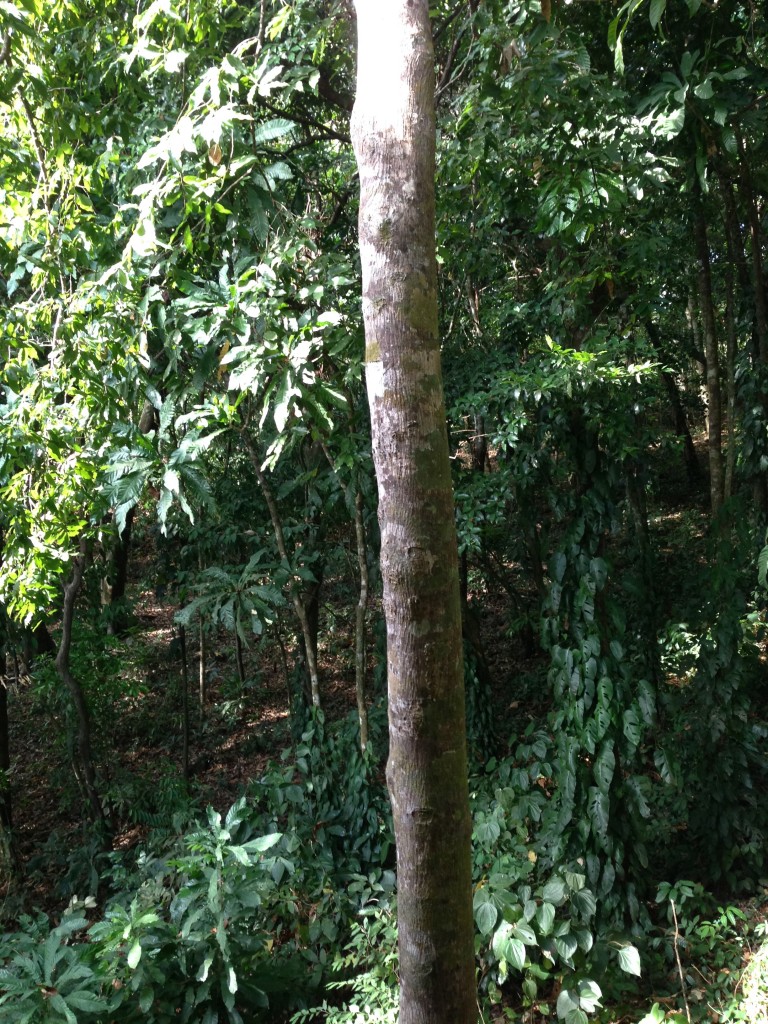 This is where we ate our meals.  Not too shabby, right??  Oh, and the food? Three fabulous meals a day. We're not all inclusive travelers, but at Isla Palenque it's a captive audience with no where else to dine.  The chef, a native Guna indian never failed to amaze us with his creativity. Anything from Thai-style chicken curry soup to wreck fish in creole sauce or pan fried skirt steak, every dish was a winner.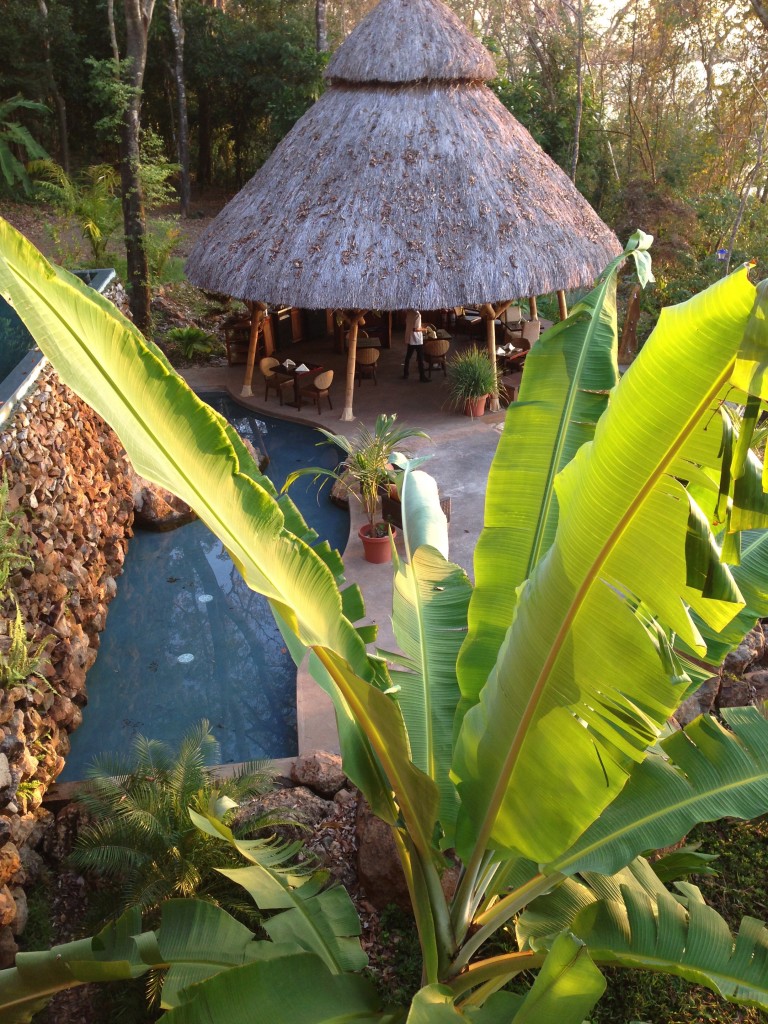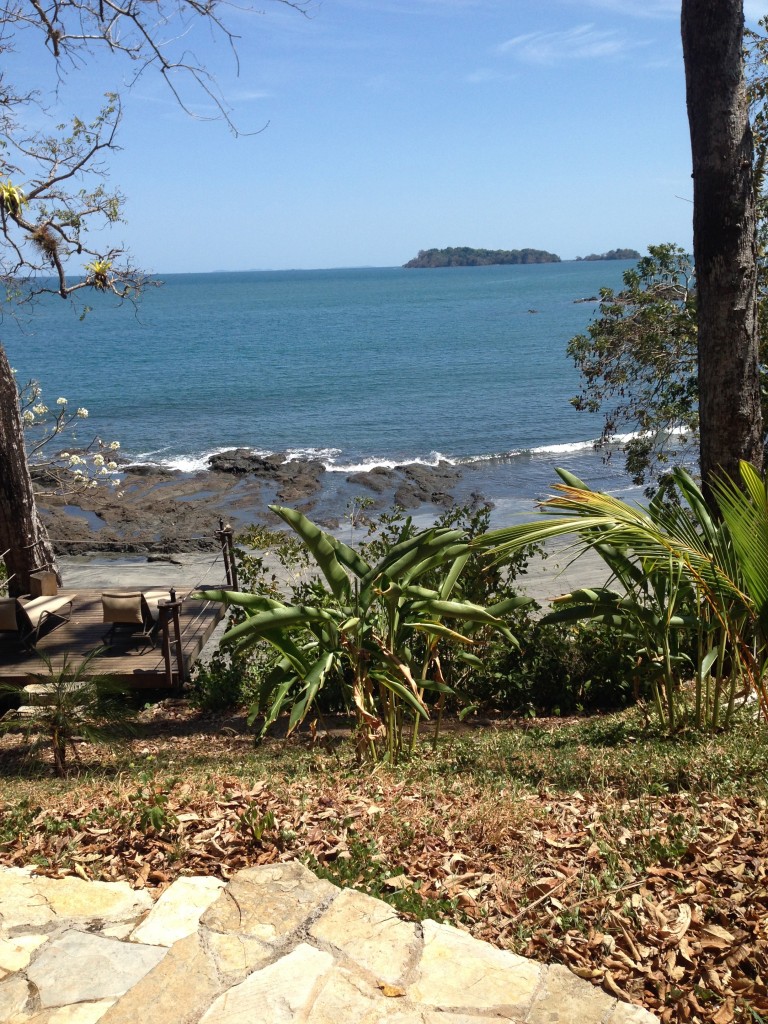 This is Corvina, or sea bass, my new favorite fish and was probably the best prepared piece of fish I've ever had!  Extremely well seasoned, fresh out of the ocean, and the delivery probably had something to do with it!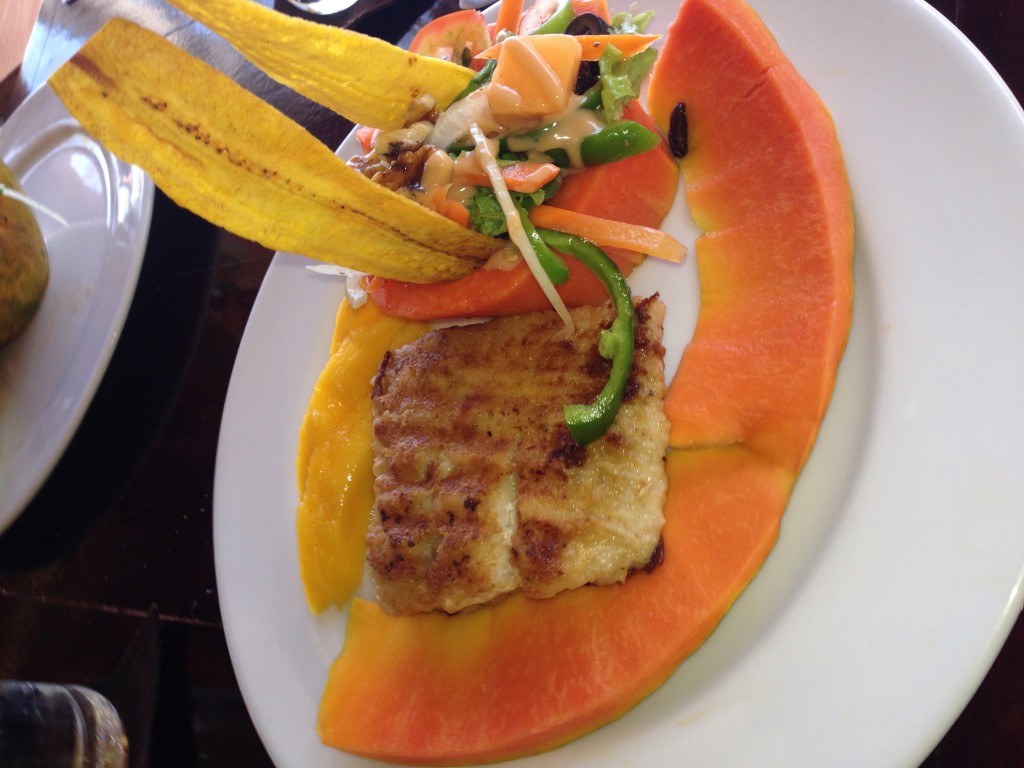 Going to sleep at night listening to the surf, waking up to the howler monkeys, watching Godzilla the enormous iguana or the baby iguana climbing the tree, looking for birds, watching the sand crabs, going on hikes or not going on hikes, going to the zebra striped beaches, playing Scrabble and playing more Scrabble (I won one game) taking an island hop day trip, this was the beat of our stay at Isla Palenque.
This a cashew from a cashew tree found on our bird walk!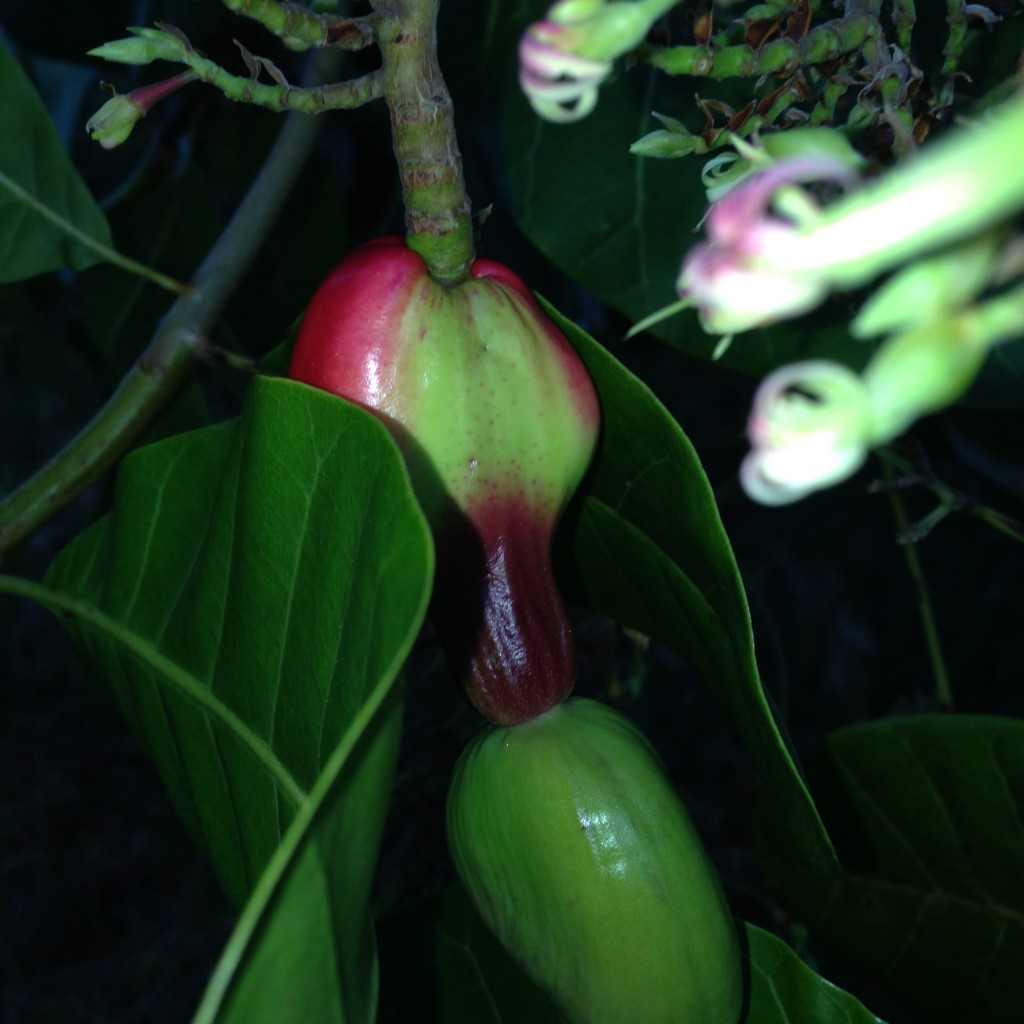 This guy in the tree is a howler monkey!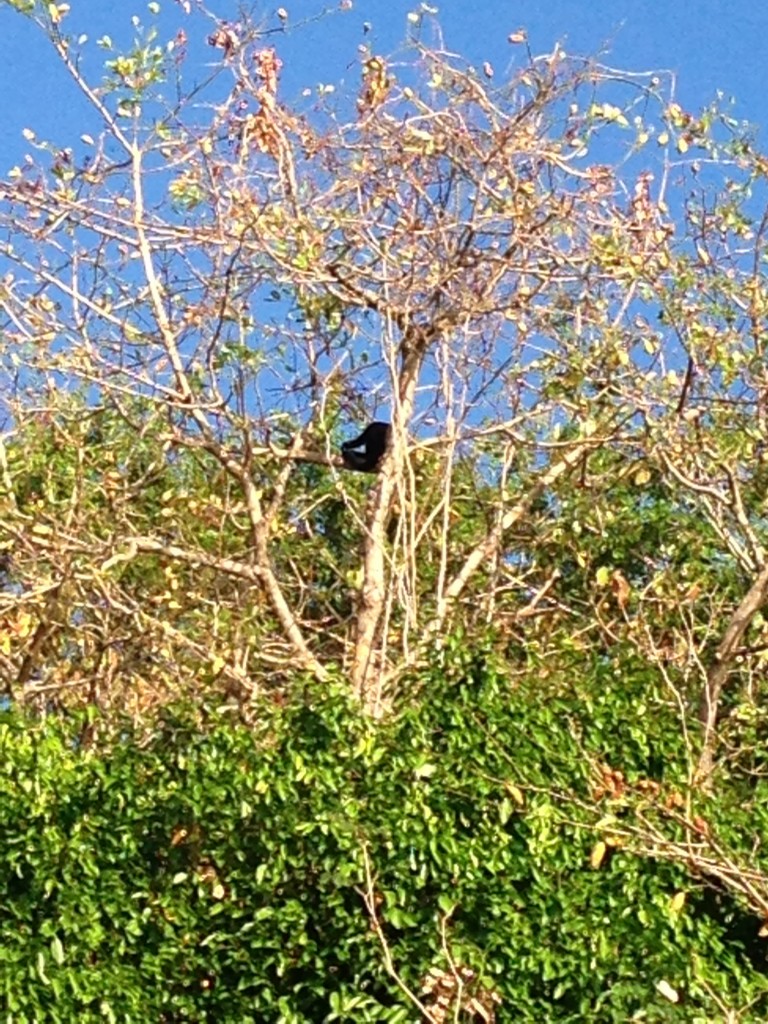 One day, we went for an island hop.  After taking off in the boat, it sputtered and kept quitting on us.  I decided that I didn't want to go any further (me and my quirks) but Roy wouldn't let me get off the boat.  We went back to the dock and switched boats and took off with two other couples and had an unforgettable day.  Snorkeling on one island and hanging out on another island with a deserted beach, having a shish kabob lunch cooked over open coals and Emmet's homemade sangria, it didn't suck!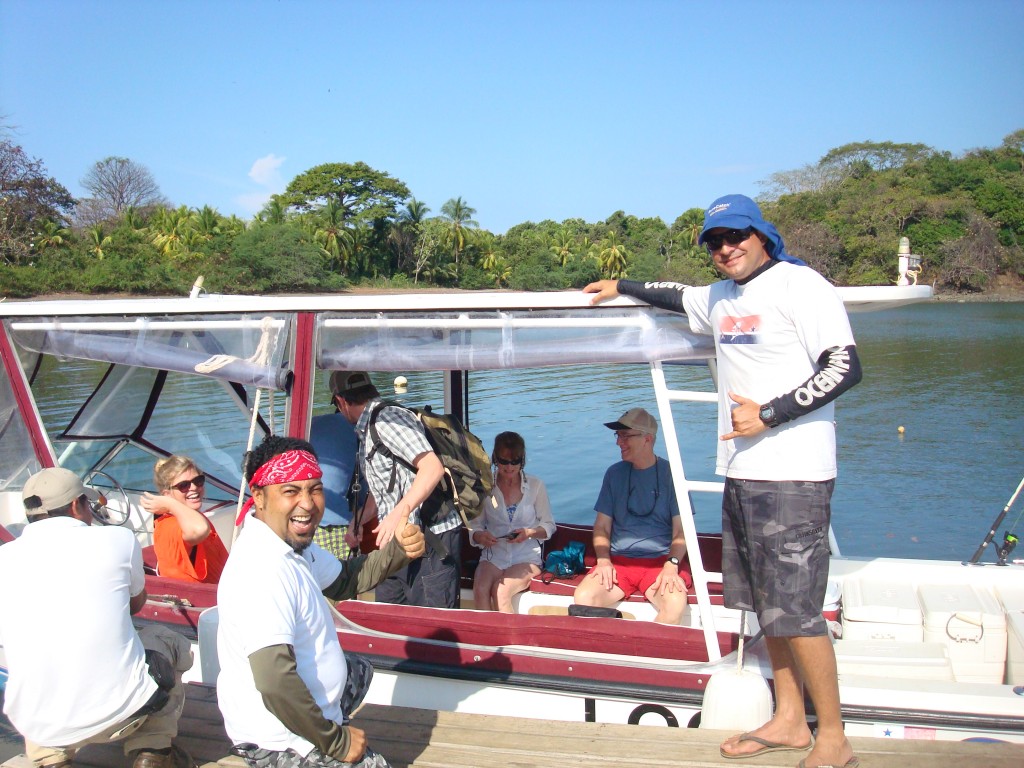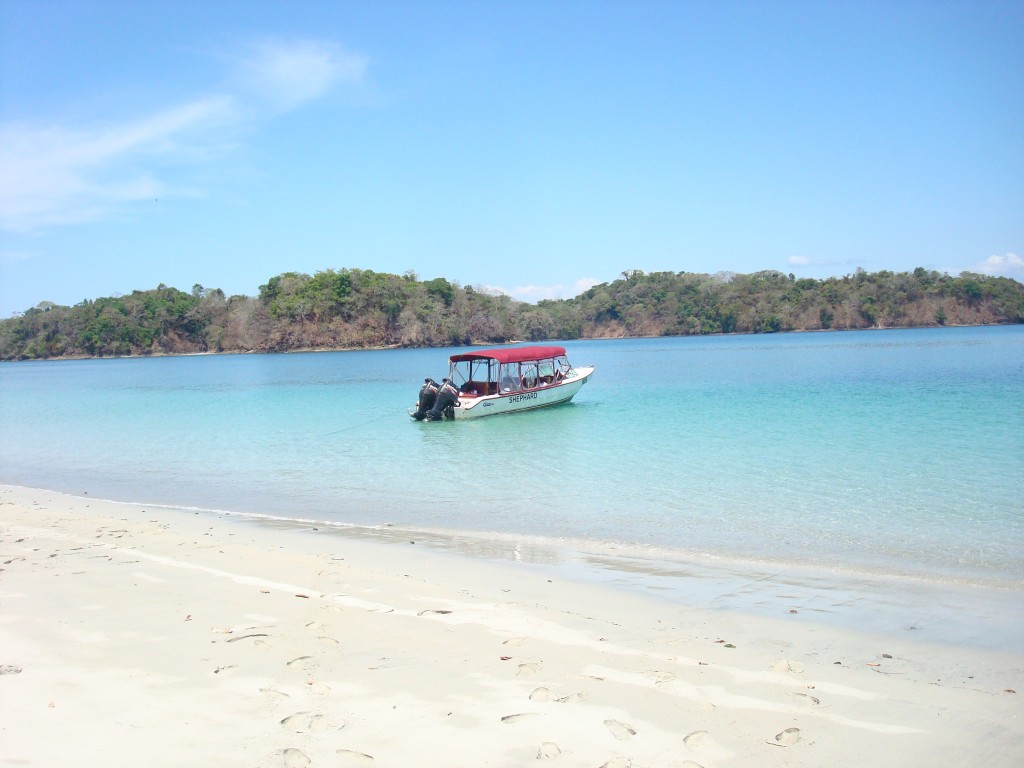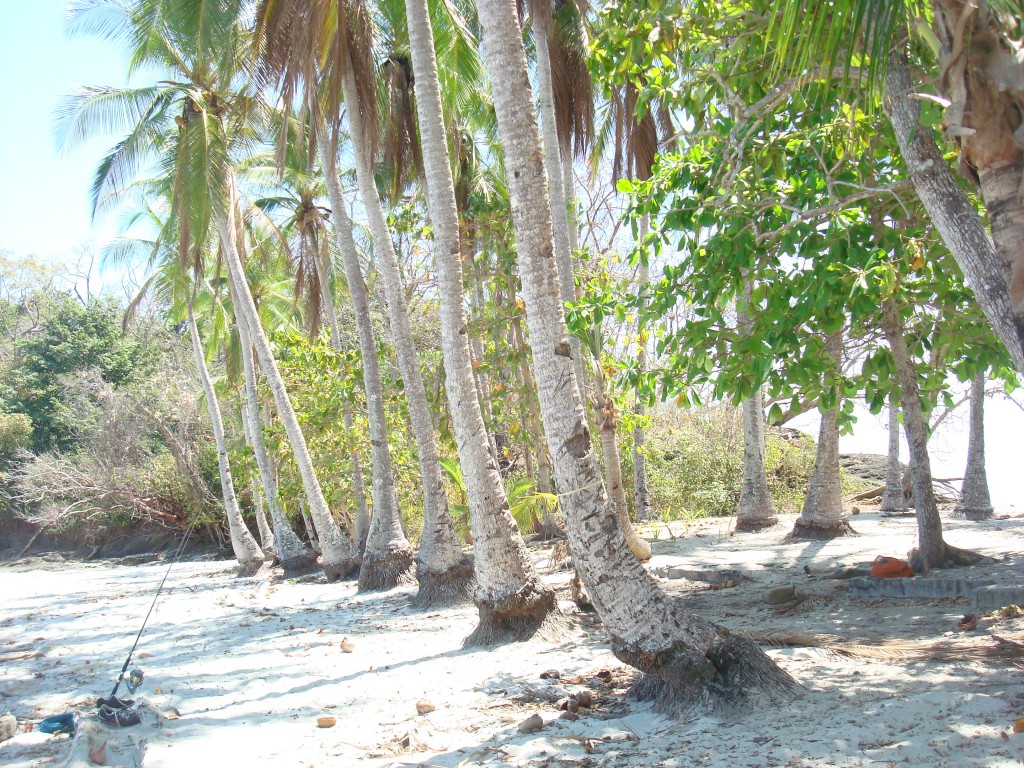 That's Ricardo and Emmet, two of the resort's guides extraordinaire!!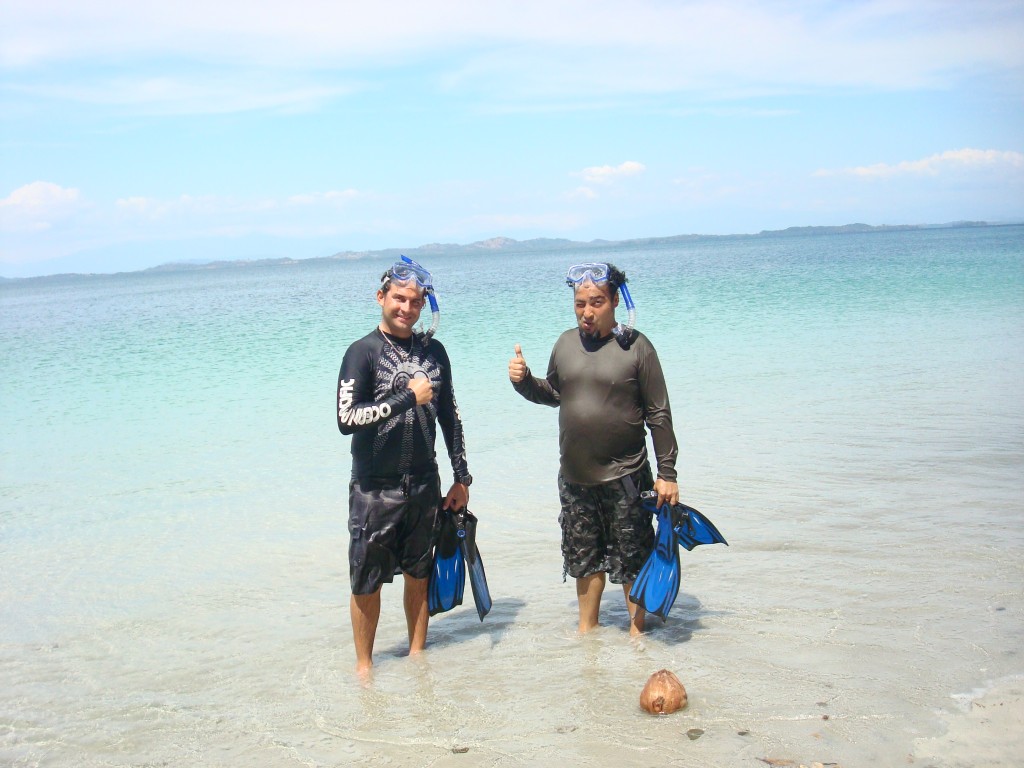 Two happy campers!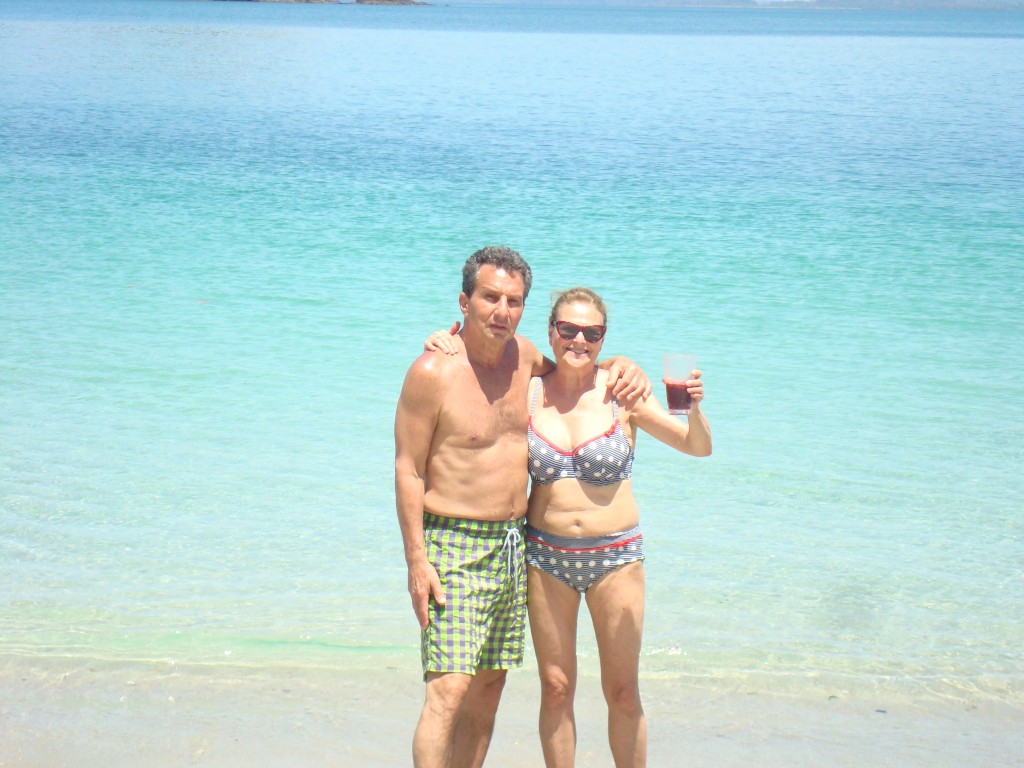 This is one of the beach cabanas that you can rent for the day at Las Rocas, one of the resort's private beaches.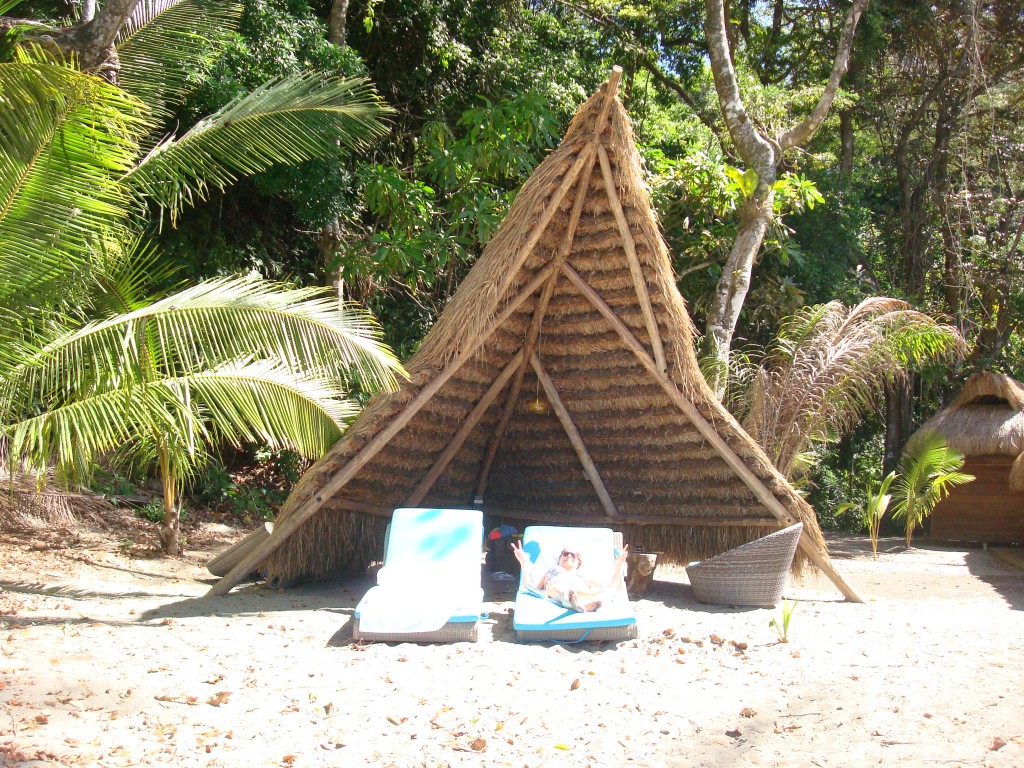 At night, everyone heads over to Las Rocas which has a beach bar and was where were were having dinner.  You can never get bored of watching the sun go down and having an Isla Margarita, made with habanero pepper makes sunset that much more special!   We had dinner and after a few glasses, okay four glasses, of wine I decided the guests and staff should all share in a shot of tequila. I yelled "tequila for everyone!!"  So, 12 shots of tequila were poured and we, the guests,  toasted each other and the staff and everyone downed the shot.  Is that any way for a 64 year old baby boomer to act?  YES!!!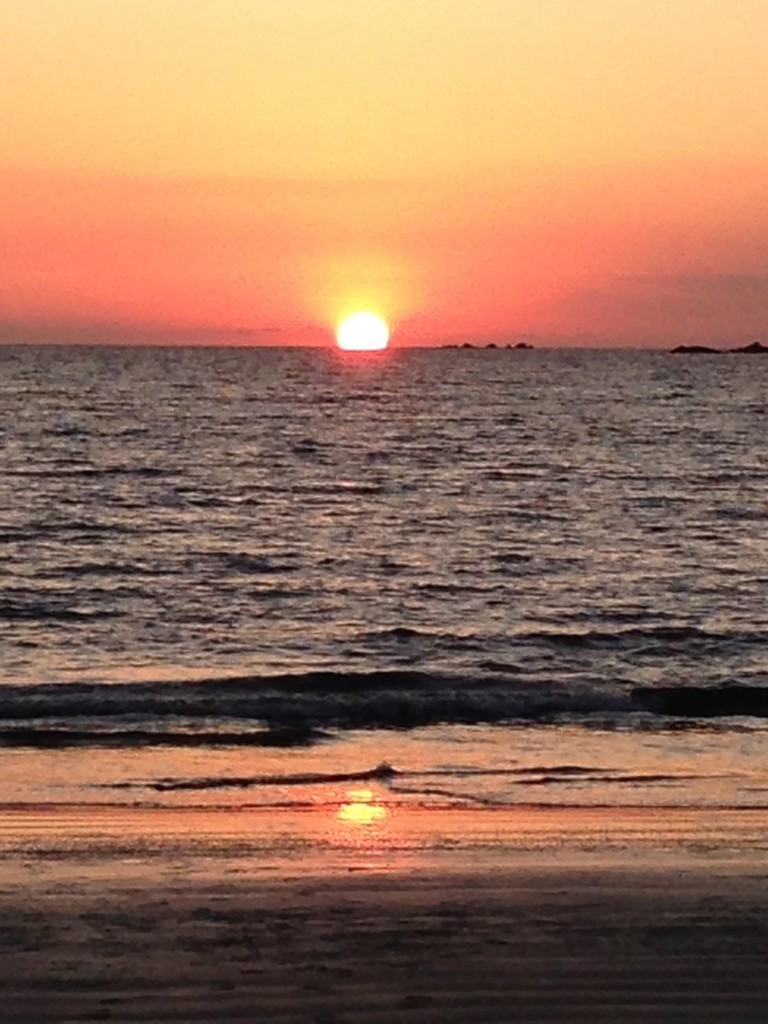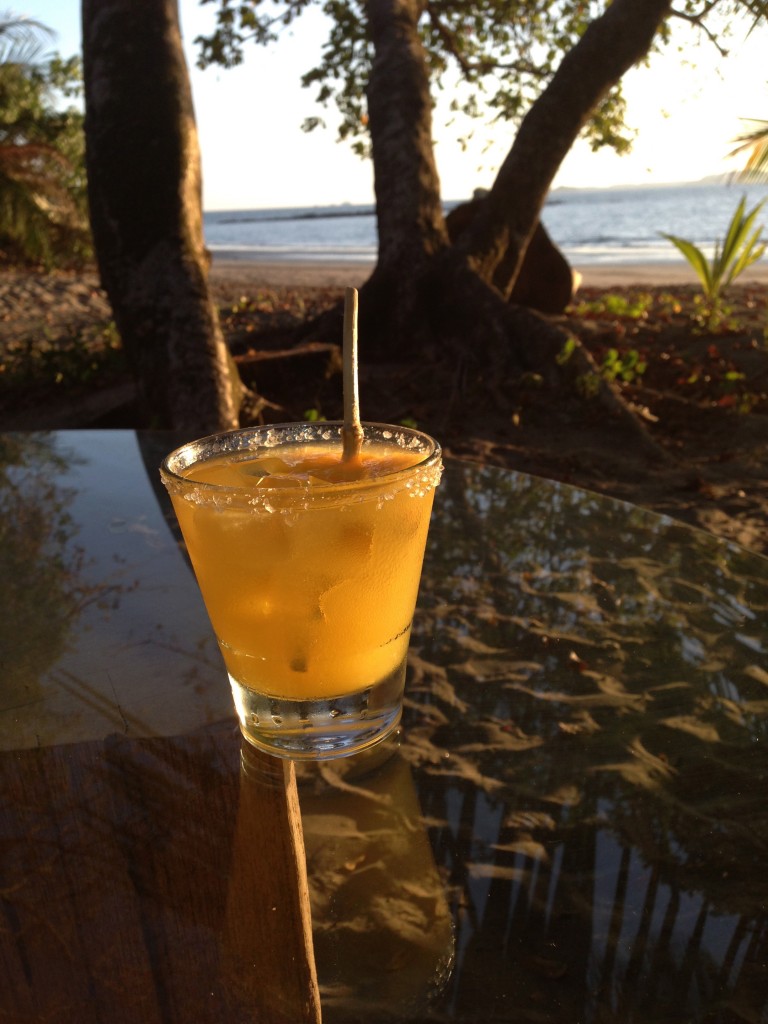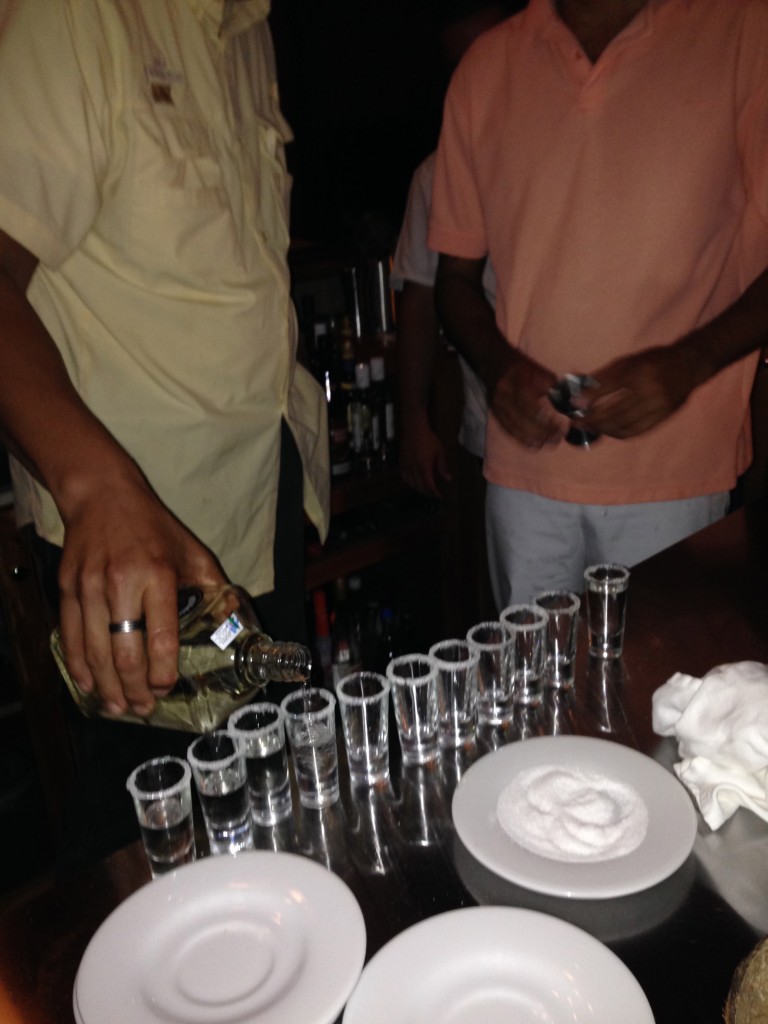 But, alas, there are plans for Isla Palenque.  In it's current form, the resort itself will be sold as a villa. Plans for a 20 room hotel and private villas will change the island a bit.  Maybe you'll go and decide that you don't want to leave.  After all, it's off the grid but not really.  Wifi and cell service make you accessible.  So much so that I received a call from my dog's kennel telling me that he was sick and could they take him to the vet.  Thankfully that happened on my last day as I was waiting on the dock for the launch taking us back to civilization.  And, he's fine.  Just stressed and wanted me to know that I should come home now!
One more night in Panama City on the first night of Carnival.  Bumper to bumper traffic from the airport with people trying to get out of the city for the long Carnival weekend, we had one last dinner at an Italian restaurant and that wrapped it for our winter vacation.  You wait so long for it to come and it goes so fast!
So to sum it all up? I'm all about Panama.  I need to see more.  I think it's going to surpass Costa Rica as an eco destination.  And, I'll be a salesperson for Isla Palenque.  Go now!  You will not be disappointed.
See you at the bar…..