What draws us to Turkey.  This latest trip is our third time.  Could it be the people?  The food?  The amazing coastline with turquoise blue waters that run from the Aegean down to the Mediterranean.  It's the cradle of civilization.  Archeological sites galore if that's what you like.  Us, we like the beach clubs, the food, the shopping, the walking, meeting the people, taking in all the local action.  We ddidn't see one archeological site even though we weren't too far from one big one.
I must say it wasn't without a little trepidation that I went to Turkey this time.  People kept asking me why go there, wasn't I nervous?  I was a little but it didn't make sense.  Turkey is bigger than Texas.  Where we were traveling was like being on the Riviera only more exotic.  So while I was in Turkey I refused to turn on a TV or read a paper (which I couldn't read anyway because I never saw an English langauge newspaper).
So where did we go this time? Our first stop on this trip was Alicati.  Located on the Cesme peninsula, about 1 hour from Izmir, people from Istanbul discovered it and within the last five years have turned what was basically a sleepy fishing village into an incredible upscale destination. The buildings in the town are made from a white stone. The narrow streets are pedestrian and cobblestoned.  They're vibrant and full of cafes and restaurants, art galleries, boutiques.  It's within driving distance of some beautiful beaches and the number one kite surfing destination in the world.  It's listed as one of the places to go in 2014, but most Americans have never heard of it.  In fact, we didn't run into any Americans in this town.  Midnight in Alicati the streets are jammed with people.  Young and old are out strolling, eating ice cream, sitting in cafes; you'd think you were in Spain!  It was amazing and had everything we love.
Here's a snapshot: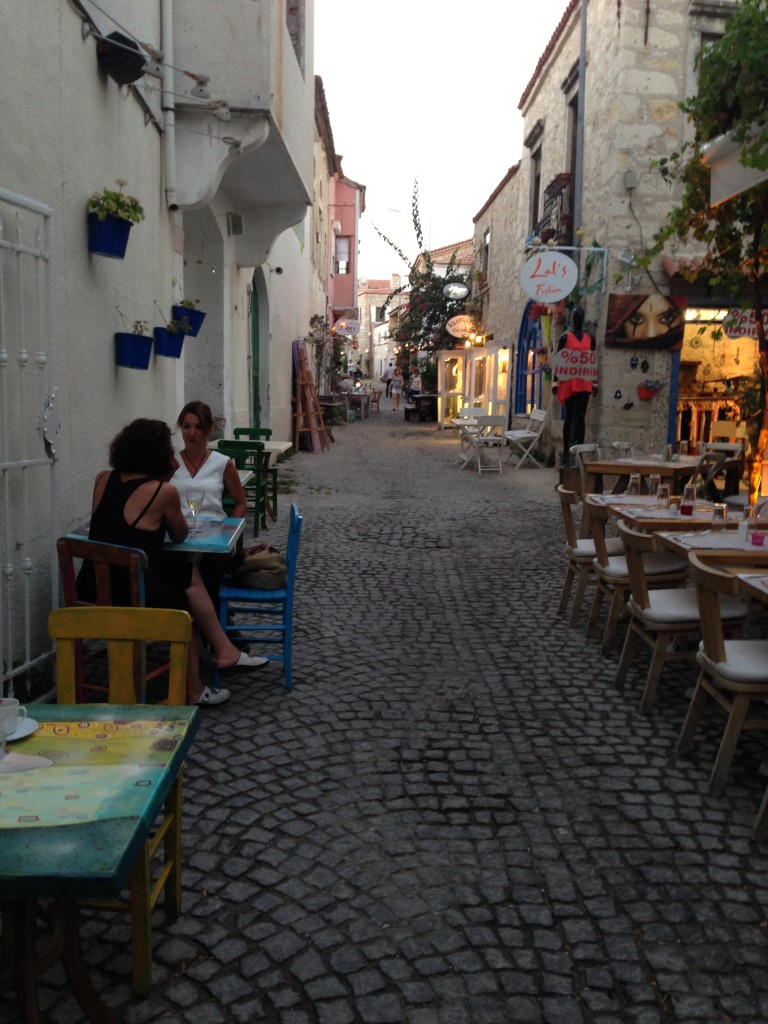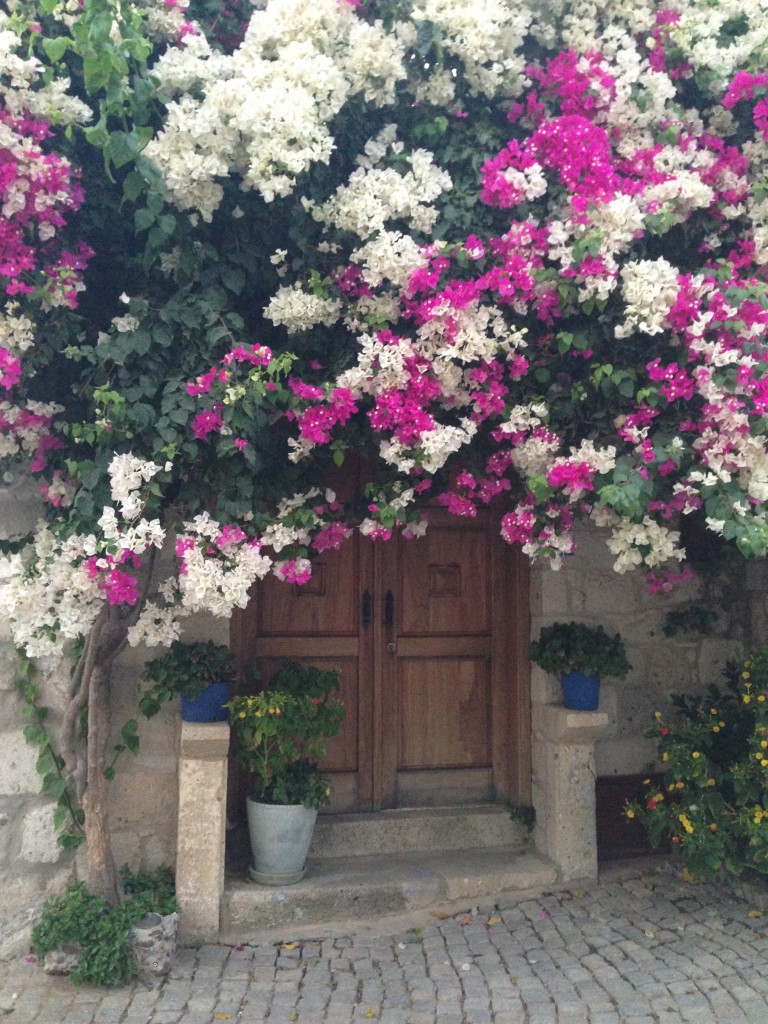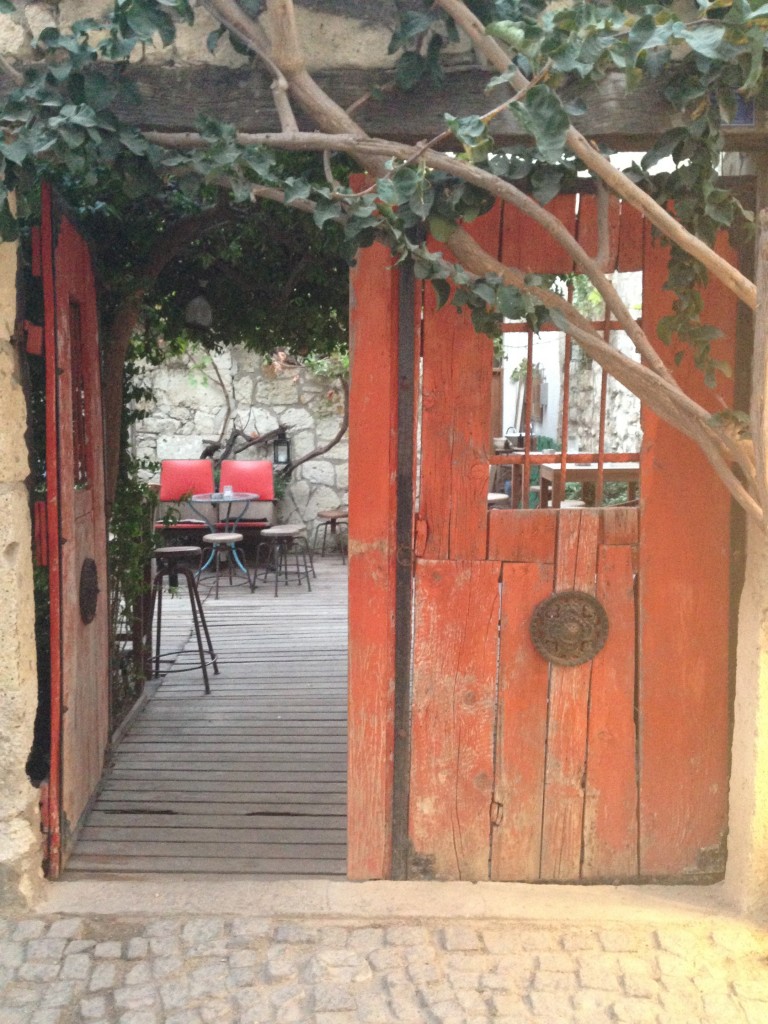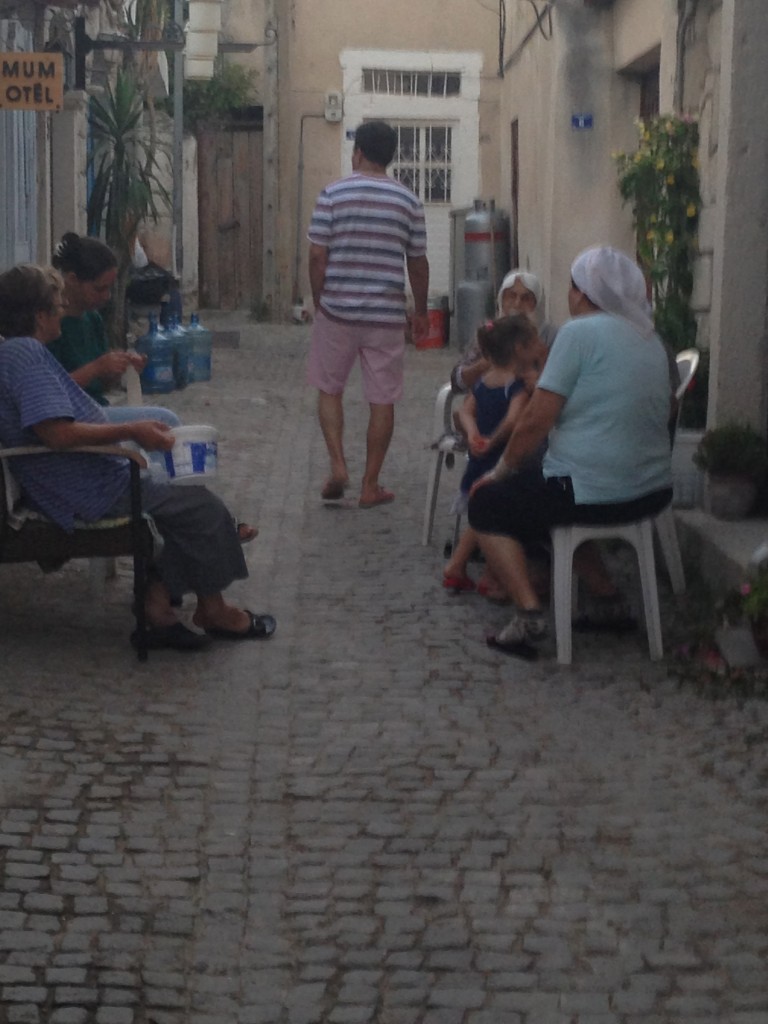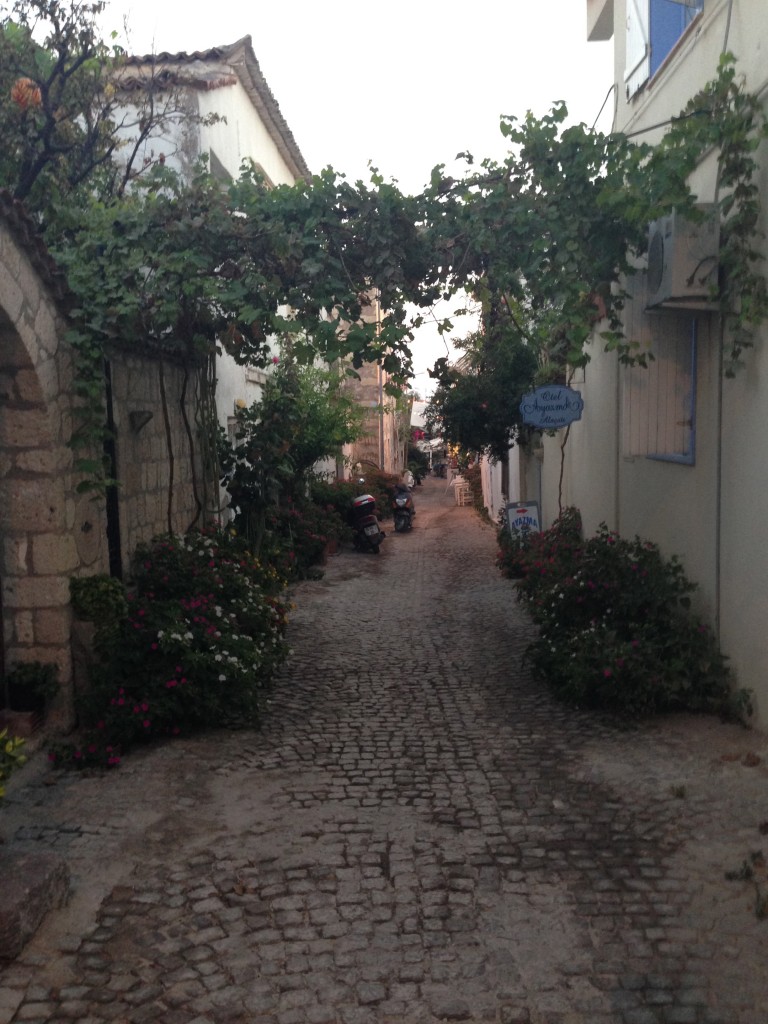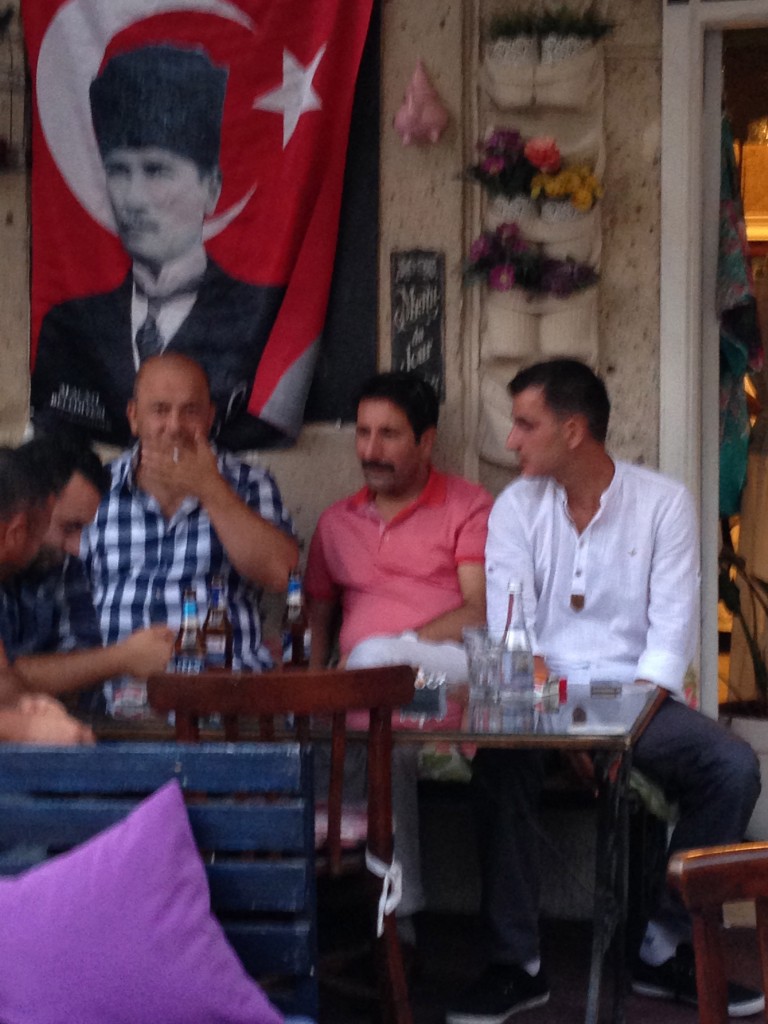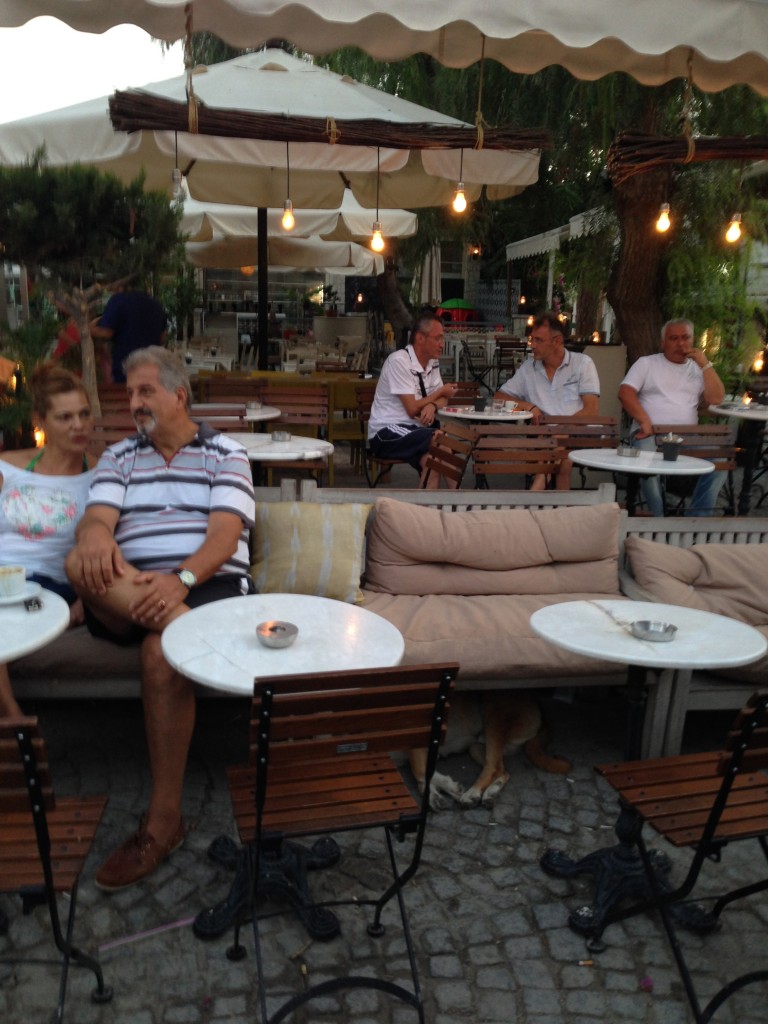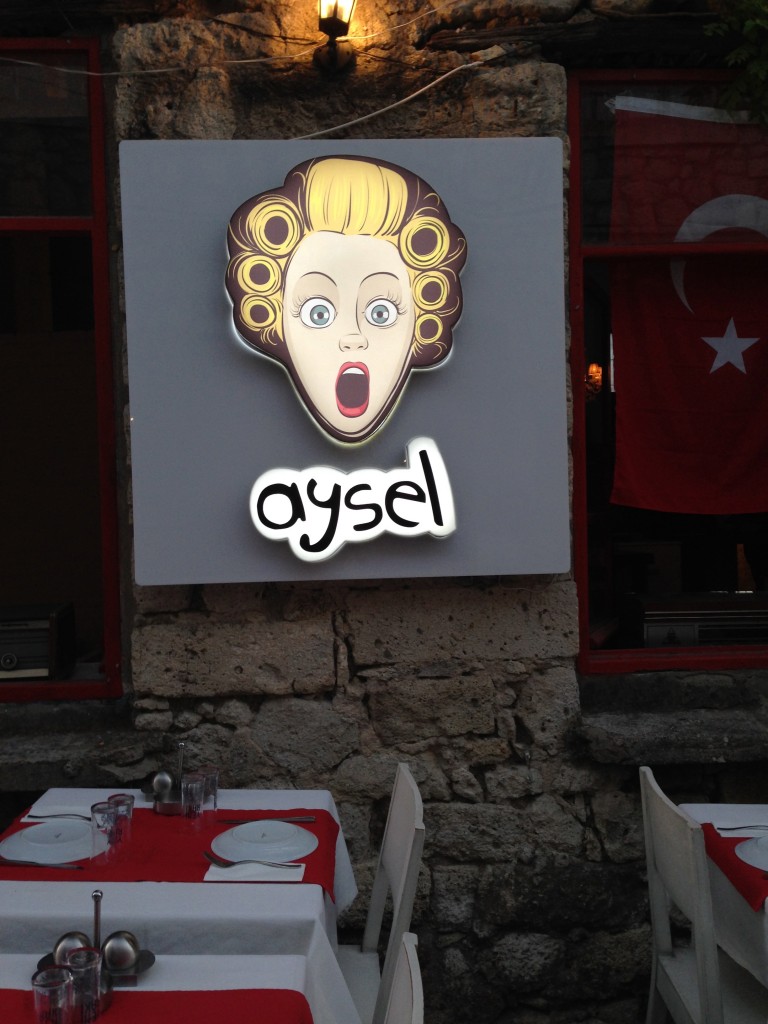 After landing  in Istanbul four hours late (that's another story), and taking a flight to Izmir we picked up our rental car and drove to Alicati on a beautiful super highway with no tolls, all EZ pass lanes.  What a relief that was.  It's one of the mysteries of driving in a foreign country when you get to an automated toll booth and just throw money in because you have no idea how much is the right amount!  Arriving in the early evening we couldn't find the hotel.  We can't read Turkish and there's no language close to what I know that would give me any familiarty of words.  We ended up on a bustling modern street with lots of shops, thinking this can't be the Alicati we read about.  It wasn't!  So after driving around and around, what did we do?  I hopped out of the car and went to a taxi stand.  I asked for a taxi to the hotel and told them in whatever they could understand by my hand signals and some English that they understood, that my husband would be following us.  Brilliant idea!!  And that wasn't the only time we did that!
Alavya, Alicati's newest and largest boutique inn with 25 rooms was our base of operations.  Every attention to detail that you can think of, this hotel has already thought of.  Have you ever had a teddy bear waiting for you on your bed with a little tshirt that says Take me with you and Think of me when you are home?  Acqua di Parma bath products, the most luxurious Turkish towels, our very own flip flops; oh and don't forget the yoga and pilates!  Six stone buildings surrounding stunning grounds and a pool.  Two restaurants and the most amazing Turkish breakfast imaginable.  You haven't had breakfast until you've had a Turkish breakfast.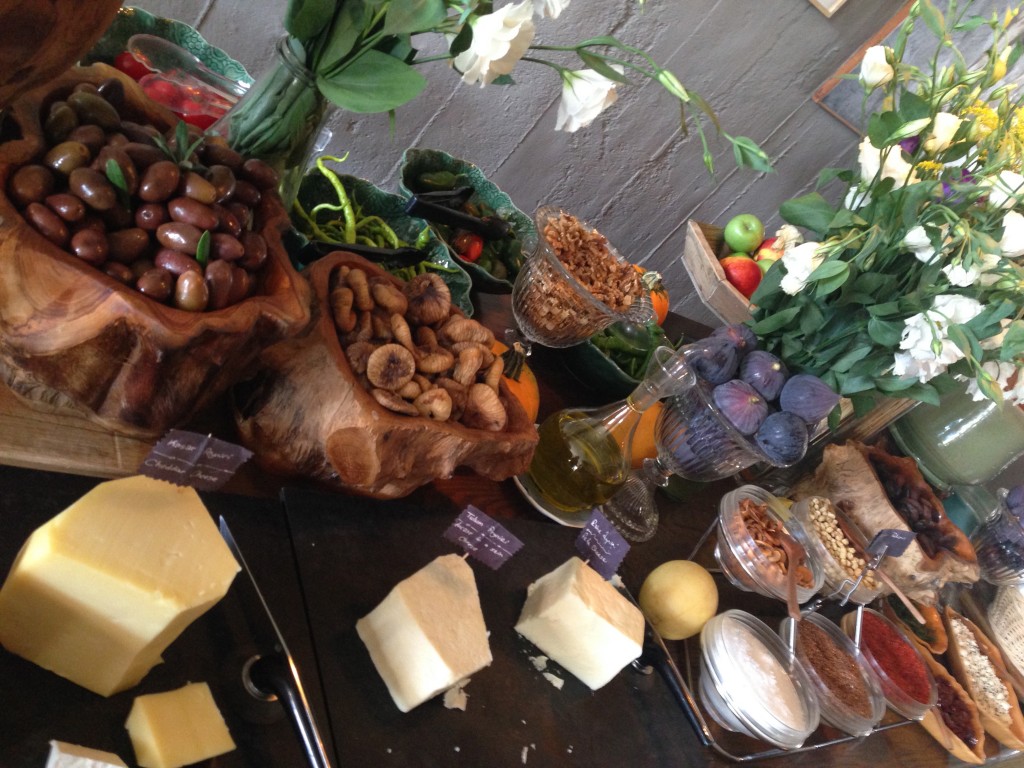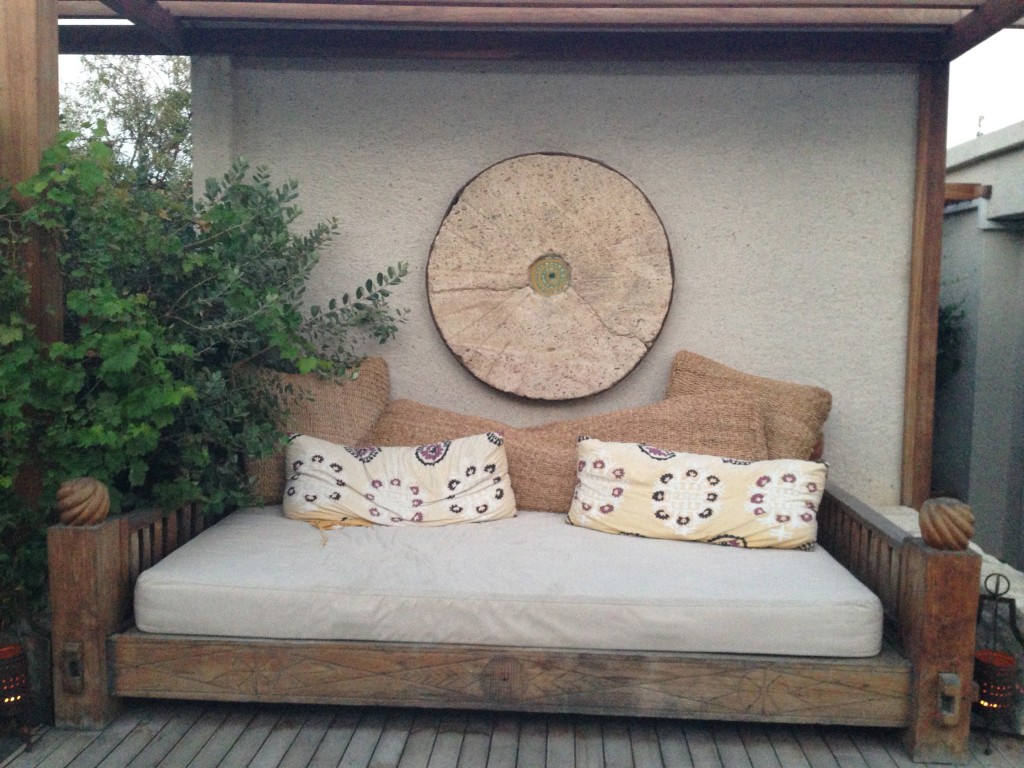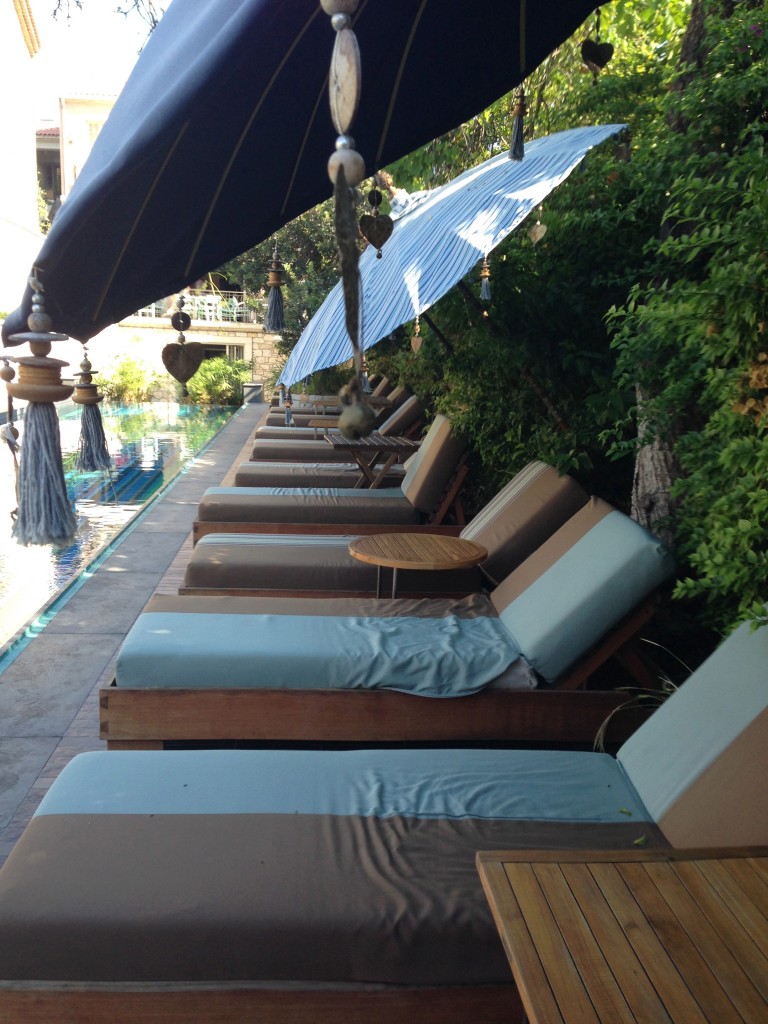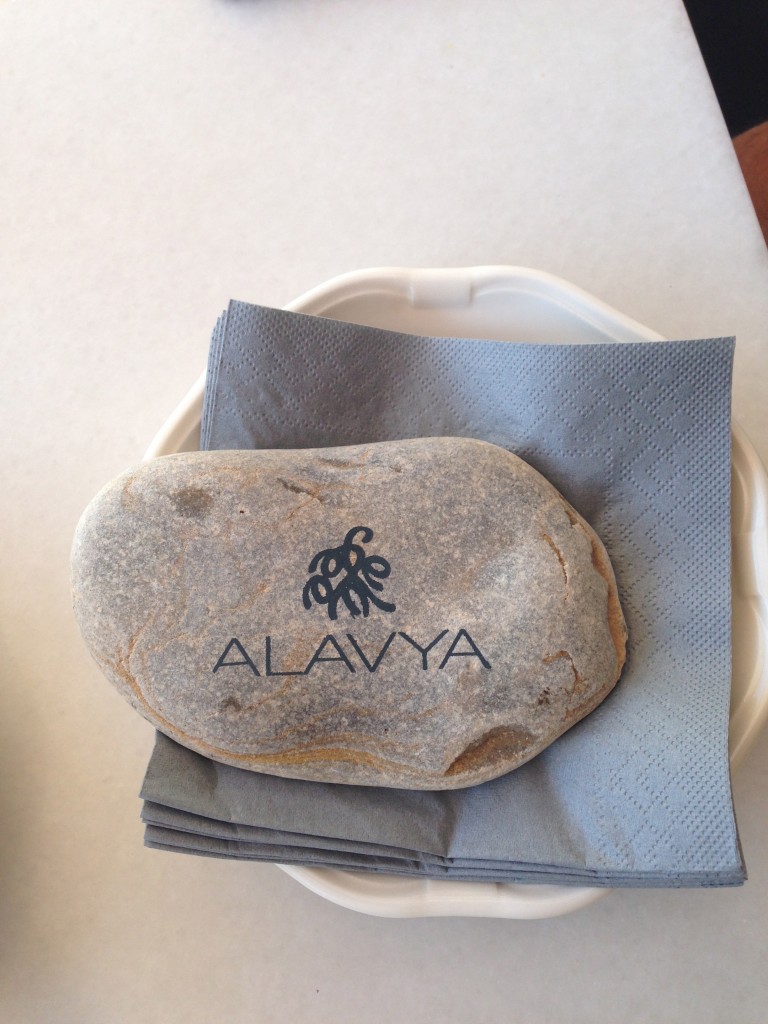 Our first day was market day in Alicate.  I love morning in a new town especially a market day.  After a sumptous Turkish breakfast, we stepped out of our hotel and walked down the street and into the market which was in full gear.  Winding through the streets was stall after stall of everything you can imagine.  Fruits and vegetables, spices, olives galore, cheeses, clothing, housewares.  It was endless.
We had to buy some spices and of course shared a glass of tea with the owner of the stall.  He gave us some lemon salt that I still can't figure out what we're supposed to use for .  He showed us  what to do with it but something got lost in the translation.
Here's a snapshot of the market: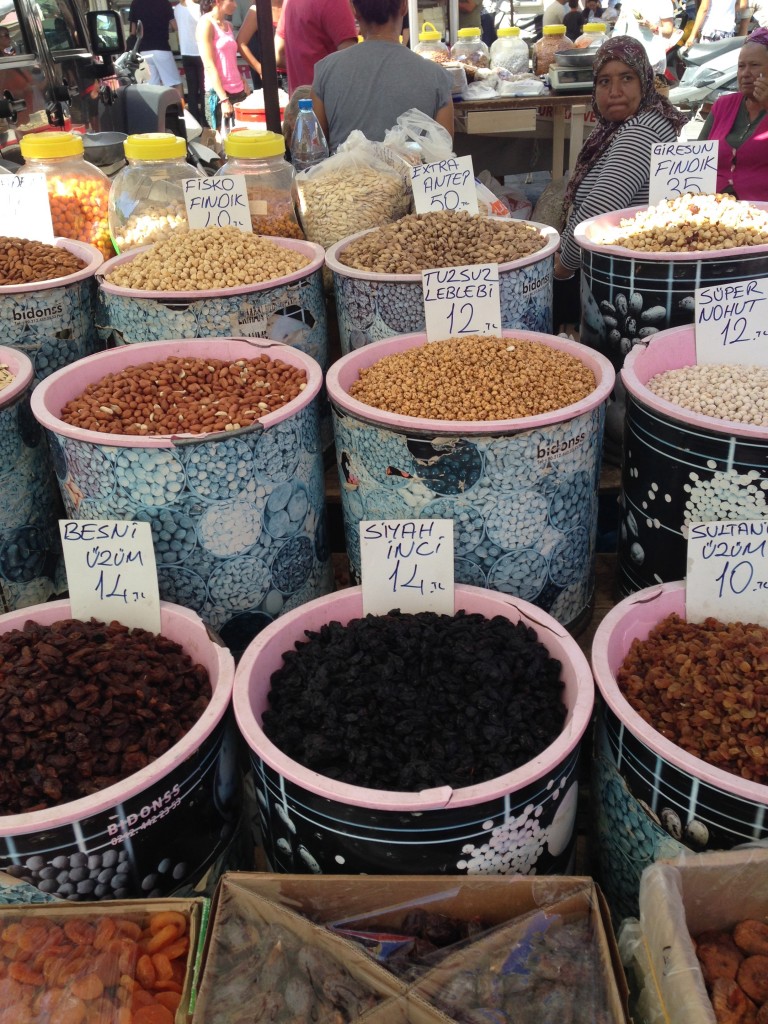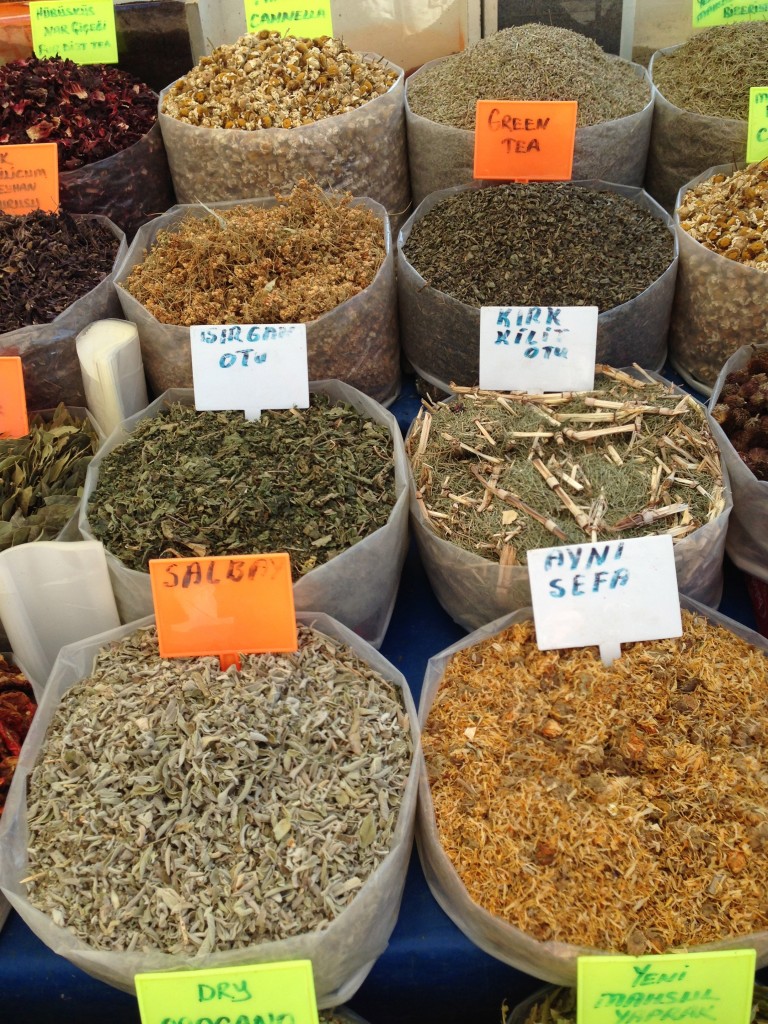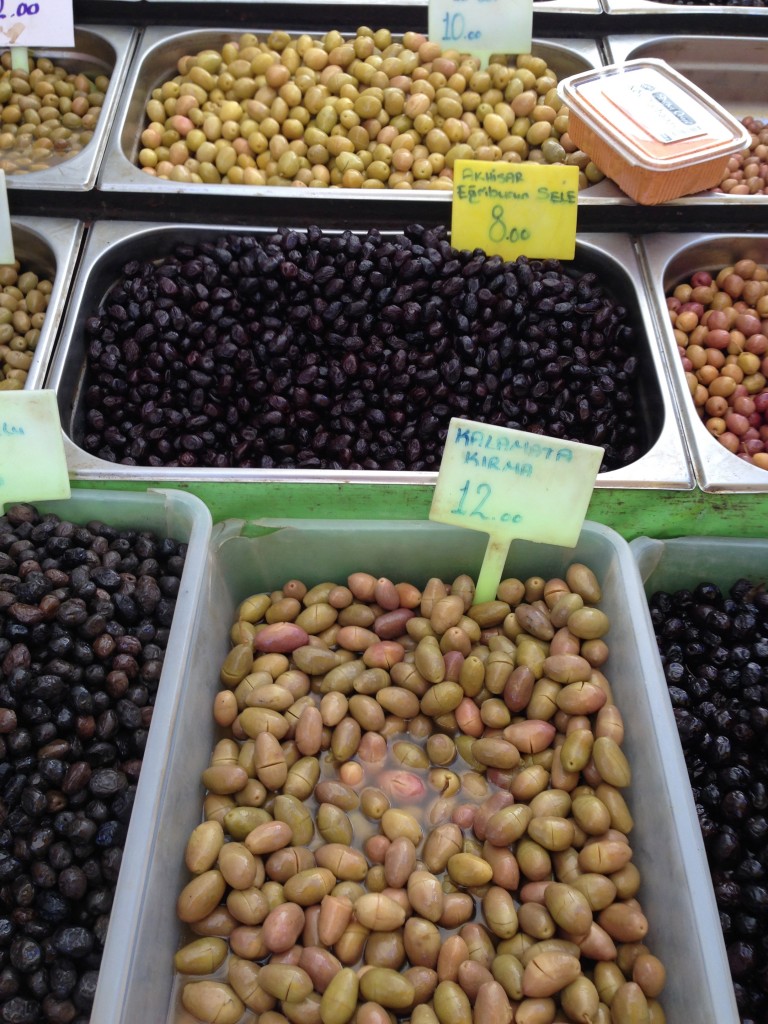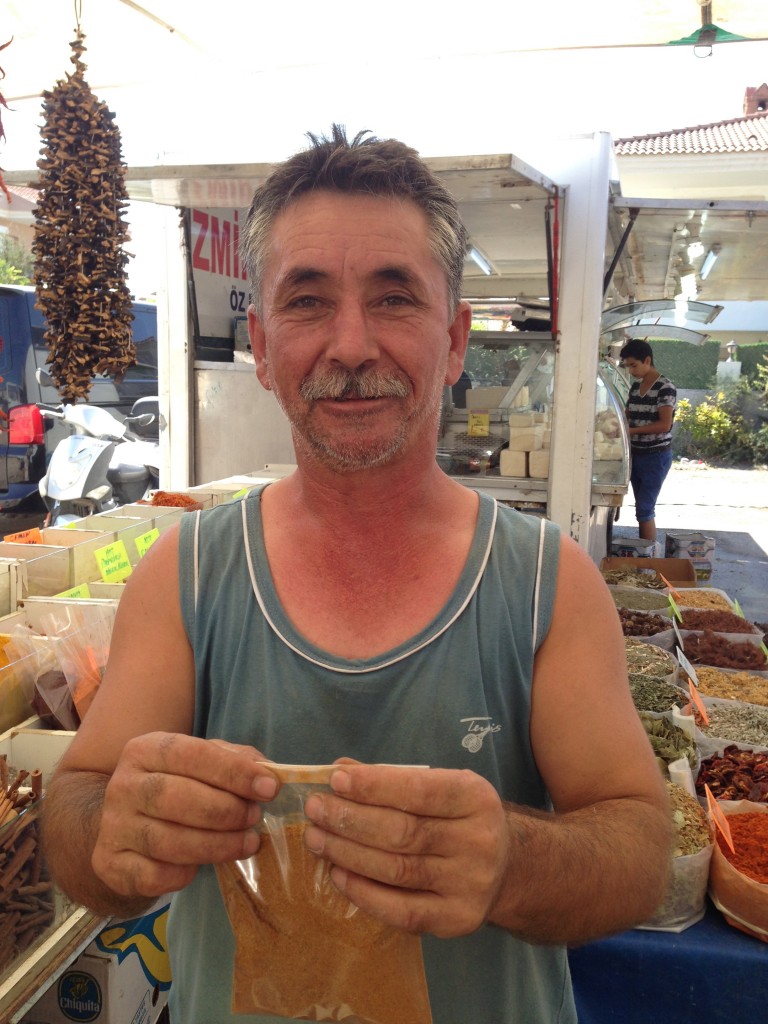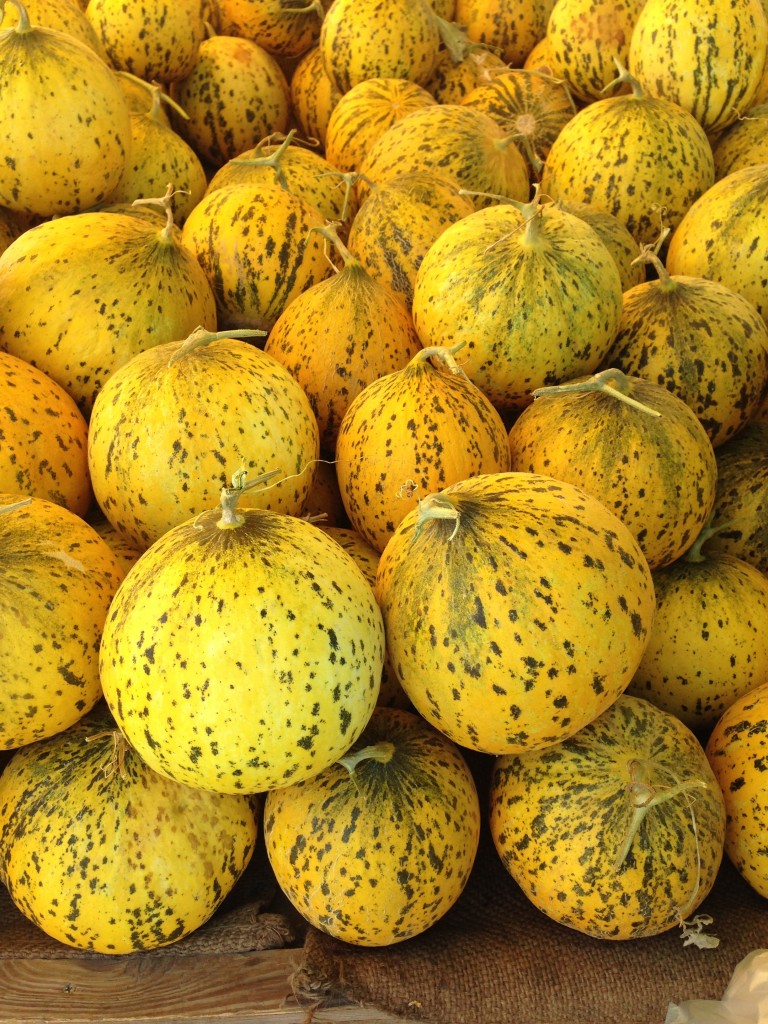 There's more to come, so see you at the bar……