Love it or hate it.
That's Jamaica.  You're either all in or all out.  There's no middle ground.
Case in point.  We no sooner hopped into our rental car and headed out of the airport on our way to Negril, than we got a little lost.  Signage is practically non-existent even though everyone says "no problem mon".  So, we're waiting at a light deciding which way to turn and a guy on a bicycle comes up to us and says "hey mon, I just saw you at the airport-are you lost?  Where are you going?  Follow me." So he pedaled ahead of us ON A BIKE  and directed us through downtown Mo Bay.  And, at another light a guy walks past our car and says "hey- I just saw you at the airport-where are you going?"  Guy #1 stopped to buy a paper and then said "let me hop in and I'll get you on the highway" to which we politely said "no thanks we'll find our way".  And we did.  That's Jamaica.  Some people would be completely intimidated.  For us, it was just a little scam which is played because of course they know we're tourists, in a rental car, trying to find our way! And hey, everyone has to make a living!
So began our trip to Jamaica.  We couldn't wait to get out of Snowmaggedon also known as Boston.  We've been all over the island. Yea mon,  No Problem is the mantra.  That, and Respect.  Turn off your clock.  Forget about time.  If you don't like waiting,  if you have no patience, don't go to Jamaica. But,  If you love Jerk chicken and pork, white sand beaches, a cool vibe, a cold Red Stripe or a Ting, Bob Marley, Rasta culture, Blue Mountain Coffee, beautiful people, then Jamaica is for you!
Our destination this time was Negril.  We rented a car which we now look at as not probably a great idea.  Roy was a little bit challenged with right hand drive.  Pot holes that could swallow a car- well maybe not swallow a car but definitely blow a tire, people walking on the road, no speed limit – I was screaming about potholes and was totally white knuckled for the entire trip.  It was almost a divorce. But a great trip.
Arriving in Negril you have a choice – the beach or the cliffs.  We're cliff people.  Past the all inclusives, the funky beach hotels on 7 mile beach, going around the roundabout in a direction you think is wrong which actually was the first time and then we had to go around again but that road takes you up to the West End and the cliffs and The Rock House.
We've been there 3 times.  Starting back when the "villas"  or bungalow's were $160/night.  Now we're talking 3 times that.  But, worth every penny.  Once upon a time it was a well kept secret, now not so much.  They've added villas, a pool, the spa, and have two great restaurants.  The hotel restaurant overlooks the water and its a great way to see the sunset in a civilized manner.  By that I mean you don't have to go to Ricks.  The other restaurant is The Pushcart.  Very casual with music most nights, the food is outstanding.  We stayed in three different villas.  #12 because we arrived a day early due to a snow storm in Boston (surprise, surprise!); then we moved to #16 which I love.  Hidden by vegetation which you look out on from your outdoor shower, a beautiful ocean view in front of you, individual sunbathing platforms – simple and perfect.  There's nothing better than listening to the ocean crashing on the rocks which it did because of a storm that came through one night.  Our last night we stayed in a premium villa – #1.  New, larger but close to the road and not as private.  Still it was all good.
And this is where we parked ourselves for the week.  Snow be damned.  We couldn't care less!  Great food, drink, music, lots of sun and Scrabble, a great book and oh, a little ganja for someone.  What else do you need in life?   We totally vegged out.  Something we don't ordinarily do.
But that's not to say we didn't venture out; we did.  We had a check list:
Spend a day on 7 mile beach – check: One day, down to the famous 7 mile beach for the day with it's parade of people and vendors on the beach.  A little music which I had to join, walking down the beach to Niah's for a great handmade pattie for lunch with a Ting and a Red Stripe.  An awesome day.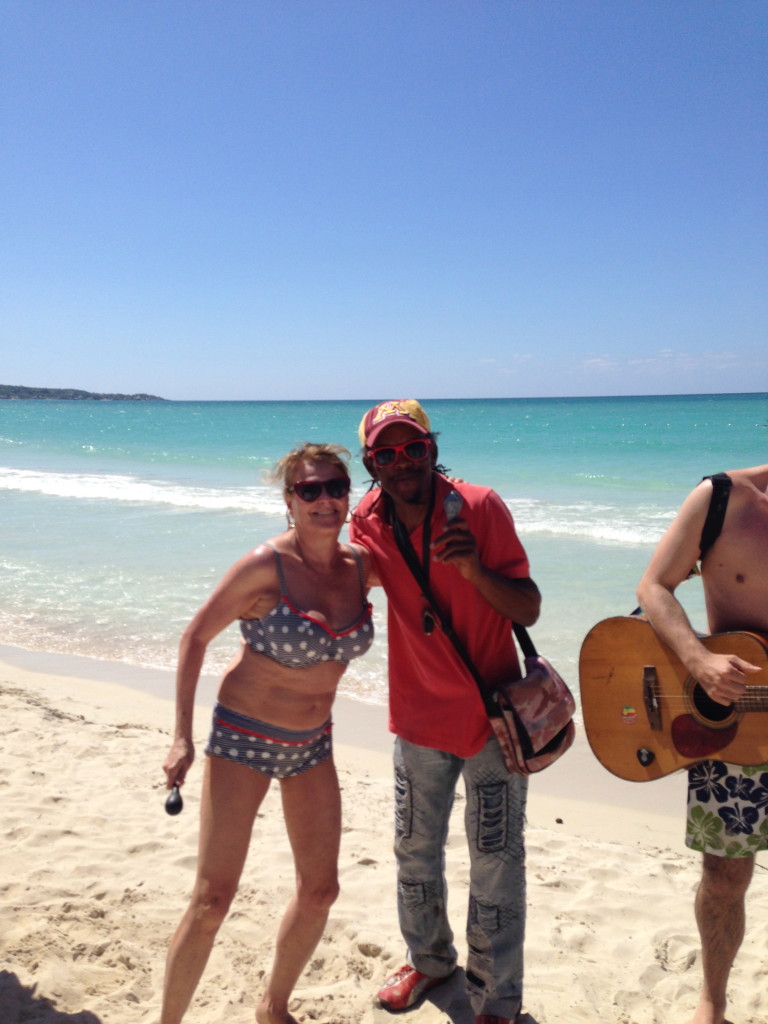 The best pattie in Negril-check: A pattie from Niah's on the beach.  Totally hand made including the pastry.  How good does that look?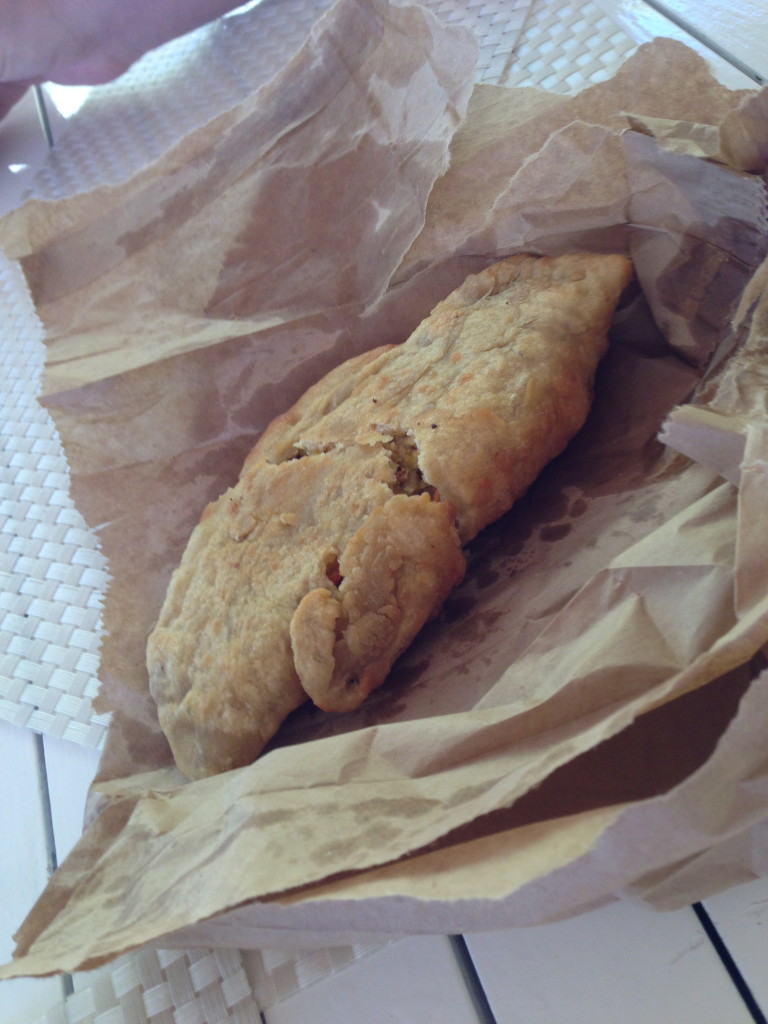 Supposedly the best jerk in Negril-check: everyone said it's Ossie's so that's where we went for lunch one day.  Simple and good but not great.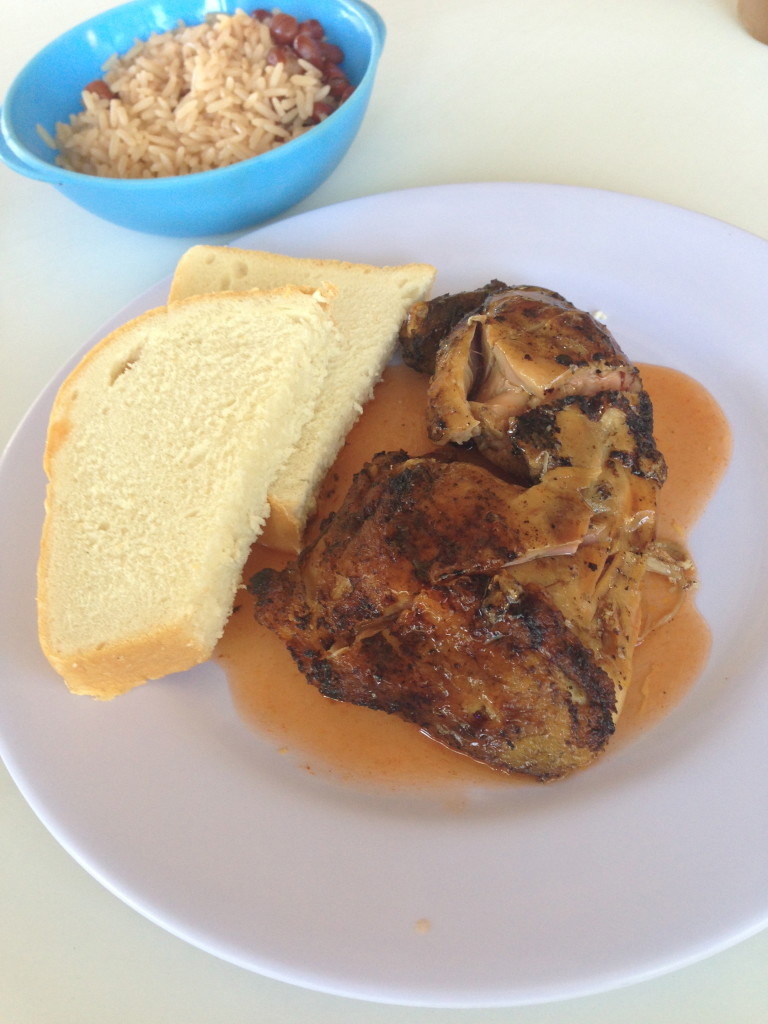 One night we went to 3 Dives, a funky outdoor restaurant down the road from the hotel.  As I said if you have a problem waiting for your food, forget Jamaica.  At 3 Dives, it was probably an hour before our food arrived.  And don't ask me how they found us.  There seems to be no system but apparently there is because our food miraculously arrived! And, there was supposed to be music that night but there wasn't.  No problem, mon!
And, Roy needed to learn how to make Jamaican curry.  So one day, chef Warren from The Rock House restaurant brought Roy into the kitchen and taught him how to make shrimp curry which was then served to us in a papaya for lunch.  Yea Mon!!
One evening we were picked up late in the afternoon and driven to Zimbali, a retreat off the beaten path.  Zimbali is the creation of Mark Swainback who is actually from Vermont.  He was a commodities trader, got fed up and left for Jamaica where he had a vision and started a new life.  Zimbali has 7 rooms, it's a working farm and every evening he entertains abuot 20 people for dinner.  Two chefs entertain and cook, wine is poured, there is drumming and it's a generally great evening.  Mark's created something special, his wife runs the show and he has a precocious little girl named "Sol".  There's no way you could find Zimbali by yourself, in the daylight or in the dark.  Going back to civilization after dinner, thank god for the driver because we would have been lost in sugar cane fields forever!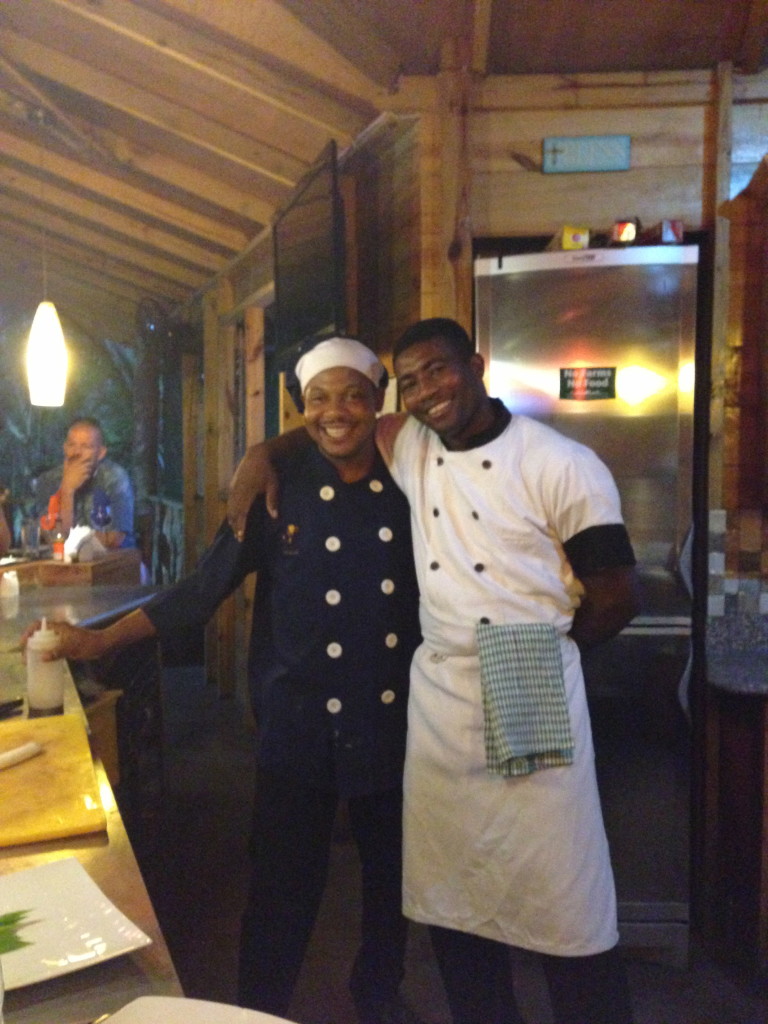 So basically, that was our trip.  Laid back.  Until we heard that another storm was heading toward Boston.  Well, that threw me right back into the real world.  Everyone from Boston worrying about flights, storms, whether we would get home and me worried about Romeo and if he would have to stay at camp for another night.  But, the plane took off.  And right outside Boston the pilot came on over the loudspeaker and told us we'd be landing on "auto pilot" so please turn off all your electronics.  And "Don't Worry" , we're right there and the auto pilot is better than we are!  Okay then!  That's a good way of taking that laid back vibe away!
But we landed – all is well.  Romeo is home and we're looking forward to our next vacation – Cabo!
Here are a few more pictures from Jamaica:
We took an early morning walk one day and came upon this guy.  I asked him if I could take his picture and he asked if I would take the picutre with his "product".  I said sure.  So he fixed his hair, arranged his product and here's the result.  One of my favorite pictures of all times.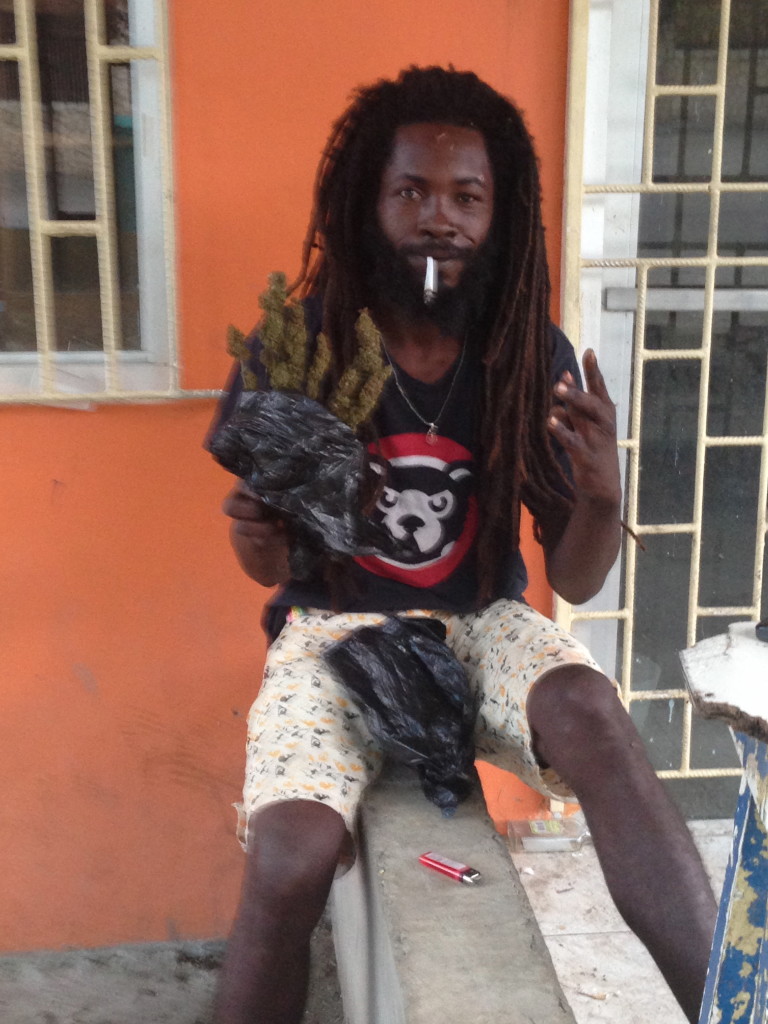 This is Barbara.  She owns one of the little shops across from the hotel. She's been there for over 20 years.  I love her!!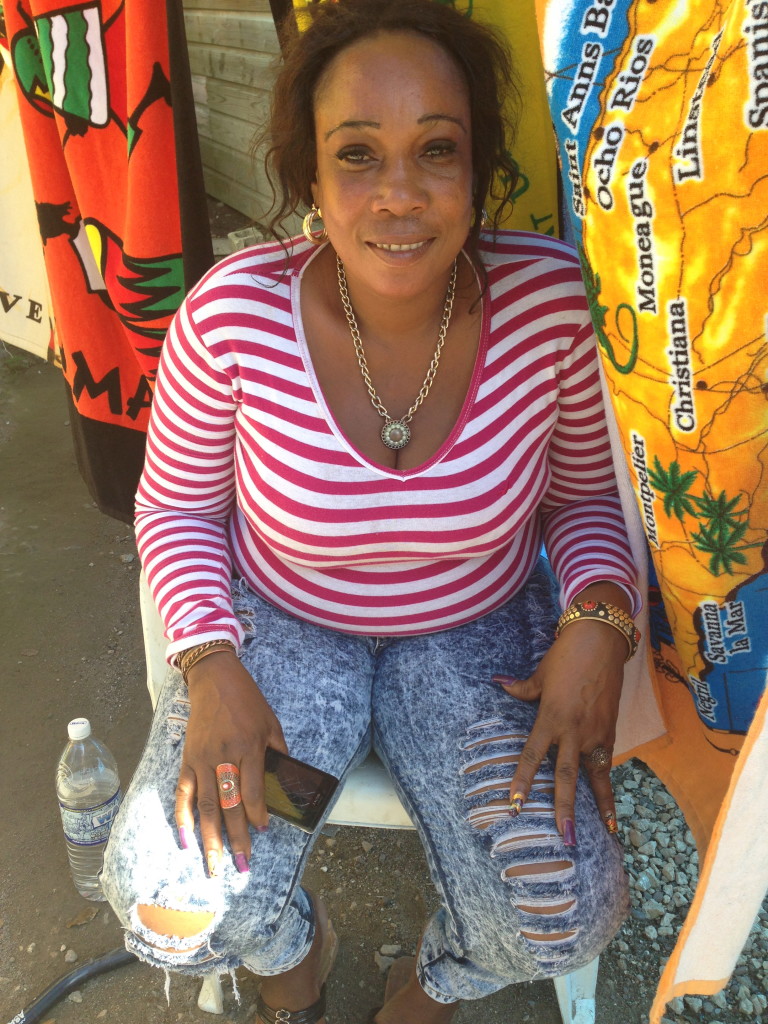 View from The Rock House.  What can I say!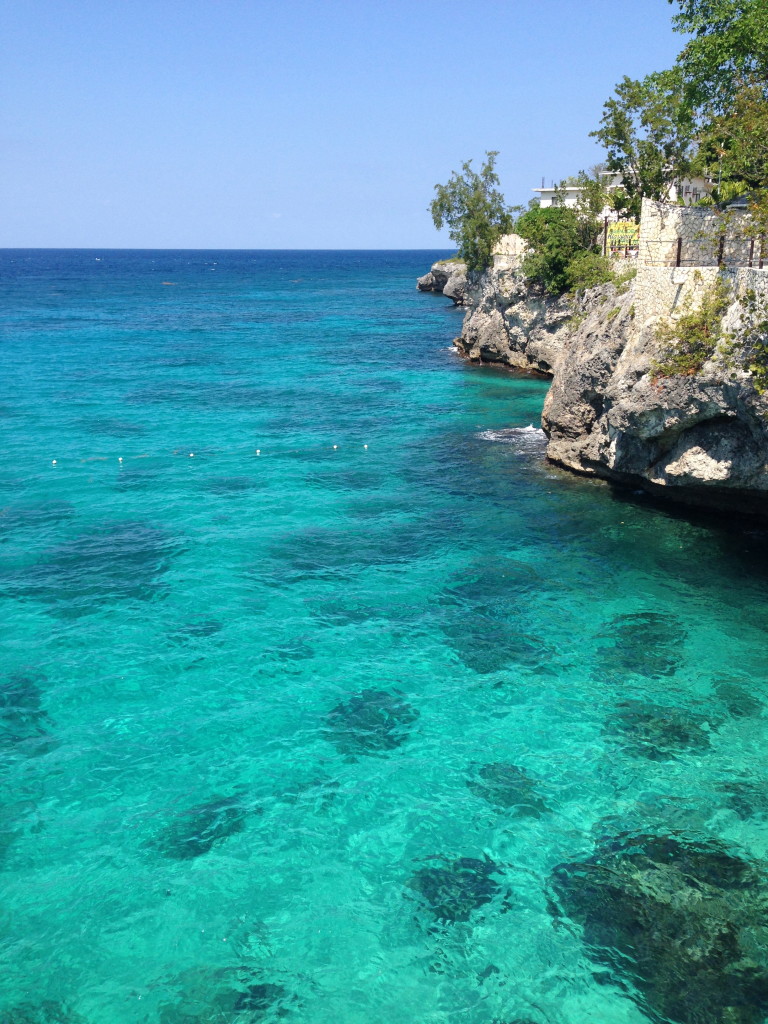 Local color: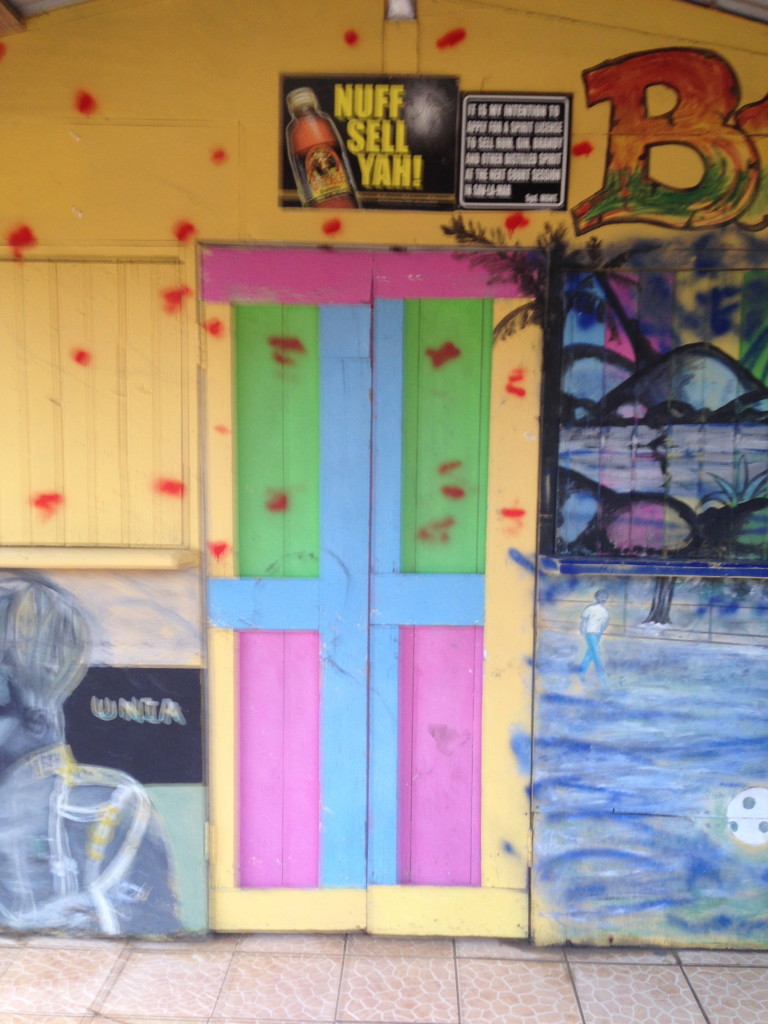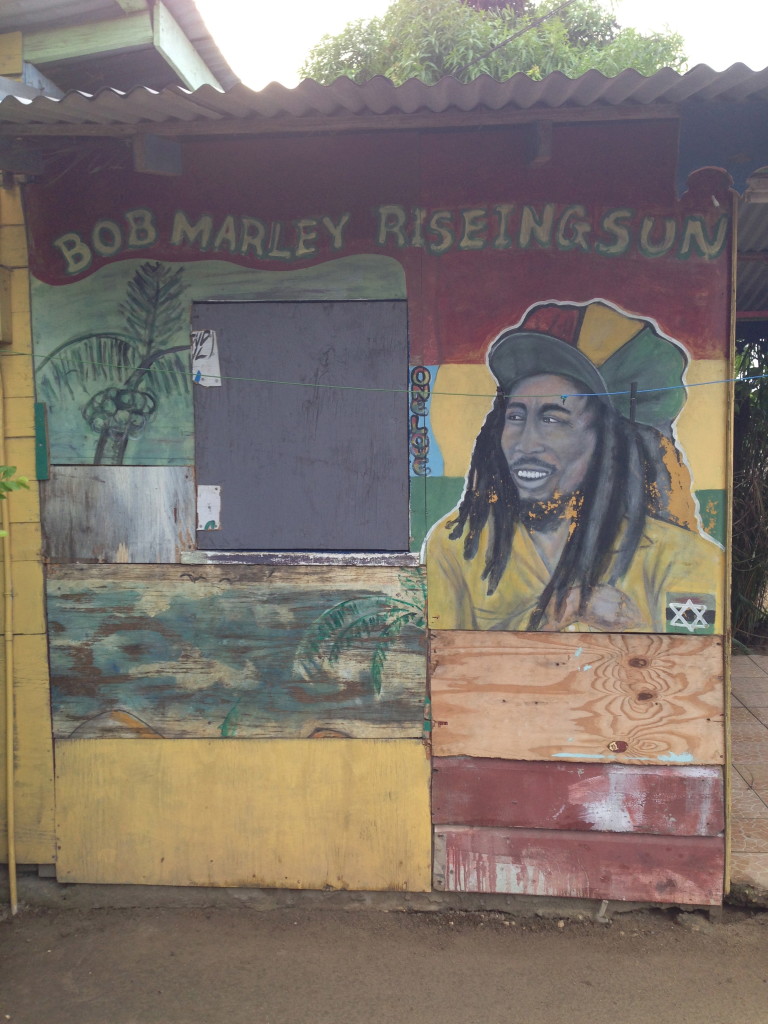 So, see you at the bar……